That movie everyone on the Internet is talking about? It's "The Fault In Our Stars," Josh Boone's now-blockbuster adaptation of John Green's best-selling novel about two terminally ill teenagers who fall in love. Starring Shailene Woodley, Ansel Elgort and the sobs of audiences around the country, "The Fault In Our Stars" is the summer's first true phenomenon. It's also a really good movie! Ahead, the four most effective parts of "The Fault In Our Stars."
It Looks Great
Let's be real: No one is seeing "The Fault In Our Stars" because Boone and cinematographer Ben Richardson (the guy who brought such natural, setting-appropriate beauty to "Beasts of the Southern Wild" and "Drinking Buddies") made their film look good. In fact, if "The Fault In Our Stars" had a visual palette that was comparable to '90s teen dramas on The WB, people would still see it in droves. That Boone and Richardson did make the best visual version of Green's sob story, though, is a real bonus. This movie is pretty, filled with bittersweet images that compliment the themes and dialogue. (Like, look at that gif up there. Stunning! Sad!)
Shailene Woodley Is A Superstar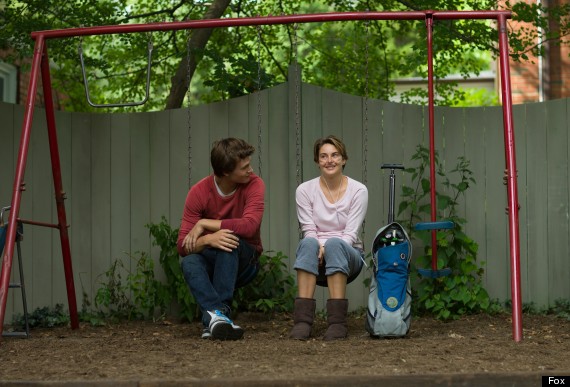 Because all the magazine covers and talk-show interviews weren't enough proof, "The Fault In Our Stars" provides a definitive answer about Shailene Woodley's star power. It is enormous, as it turns out, and could probably travel on through (our little) infinity. Woodley is quite amazing in "The Fault In Our Stars," selling not just Hazel's teen rage and angst but her humor and love. She is exploding with love in "The Fault In Our Stars," and it coats every single scene in the film. Woodley elevates Elgort's performance, too, carrying him to the emotional heights required even as he struggles with the film's more somber moments. (Elgort is great as Gus, as long as Gus is in devil-may-care mode; when he gets sick, though, the seams start to show.) Chicago Sun-Times film critic Richard Roeper wrote that Woodley should get an Oscar nomination for her performance, which is crazy hyperbole, but also maybe kind of sort of true? Speaking of ridiculously early Academy Award discussions ...
Laura Dern's For Your Consideration Campaign Starts Now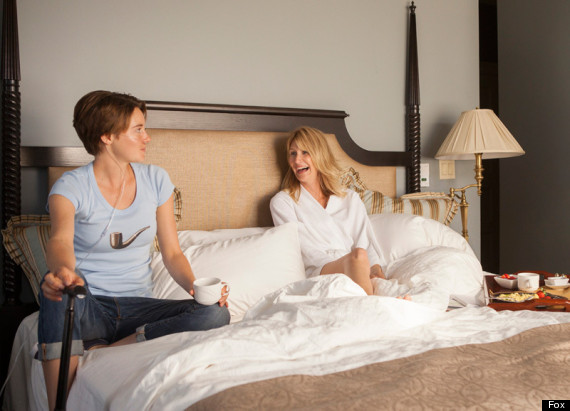 In a film full of emotional beats seemingly engineered to wring all the tears out of the audiences eyeballs, Laura Dern drew out our biggest wails. She plays Hazel's mother in "The Fault In Our Stars" and brings with her the kind of good, decent character work that actually does get awards attention in most cases. To wit: Jacki Weaver scored an Oscar nomination in the best supporting actress category for "Silver Linings Playbook," and the politics of that film's many nods aside -- The Weinstein Company put a lot of wind behind its sails -- Dern is every bit as good, if not better. Last year, Dern helped push her father, Bruce Dern, to an Oscar nomination. Maybe in 2014 he can return the favor.
The Soundtrack Is Your New Favorite Album
We're obviously in the tank for "The Fault In Our Stars" soundtrack, which should become as seminal for this generation of teenagers as "Say Anything" or "The Breakfast Club" did for kids of the 1980s. Boone and music supervisor Season Kent, working with a bunch of original songs and some expertly placed pre-existing tracks (holler, M83's "Wait"), give "The Fault In Our Stars" a musical identity. It just sounds like teenage life. Again, as with the visuals, it's something that wasn't necessary in the grand scheme of things -- who needs songs when people are crying! -- but it shows just how much everyone involved with the production was committed to making it as good as possible. We're glad they did.
Read the rest of HuffPost's "The Fault in Our Stars" coverage:
• What It's Like To Watch 'The Fault In Our Stars' In A Room Full Of Teenagers
• 'The Fault In Our Stars' Soundtrack Might Be This Generation's 'Breakfast Club'
• John Green Cried Every Day While On The Set Of 'The Fault In Our Stars'
• Shailene Woodley And Ansel Elgort Discuss Playing Siblings And Lovers
• 'The Fault In Our Stars' Explainer: Why Everyone You Know Is Freaking Out
• Everyone Is Crying At 'The Fault In Our Stars,' In Case You Didn't Already Know
• An Introductory Guide To Ansel Elgort, Soon-To-Be 'Fault In Our Stars' Mega-Star
• All The Differences Between 'The Fault In Our Stars' Book & Movie
• 'The Fault In Our Stars' Merchandise: Etsy Accessories Inspired By John Green's Novel
• Nat Wolff Explains Why He Was Cast In 'The Fault In Our Stars'
BEFORE YOU GO
PHOTO GALLERY
"The Fault In Our Stars"