The embroidered condoms weren't obvious right away, but Cathleen Cummings remembers them vividly now. It was 2007, and she was in a village in Bihar, one of the poorest states in India.
A museum curator who specializes in temple architecture and Rajput paintings, Cummings was not your average American tourist in India. But she was still bowled over by what she saw. It was a quilt stitched in the traditional "sujani" style, with one great thematic exception: instead of the typical take on rural life -- usually dotted in cows -- this textile bore vignettes of women handing out prophylactics, and a border of condoms.
"It was wonderful," Cummings told HuffPost. "In the very center were [images of] women giving their men condoms, so they won't bring diseases back when they visit prostitutes."
This week, Cummings launched an exhibit of similarly surprising works at the University of Alabama at Birmingham, where she is an associate professor. Titled "Objects of Authority: Embroideries and Other Contemporary Arts from Western India," the show includes narrative sujani-style textiles as well as prints so geometric, they'd fit in at the MoMa.
"They're incredibly modernist, almost Rothkoesque," Cummings says. "And yet, they'd never be shown in a gallery."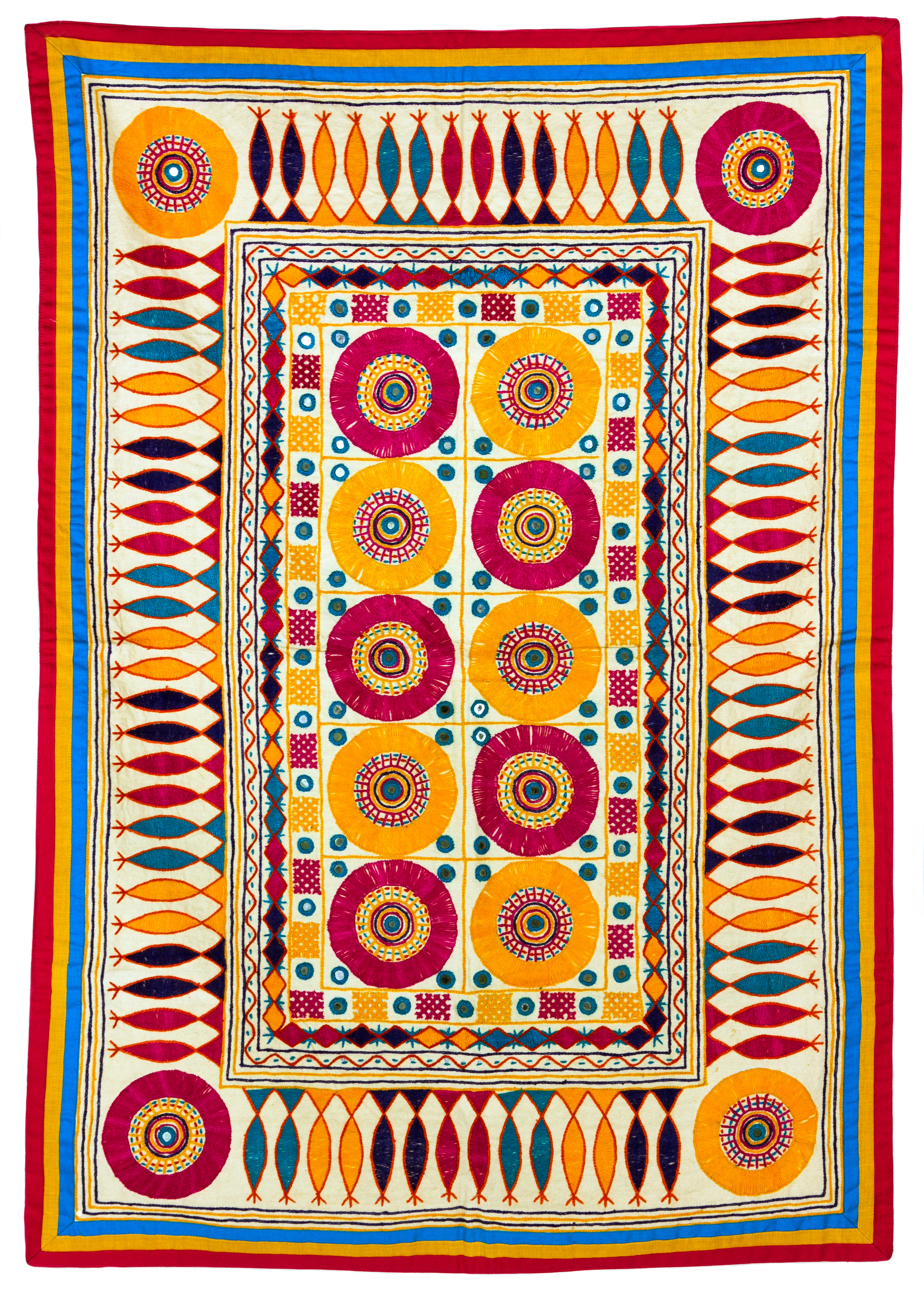 One of the abstracts quilts in 'Objects of Authority.' Photo by Jared Ragland, UAB.
Cummings hopes to challenge the notion that craft belongs only in folk museums.
"There's a perception that this type of work is unchanging, that it's tradition. And the motifs never change, the materials never change, the stitches never change," Cummings says.
Craftwork is particularly sophisticated in India, where more citizens work in handicrafts than in any other industry except agriculture. Just as an artist showing in a gallery seeks to express a particular worldview, these men and women inevitably write their lives into their work.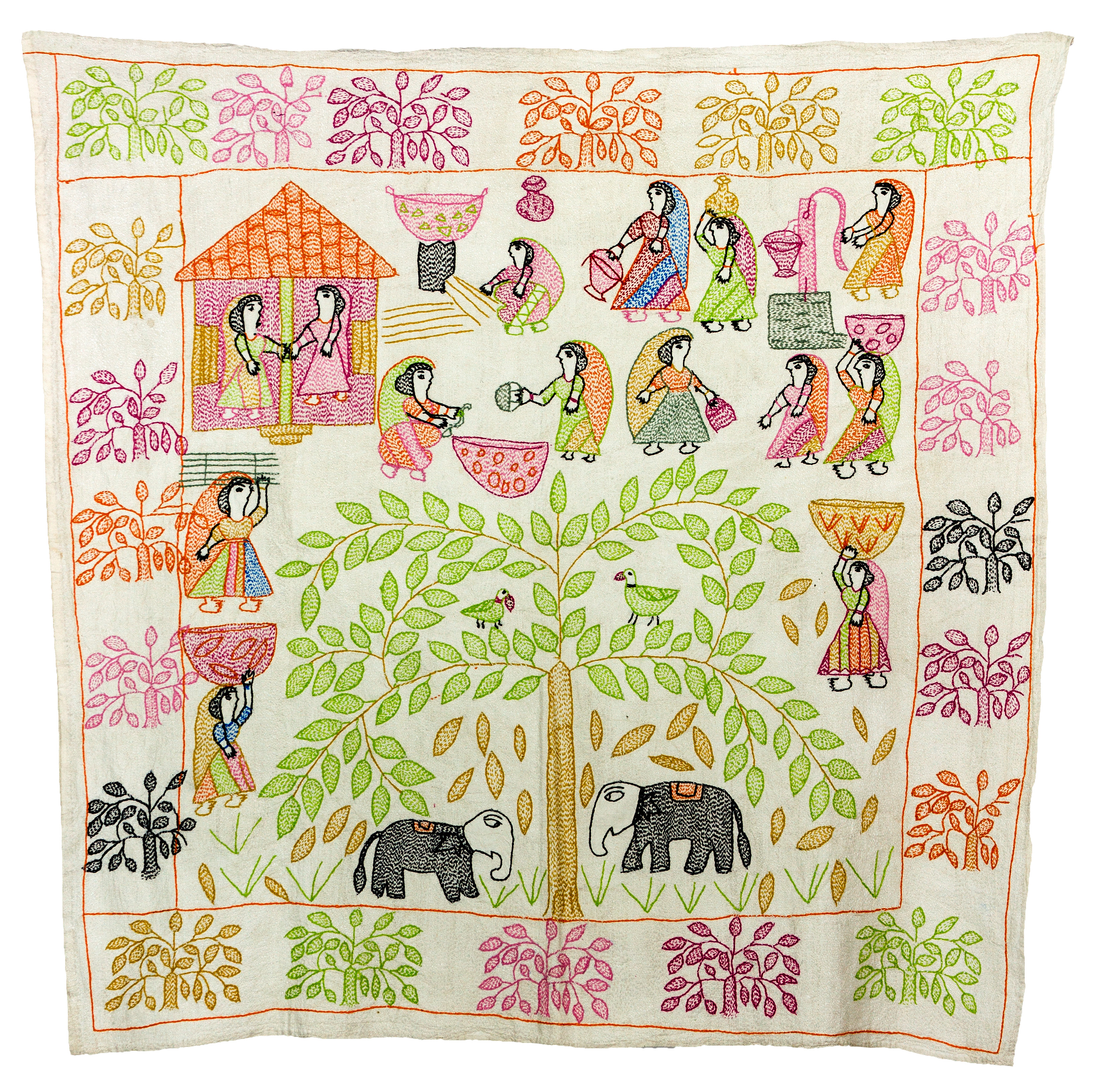 Photo by Jared Ragland, UAB.
In the north of the country, for instance, the canopies typically hung over doors for good luck are changing. Like the sujani quilts, the icons of the good life they once broadcasted now often include cell phones, cars, and motorcycles -- alongside cows. Or take the quilt Cummings saw seven years ago. That was designed with a purpose in mind: a collective of women weavers in the village decided to commemorate World Aids Day, Cummings says. Given the high rates of HIV in India, their choice of imagery reflects the concerns of many Indian women.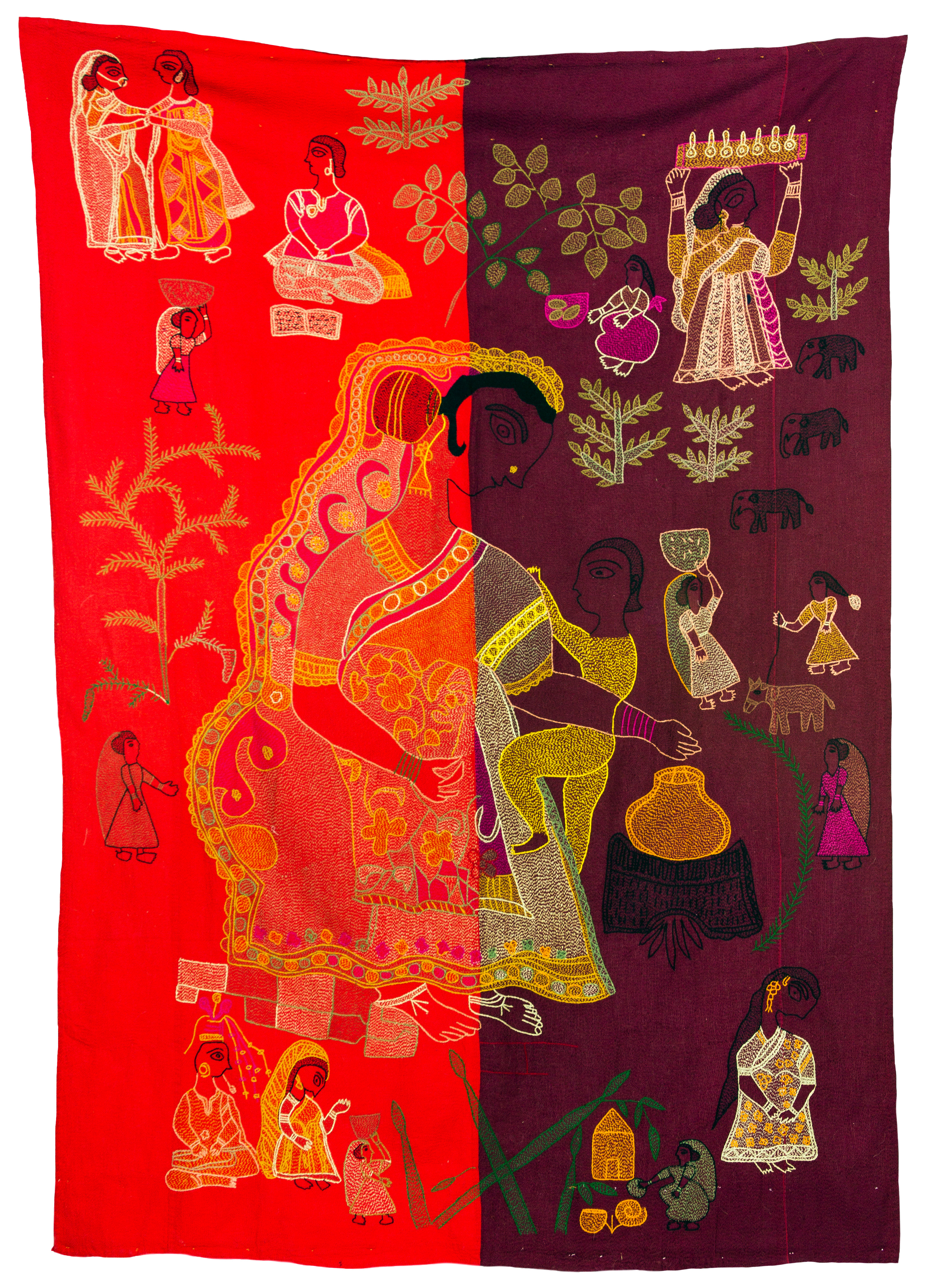 A dreamy, Chagall-like quilt from 'Objects of Authority' includes traditional images of village women at work. Photo by Jared Ragland, UAB.
Still, artisans rank low on the totem pole. Though a single heavily embroidered quilt could take one weaver the better part of a year to stitch together, "[they] are not really regarded as artists," Cummings says. "They're artisans, crafts people. That divide is still very clear. A show like we're doing would never be shown in a Mumbai gallery."
The divide influences how the public treats these works. "Will they hang it on the wall?" Cumming asks. "Or just say, 'Oh, we'll make a pillow cover out of it.'"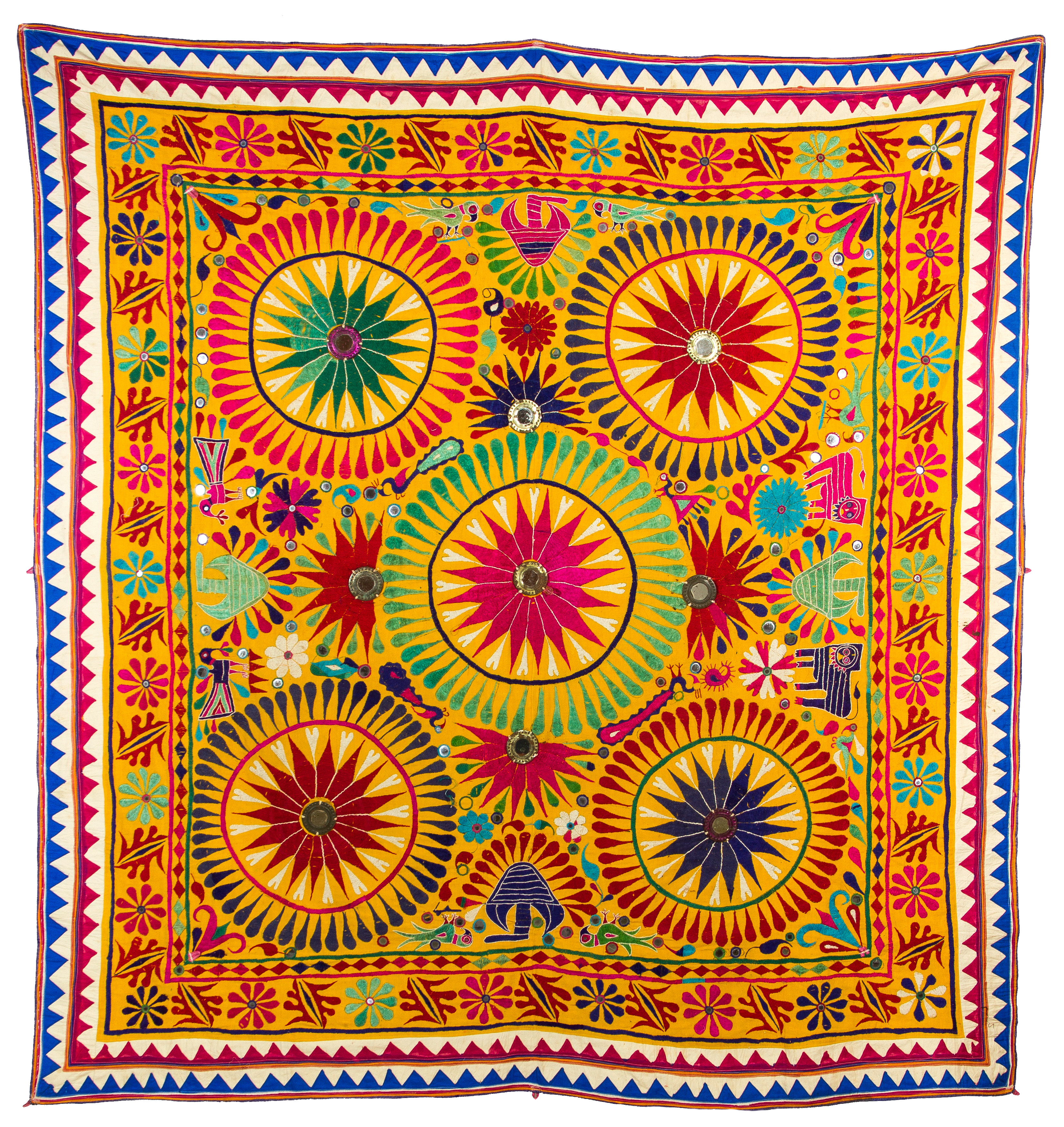 Photo by Jared Ragland, UAB.
She points out that the art world is also heavily male. Whereas craftwork, which can be carried out at home with little infrastructure, has become a popular option for destitute women. In the past decade, dozens of NGOs have sprung up with the mission of recruiting craftswomen.
Some work goes directly to companies -- like FabIndia, the mammoth Indian textile seller. Then there are the busloads of tourists looking for the "authentic" India, outside the cities. At the village in Bihar where Cummings saw the ultramodern condom quilt, women weavers typically make enough money selling embroideries to last them the year, she says. The buying frenzy might last only "a couple of weeks," Cummings says, "when the tour buses come in."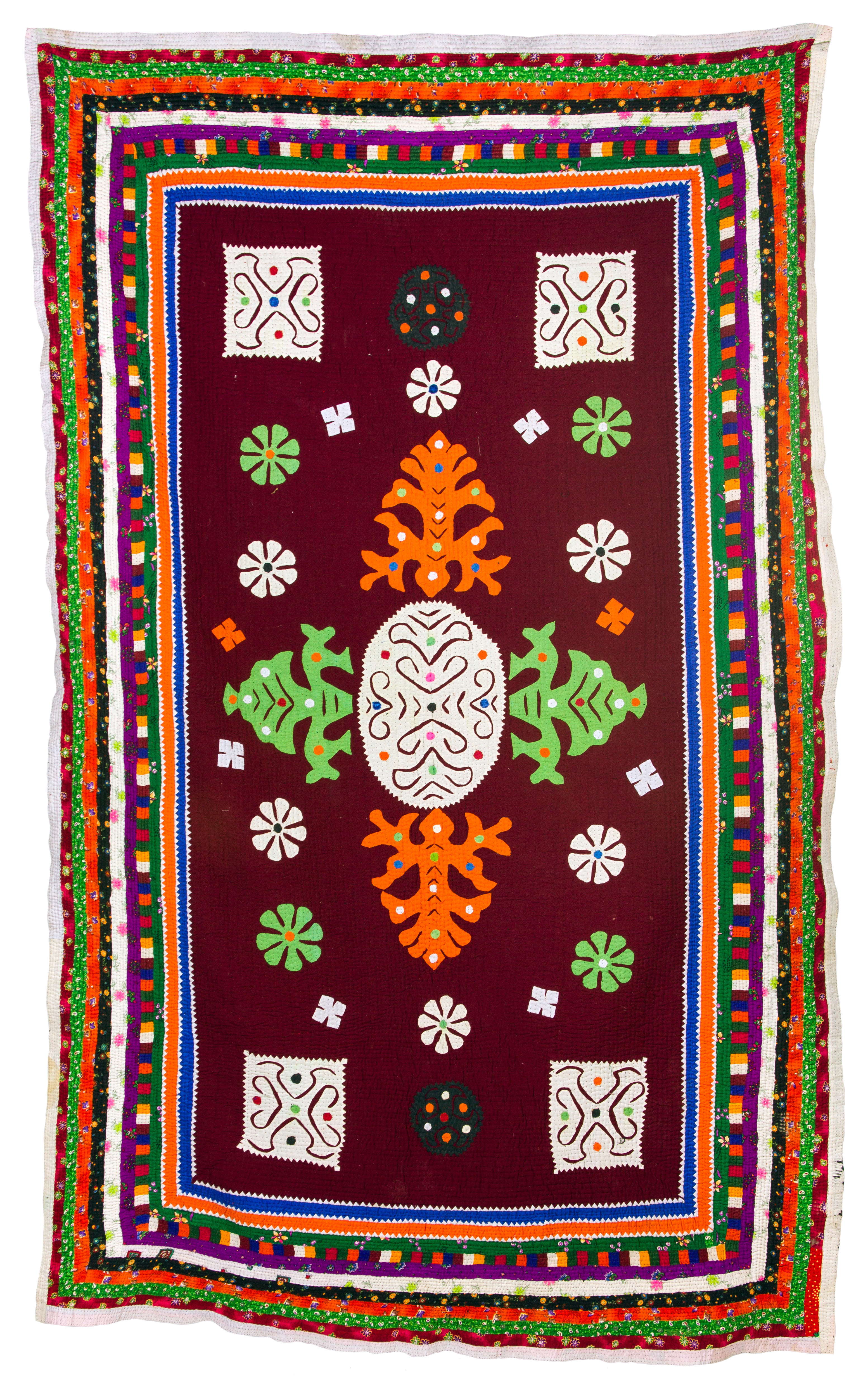 Photo by Jared Ragland, UAB.
Buyers often see these handicrafts as the product of a faceless collective, instead of a single, talented person. Cummings hopes that notion fades. She recalls flying to Mumbai from Bihar, to visit a crop of new contemporary art galleries. Some pieces were intriguing, she says, "but I couldn't help but think that this other work I'd just seen -- that's supposed to be craft -- was more exciting."
CORRECTION: An earlier version of this story incorrectly identified the exhibit site and Cathleen Cummings' employer as the University of Alabama. "Objects of Authority" is on display at the University of Alabama at Birmingham, where Cummings is an assistant professor.