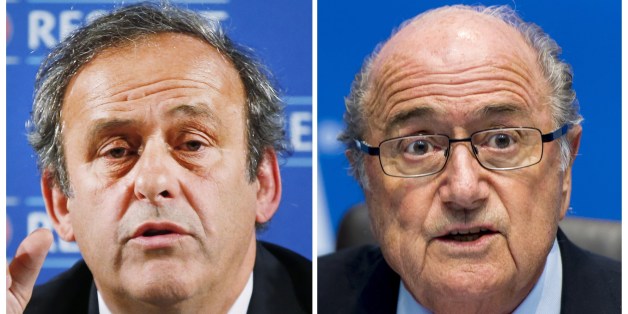 In just a few days, the eyes of the sporting world will be on Brazil, where the world's finest soccer teams (and also Australia) will gather in the South American nation for the 2014 World Cup. And upon its conclusion in mid-July, Brazil will begin a sprint to make Rio de Janeiro ready to host the 2016 Summer Olympics.
But while earning the right to host two of the international sporting world's marquee events in such rapid succession may seem like a boon for Brazil on the surface, it might make more sense to have considerable concern. After all, that's an awful long period of time for one nation to spend in the company of the Fédération Internationale de Football Association (FIFA) and the International Olympic Committee (IOC). While these two organizations front as generous cultural elites bringing the light of peace and economic health to the world through athletic competitions, they are actually gangs of blackguards, as corrupt as they come.
In recent months, the long-whispered nature of these organizations is finally, in a number of ways, starting to be spoken of more loudly. And fissures in their relationships to a world of sports fans and the nations in which they reside are starting to form. International sports is having a moment, and it's not a moment of glory. Unless you imagine a pack of humiliated jackals stewing in their own graft and incompetence to be somehow glorious.
That FIFA and the IOC are vice-ridden gangs is well documented. Back in 2006, Scottish investigative reporter Andrew Jennings shone a harsh light on FIFA's double-dealing in reporting that went on to form the basis of a 2006 Panorama special titled "The Beautiful Bung: Corruption and the World Cup," and a book, Foul!: The Secret World of Fifa: Bribes, Vote Rigging and Ticket Scandals. Jennings subsequently migrated to exposing the IOC for similar degeneracy. Returning to FIFA in his most recent publication, 2014's Omerta, Jennings says that "the leadership of FIFA, under Brazil's João Havelange and now Sepp Blatter, tick all the boxes defining an Organised Crime Syndicate."
Outside of the media that exists within the Sports-Entertainment-Corporate Branding Complex, no one even questions the notion that these organizations are packed with petty thugs and grifters. In 2012, Chris Lehmann wrote a piece for New York magazine that described the extent to which the IOC had become a "mobbed-up oligarchy" stuck on an infinite loop of defilement:
[Belgian Count Jacques] Rogge was groomed as the successor to the Games's long-running chieftain Don Juan Antonio Samaranch y Torelló, First Marquis of Samaranch, Grandee of Spain, a former sporting official with the fascist government of Francisco Franco who managed to reinvent himself as a global ambassador of sport with the large-scale financial backing of Adidas shoe mogul Horst Dassler. Mr. Samaranch oversaw a stunning litany of corruption in his two decades on the job -- encouraging influence peddling, arranging sinecures for family members and cronies of committee members, and padding the I.O.C. board with fellow authoritarians and baksheesh impresarios. In his more expansive moments, Samaranch would also grace vicious dictators like Romania's Nicolae Ceacescu with awards for their alleged contributions to international sport. When an HBO interviewer confronted Mr. Samaranch on this latter trespass, he curtly replied that he was "very proud" of Ceaucescu's garland, adding that the I.O.C.'s judgment was not to be questioned because "we are more important than the Catholic religion."
FIFA has always found itself knee-deep in the same brackish waters as the IOC. In Lehman's piece, he describes how former FIFA head Joao Havelange, having landed with the IOC, washed out with that organization after he became enmeshed in a massive bribery scandal. Also enmeshed: Current FIFA head Sepp Blatter. But as Jennings reported for The Nation earlier this year, Blatter managed to survive that scandal. He shows up in Jennings' piece posing in a picture with another crowd of "mobbed-up oligarchs," the current gang running the IOC.
FIFA is back in the news this week due to a Sydney Morning Herald story that described how former President Bill Clinton, the honorary chairman of the U.S. bid for the 2022 World Cup, was so angry at FIFA's decision to award the cup to Qatar that upon returning to his hotel room, "he reached for an ornament on a table and threw it at a wall mirror in a fit of rage, shattering the glass."
Per the Sydney Morning Herald:
Clinton, the honorary chairman of the US bid, had wheeled out such big-hitters as Brad Pitt, Arnold Schwarzenegger, Morgan Freeman and Spike Lee to add lustre to the US Soccer Federation bid. Australia and Japan's bids had seemed the biggest threat, but few had seriously entertained the idea that Qatar, a footballing desert, could win.

"Clinton was fuming," said one well-placed source. "He felt humiliated and felt the decision did not make sense."
Obviously, the game has changed from that time that a World Cup-bidding nation could simply flatter FIFA's ruling grandees with exclusive access to Benjamin Button -- something that obviously caught Clinton by surprise. Also surprising: The fact that the eventual winner was soccer mediocrity and stadium-bereft Qatar, a nation whose standard, desert temperatures stand out as a solid argument against staging an international soccer tournament. According to a bombshell report from the Sunday Times, Qatar managed to secure the cup thanks to, among other things, $5 million in bribes funneled to various officials by former FIFA VP Mohammed Bin Hammam. (The Times piece is subscription-only; here's a summary from the BBC.)
It's worth noting that at the time FIFA decided to award the cup to Qatar, the group's 24-member executive committee was down to 22 members because "two members were caught trying to sell their votes to undercover journalists." And in the wake of the Sunday Times' allegations, FIFA has floated the notion that it might call backsies: "If corruption is proven," said the obviously hopeful FIFA VP Michel Platini, "it will take a new vote and sanctions."
An enraged Bill Clinton going on a tchotchke-hurling rampage over losing the chance to host a soccer tournament is a strange thing to imagine. (For what it's worth, a Clinton spokesperson has denied the part of this report where he gives a hotel mirror a Dean Baquet-style thrashing.) Of all the places that some international grifters could have established a Marvel Team-Up, international sports would seem to be a fairly safe space. It's not exactly the flamboyant debauch of the global petrochemical industry that Ken Silverstein describes in his book, The Secret World Of Oil. This is just sports, right? As Grantland's Brian Phillips remarks about l'affaire Qatar, "there's something deeply silly about many of the organization's Machiavellian twists."
But Qatar's misadventures in gearing up for the 2022 World Cup are proving to be far from silly. In fact, if the nation's World Cup bid has accomplished anything, it's been to shine a light on the lives of the migrant workers who toil in destitution in the oil-rich nation. In a pair of stories, the Guardian reports that 400 Nepalese workers and over 500 Indian workers have died in Qatar's rush to build the infrastructure necessary for the World Cup. Deadspin's Barry Petchesky follows on:
Together, those two countries provide an estimated 38 percent of the 1.2 million migrant workers currently in Qatar, so you do the math—our headline wouldn't have been out of place in using "thousands."

It is impossible to say how many of the deaths are directly related to stadium construction -- though the Guardian's analysis of official lists suggest that "more than two-thirds died of sudden heart failure or workplace accidents." (Heart failure is a catch-all cause of death that human rights organizations believe is used to cover up more sinister explanations.)
It's not known if Bill Clinton has destroyed any additional hotel furniture as a result of these reports.
Even if we excuse these circumstances as unique to Qatar, it's important to remember how things like the World Cup and the Olympics are sold -- as a booming tide of potential restorative economic growth for the hosts. As The Nation's Dave Zirin told Amy Goodman, "The problem is that first [former President of Brazil Luiz Inácio] Lula [da Silva] and then [current President] Dilma [Rousseff] told the country very explicitly that the World Cup was not just going to be a soccer tournament; it was going to walk hand in hand with even more developments, more money, more employment, more opportunity for people."
As Al Jazeera reported, the reality is quite different:
Many in Brazil's middle class are unhappy with the effects the World Cup has already had on their lives. The cost of living has risen in the cities hosting the games, traffic jams have worsened, and a construction boom aimed at improving urban mobility has only compounded problems, they say.

But it is the poorest Brazilians who have borne the brunt of the World Cup preparations. According to the Popular Committee for the World Cup and Olympics, a group opposed to how the games' preparations have been handled, 250,000 people across Brazil have been forcefully removed from their houses or are being threatened with eviction. Sao Paulo, Rio de Janeiro and Porto Alegre are the most affected cities, it says.

Marli Nascimento's family and 117 others had been living in the low-income Parque Sao Francisco area in the town of Camaragibe, just outside of Recife, for more than 60 years. Between February 2013 and March 2014, her whole community was levelled to make room for a highway leading to Arena Pernambuco stadium, where Germany, Italy, Mexico, Japan and the US teams will play.
And the Guardian's Simon Jenkins notes that this is par for the course:
Fifa's claim is that host countries benefit from its blessings. The audit on South Africa's 2010 World Cup showed it cost the taxpayers £3bn for a return of £323m and an economic slump. This month's extravaganza in Brazil, which was pledged to cost the ill-resourced country nothing, has seen state spending on stadiums alone of £2bn, with another £9bn on infrastructure. Qatar is reputed to be spending a staggering £120bn. These sums for a brief sporting festival are obscene, whoever is paying.
It's even more obscene when you consider that very little of what Qatar is spending on the World Cup is slotted to budget line items like, "keeping construction workers alive."
The Olympics, of course, are sold in similar "you'll benefit from our blessings" fashion, and the promises typically prove to be just as false. As Robert A. Baade and Victor Matheson write in their study, "Bidding For The Olympics: Fools Gold?": "Diverting scarce capital and other resources from more productive uses to the Olympics very likely translates into slower rates of economic growth than that which could be realized in the absence of hosting the Olympic Games."
Back when Lehmann penned his indictment of the IOC, it looked for all the world as if this lesson would never be learned. In his piece, University of Toronto sociology professor Helen Lenskyj offers this downcast assessment: "The typical pattern in host cities is steep cost overruns ... But the organizations sponsoring the event never learn from that experience."
That may be changing. Deadspin's Petchesky reported last week that at the moment, the IOC is having a hard time finding a taker for the 2022 Winter Games, and it would seem that the chief reason is that people have wised up. Voters put the kibosh on Switzerland's bid back in March 2013. Later that year, voters in Germany did the same. This past week, Polish voters followed suit. And the new governing coalition in Sweden offered a pretty blunt account as to why they pulled out of the bidding process: "Arranging a Winter Olympics would mean a big investment in new sports facilities, for example for the bobsleigh and luge ... There isn't any need for that type of that kind of facility after an Olympics."
Petchesky goes on to note that two of the four remaining bids are "in bad shape." Public sentiment is shifting quickly against the bid of Oslo, Norway. And the last Winter Games host, Russia, having imposed new stratospheric benchmarks for Olympics-related spending on everyone else, has compounded this problem by -- and you may have heard something about this! -- invading Ukraine, which has pretty well imperiled Lviv's bid for 2022. That leaves China and Caspian petrochemical dictatorship Kazakhstan as the only two contenders not staggered by circumstance or public opposition. As Petchesky summarizes: "When actual citizens are allowed to have a say, they say they don't want the Olympics."
In Brazil, something never thought possible is happening: The people there have turned against the World Cup. Demonstrations have been a common occurrence for well over a year. Brazil's national team has even been the focus of protests. Last week, The Wall Street Journal reported that no one's even pretending that the cup is going to provide some sort of economic benefit. How could they? Those empty promises now live on as unfinished infrastructure projects the dot the nation's landscape.
It's not like Brazilians have lost their love for the game. In fact, their soccer mania has been put to higher purpose, rechanneled as the fuel for populist demonstration in the form of La Copa Popular ("The People's Cup"). Featuring players from Brazil's notoriously destitute favelas, it's an idea that's been re-adopted after it was first launched in South Africa.
Here in America, the tipping point reached by these reprobate international organizations has not gone unnoticed. As Simon Jenkins notes, "American soccer authorities, to their credit, have said they will not bid for any tournaments until FIFA is reformed." And this week, New York City Mayor Bill de Blasio announced that the Big Apple was not going to bid for the 2024 Olympics. Considering the fact that staging an Olympic Games would have been wholly antithetical to his goal of making working-class New Yorkers more prosperous, it had to have been one of the easiest decisions he's yet faced.
None of this is to say that the world needs to give up on international sports, or that anyone should disparage the athletes who participate in them. Even Brazil's La Copa Popular participants plan on watching their national team play. They just won't be bought off for the slim price of getting to watch Neymar's heroics up close. Simon Jenkins has urged Britain to lead the way in establishing a new, more virtuous governing body for international soccer. Mark Perryman, in his book, Why the Olympics Aren't Good for Us, and How They Can Be, lays out a way that the Olympics can be truer to their humanitarian rhetoric. And the more that participating officials demand reform from international organizers of these events, the sooner we'll have athletic competitions in which we can all take pride. Until that day, however, we need to be less innocent to the fact that FIFA and the IOC have simply become havens for scoundrels, and more aware of the fact that their panglossian promise of economic benefit is nothing but a con.
[Would you like to follow me on Twitter? Because why not?]
BEFORE YOU GO
PHOTO GALLERY
Brazil World Cup 2014 Official Host City Posters