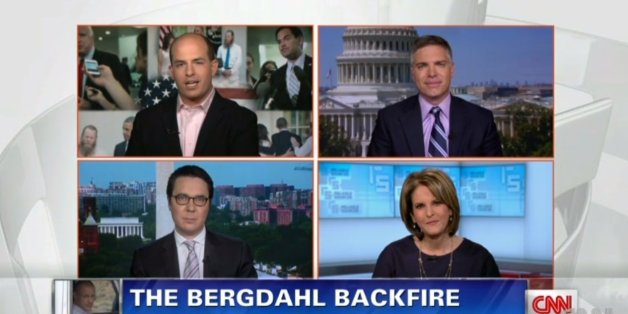 The panel on CNN's "Reliable Sources" on Sunday criticized Fox News' recent report claiming that Bowe Bergdahl had converted to Islam while in captivity.
Bergdahl and his family have come under intense scrutiny since he was freed after being held in Afghanistan for five years. On Sunday, CNN host Brian Stelter examined the Obama administration's "missteps" and the media's fiery coverage of Bergdahl with the Daily Caller's Matt Lewis, the New Yorker's Ryan Lizza and CNN's Gloria Borger.
The host turned to the Friday Fox News report that said Bergdahl had converted to Islam while in captivity. Stelter said that the report -- based on what Fox News described as "secret documents" from a private intelligence company -- was not backed up by other sources.
Lizza said James Rosen, the journalist who wrote the report, was a "very good reporter," but took issue with the story as well.
"This report does not meet the bar -- I've been a journalist for 17 years," Lizza said. "The sources on this report, I can't think of an outlet I was ever associated with that would have reported this. This is hearsay from terrorists passed through an ex-felon and then to the American people."
Stelter said the report seemed especially "unfair" given that two Fox News journalists were once kidnapped and forced to convert to Islam at gunpoint.
"And by the way, this is somebody who was probably trying to save his life," Borger later added. "And none of us can stand here, not one of us can say what we would do in the circumstances in which we felt that we were threatened every single minute."
CORRECTION: This article has been updated to note that Bergdahl has not returned to the United States yet. He is currently in Germany receiving medical treatment.