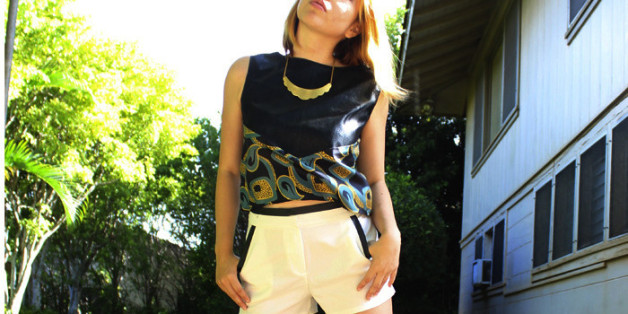 There are things we love about summer: lounging in warm weather, festival-inspired outfits, and beach waves that were actually created at the beach. But if you work a 9-to-5 office job (and you're not this person) chances are, you don't get to experience all the joys of summer every single day.
Unless your job requires you to be in beachwear 24/7, the sweaty summer months can seriously cramp your office style. Blazers and button-ups pretty much beg for sweat stains and your favorite go-to slacks end up feeling like ski pants in the desert.
This is why we turned to professional stylists living in a state where the summer never ends: Hawaii. Below, nine style tips to keep your office style cool, even in the most sizzling of days.
1. Keep it short
"During the hot summer days," says Tiare Thomas, a professional stylist who styles for Miss Hawaii USA, "replacing slacks with dressy shorts and a light and airy blouse is key." While going too short is a definite no-no, Thomas says that the modern workplace is more open to shorts as appropriate office attire, as long as its done with class in mind.
To find an appropriate length: place both of your arms straight down, fingers flat; the end of the garment should reach just below the tip of your finger. Any shorter and it's probably too short.
2. But keep it balanced
A well-balanced skin-to-fabric ratio is important for staying cool while looking classy. When opting for dressy shorts, Thomas says it's best to pair them with a long-sleeved top or light sweater to keep the balance. This also works in reverse: if you're wearing long pants, it's OK to show a little more skin up top -- just a little!
If you're opting for a sleeveless top, Summer Shiigi, a Hawaii fashion blogger and stylist, recommends keeping most of your shoulders covered. Thinner straps should be paired with a cardigan or jacket.
3. Dress for a hot day, but cold office
If your office is like ours, the air conditioning is deathly cold, seriously who keeps touching the thermostat?!? keeps things relatively cool, which can make dressing for the hot commute a little complicated. Layering, Shiigi says, is a perfect solution to "keep your style versatile."
She recommends starting with the basics: a cami, tank top or blouse. Then layer over it one-by-one, making sure that the whole outfit is still work-appropriate as the layers come off.
4. Stick to breathable fabrics
Virtually all of your typical office attire pieces can be swapped for lighter, breezier versions, Shiigi says. "Instead of crisp button downs, try a silk cotton blend. It's the luxurious resort wear alternative to the classic work shirt."
Shiigi also recommends stashing your polyester pieces for the season -- yes, that means your go-to slacks. Lightweight linen pants give your legs breathability while staying on the conservative side. If your office dress code welcomes denim, go for chambray fabric instead.
5. Stock up on the basics
"Basics are important," Thomas says. "When your closet is stocked with the basics, you can incorporate them in your wardrobe for the entire year. Add in trends throughout the summer to create different looks."
With a full stock of basic pieces, putting together a light summer outfit is as easy as slapping on a bright pencil skirt, a camisole, cardigan, and flats. Other basics Thomas recommends keeping are: black blazer, black lightweight slacks, black leggings, wrap dresses, camisoles of all colors, black & nude pumps, stud earrings, black & brown purses, black and white dress shorts and of course, LBDs.
6. When in doubt, always choose the midi
"How short is too short is always the question," Shiigi says, so opting for the more-modest midi skirt is the safest option. "The length of any midi skirt is always appropriate for any job, but with this season being so heavily retro-inspired, you can stay classy, stylish and cool in an A-line midi skirt."
7. Throw on a jumpsuit
Thomas and Shiigi both love jumpsuits this season and recommend having one for the office. "Choosing the right [jumpsuit] can be challenging, so fit is everything," says Shiigi. "Dress for your body type and you'll look chic in a one-piece for work and play."
8. The go-to updo
Let's face it, long luscious locks can feel like an unwanted jacket for your head under the hot summer sun. "A polished updo," compared to having heat-frazzled hair, "always makes a perfect impression," says Shiigi. A go-to updo for the summer will be a lifesaver when you're sweating.
9. Explore island-based brands for inspiration
Since resort collections and island-based designers focus on classy, wearable pieces for warm weather year-round, they are perfect muses for your summery office looks. Hawaii-based designers such as Fighting Eel, and boutiques like Bamboo Sky and Ava Sky, have lightweight pieces that can be styled up for business, styled down for a day at the beach, and even dressy enough for a night at the club.
Style takeaways from island-inspired frocks? Thomas recommends kimono coverups, pleated skirts, bright colors and floral prints, lounge pants (styled to look more professional), and, most importantly, a smile.
Check out Thomas and Shiigi's office attire picks for the summer:
PHOTO GALLERY
Keep Your Office Style Cool This Summer