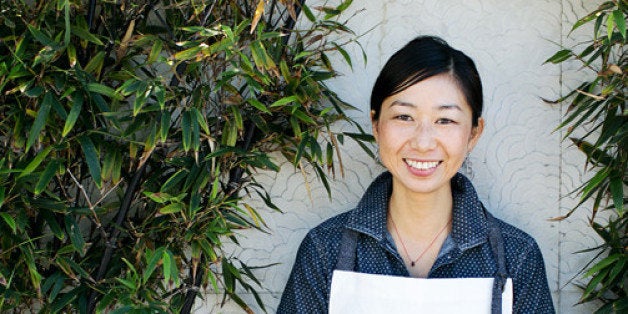 LOS ANGELES -- Where do up-and-comers congregate for lunch in LA? The Ivy's a little traditional. The Polo Lounge has become un-PC. Hinoki & the Bird is now the place to be.
The restaurant's 155 seats, in the heart of LA's Century City neighborhood, are always packed with well-turned-out diners munching on grilled lobster, kale salad and pumpkin toast. With a menu that's exotic but not confusing, food that's light but not dull, a room that's elegant but not formal and service that's friendly but not unprofessional, Hinoki & the Bird offers exactly what high-powered Californians need.
That's no coincidence. The chef, Kuniko Yagi, knows firsthand how it feels to be ground down by the corporate millstone. Before she learned to cook, she was a banker.
Like countless other college grads, Yagi got into finance by accident. She graduated from Ferris University in Yokohama with a degree in literature just as the Japanese economy went into free fall. After she failed to find a job in the fields she was passionate about -- journalism, art, film -- her parents pulled some strings to help secure her a position in the Tokyo office of Gunma Bank.
"In Japan, when you get into a good bank and have a good career path, it's a great thing for your parents to say to people," she explained. "And they had sacrificed so much for me that I felt obligated to make them proud."
But Yagi quickly realized that banking was not for her. She didn't care about the profit-obsessed mission of the bank and didn't enjoy the mathematical work she was assigned. She hated having to put on a suit and a full face of makeup every morning. She felt uncomfortable attending the beer-fueled evenings mandatory for junior employees.
Though hefty bonuses made the pay good, Yagi was working so hard that she didn't have time to enjoy herself. She cried on the subway into the office almost every morning. A year and a half after starting work, she called her father and begged him to come see her in Tokyo. She told him how miserable she was in her job and asked for his approval to quit. But he refused.
"My dad's super Japanese," she explained, "So his response was, 'You can't quit like that. You committed to this company, and they spent money educating you, and at least you have to stay for three years.' I was so upset."
Yagi obeyed her father and stayed. In the meantime, she started dating a Levi's marketing executive from California, who had been living in Tokyo since college. Shortly before her three-year anniversary at work, he told her he wanted to move back home, and he asked her to marry him and come along. Having kept her promise to her father, she said yes. The newlyweds moved to Los Angeles in 2003.
Yagi saw this as a "happily ever after" ending to her story. Knowing that her nonexistent English skills would bar her from most jobs in California, she planned to become a housewife. But her husband took a pay cut in moving back from Tokyo, and the two soon started fighting about money. Yagi said her husband was frustrated with her lack of skills necessary for life in their new home.
"He felt like he was taking care of an infant," she said. "I was no longer 'Kuniko Yagi, Tokyo Banker' -- I couldn't drive, I couldn't speak English, I couldn't get a job."
Biking down Beverly Boulevard one day, though, Yagi saw a "Help Wanted" sign written in Japanese in the window of Ubon, a noodle shop owned by celebrity chef Nobu Matsuhisa. After a brief interview, the manager hired her as a server. Though she could communicate with customers only through hand gestures, she found that taking care of people excited her more than banking ever had.
Yagi began to think she might want to work in restaurants for the long haul, but she saw that waitressing offered few possibilities for advancement. She asked the manager at Ubon to move her to the "back of the house" and was assigned the lowliest job in the kitchen -- chive chopper. It was love at first cut.
"It never occurred to me that I would be happy going in to work," she said. "But I was excited to get to the kitchen. Every moment. It felt like being in Disney World -- so much excitement, everyone doing their tasks. I couldn't believe I was being paid for this."
Ubon closed less than two months after Yagi started cooking, but she was undeterred. At a diner's suggestion, she applied for a job at one of LA's most prestigious restaurants, Sona. When she walked in the front door, she was greeted by a man she recognized from waitressing at Ubon -- who turned out to be chef David Myers. He told her she could try out for a job in his kitchen for a week. Though her audition stretched to two weeks, Myers ultimately gave her a job as a prep cook.
Meanwhile, her marriage collapsed, just a year after it had begun. When Yagi worked up the courage to tell her parents about her divorce and new career path, they were furious and refused to talk to her for years.
"It was the worst thing that they could have heard from me," she said. "That I'm working in a kitchen, divorced and not coming back to my own country."
Alone in a new country at 26, Yagi threw herself into her work. At first, her limited grasp of English kept her from being much help to the other cooks: She was always confusing mixers and blenders or being puzzled at words like "ladle" and "turnip."
But she liked being in the kitchen so much that she felt motivated to study and improve constantly. Her hard work paid off when Myers promoted her to chef de cuisine at Sona in 2008, allowing her to manage the kitchen just four years after she was hired. Accolades, such as Star Chef's Rising Chef award, followed. Her parents started to see that their daughter was doing OK in America.

Myers was forced to close Sona in the economic doldrums of 2010. Instead of moving to one of his other restaurants, Yagi decided to take a year to cook her way around the world's great kitchens. She did "stages" -- brief, unpaid internships -- at three-Michelin-starred restaurants in Paris and Japan. Though the work was often grueling (and often insultingly basic, considering she had been the head of her own kitchen), she said the experience opened up new horizons in her conceptions of food.
Yagi returned to LA in 2012 and took over Myers' bistro Comme ᅢヌa -- but also started working on the idea that would become Hinoki & the Bird. She envisioned something radically different from Sona, which had been centered on six- and nine-course tasting menus of haute French cuisine.
"I wanted guests to feel like they could come here and feel good about eating," she said. "A lot of restaurants cook heavily, season heavily. But I wanted to use my mother's cooking as a model. When you eat at home, you eat quite healthy no matter what -- and that's what I wanted at Hinoki & the Bird."
After a short stint on the "Top Chef" reality show, Yagi opened Hinoki & the Bird in December 2012. Food critics have lauded the restaurant's spare, thoughtful food, which is strongly influenced by Japanese techniques and flavors. Those packed tables testify to the extent to which it's resonated with LA diners.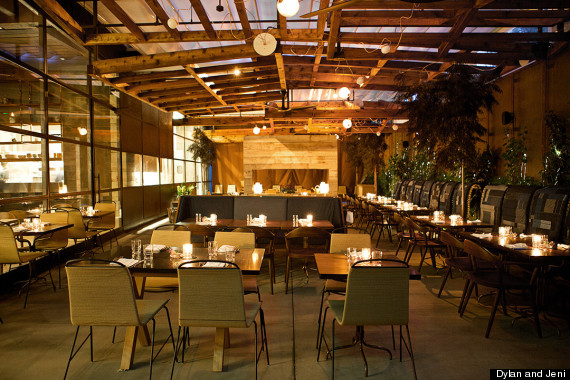 The dining room at Hinoki & the Bird, where Kuniko Yagi is chef.
Even though Yagi works longer hours than she did as a banker and has little hope of making million-dollar bonuses anytime soon, she said she's never once regretted giving up spreadsheets for spatulas.
If anything, she likes going to work too much. She routinely labors 80 to 100 hours a week -- because it's expected of most chefs, but also because she loves being in the kitchen. Yagi said this arduous schedule started to catch up with her toward the end of her time at Sona, when she began to feel exhausted and disconnected from her body -- "like a zombie," she said. Worried she might be ill, she consulted with friends and her doctor.
"They told me, 'Kuni, you're crazy. You're in the kitchen all the time -- that's why you feel this way. There's nothing wrong with you. You're healthy. It's just you have to do something besides work sometimes,'" she said.
Like a true Angeleno, she took up yoga and surfing in Venice Beach, where she lives. She soon started to feel like a human being again. More recently, she acquired a large German shepherd, which she walks for an hour-and-a-half every morning.
"That's my time to get rejuvenated. When I'm walking and watching flowers and trees around Venice, I always come up with great ideas and I inhale more oxygen, and I feel good about life," she said. "And by the time the walk is over, I always miss my kitchen and am excited to go to work."
At 37, Yagi isn't living the life her parents thought she would be living when they helped her land the job at Gunma Bank, or the life she thought she would be living when she followed her husband to California. But she is leading the life she dreamed of when she first started equating the kitchen with Disney World -- and that sure beats crying on the subway every morning.