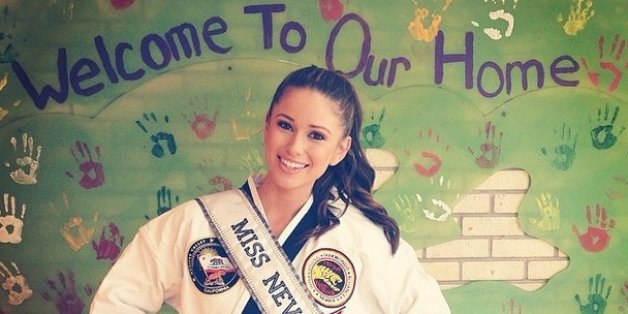 Nia Sanchez, 24, was crowned the most beautiful woman in the United States on Sunday night, but this is one beauty queen who packs a punch -- and a kick.
The model represented Miss Nevada in the annual competition and beat out 50 contestants from all the states and the District of Columbia to win the title of Miss USA. Sanchez received the crown from last year's winner, Connecticut's Erin Brady, as confetti dropped and bouquets given at the end of the three-hour event held at the Baton Rouge Civic Center in Louisiana.
A few interesting facts about Nia were revealed during the 63rd edition of Miss USA but here are 7 things you probably didn't know.
1) She Is The First Miss USA Winner From Nevada
That's right. Nia is the first beauty queen to take the Miss USA crown for the state of Nevada since the pageant began in 1952. She won the title of Miss Nevada in January and will now represent the United States at Miss Universe 2014.
2) She May Be Miss Nevada But She Was Born In California.
Nia was actually born in Sacramento, California and lived there until the age of 7, according to her profile. After moving around a bit within the U.S. and traveling around the globe, she made Las Vegas her hometown.
3) She's Hispanic.
The newly crowned Miss USA is "half Hispanic," according to her profile. In fact, Nia said that she made it a point to travel to Mexico on mission trips when she was growing up. The 24-year-old model is one of the few Latinas to have won the crown in the history of Miss USA, Mexican-born actress Laura Herring was the first in 1985.
4) She's also competed in Latin America
After winning the Miss Nevada title in January, Nia told the Las Vegas Weekly she'd participated in various pageants since the age of 19.
"I competed in California a few times, and I've also represented the United States in Ecuador a few times. I went to Miss Turismo Latino being Estados Unidos, the United States, and Miss Reina Mundial de Banano, which is Miss Queen of Bananas of the World. It sounds better in Spanish."
5) She's A Real Life Disney Princess
Nia has been working as a model for the past 7 years, and one of her more animated jobs was working as a face character for Hong Kong Disney.
6) Her Childhood Wasn't Exactly Picture Perfect
At a young age, Nia and her mother lived in a woman's shelter until they were able to move in with her aunt in Oregon.
"When I was 6 years old, my mom and dad were going through a divorce, and my mom beforehand was a full-time stay-at-home mom, so she didn't have a job or any way to get out on her own," Sanchez told Las Vegas Weekly. "So we stayed at a women's shelter for two months while she got a job and was working. It was great because they provided day care for us while she was out there trying to save up."
7) She Now Volunteers At A Women's Shelter
Due to her own childhood experience, Nia now takes times to teach Sunday School and martial arts "Stranger Danger" classes to children at the Shade Tree shelter in Las Vegas.
8) She Was In An "Aggressive" Relationship
Nia told Las Vegas Weekly that part of the reason she works in the women's shelter is because of a past unhealthy relationship.
"I feel like I can relate to them, and to the women, as well, because there was a point in my life when I was 21 when I went through a very unhealthy relationship," Sanchez said. "I was lucky that I got out of it before it got abusive, but it was aggressive, and I feel like I can really relate with women on that level more personally... It can almost be a little embarrassing, but I feel like I am where I am today because I grew so much."
Today, however, the model seems to be quite happy with her boyfriend and actor Daniel Booko.
9) She Is A Fourth-Degree Black Belt In Taekwondo
Nia started training in the Korean martial art from when she was 8. By age 12 she started teaching and by the time she was 15 she was a certified instructor. Her parents own a studio in California, so yeah.
In fact, she brought up her experience with taekwondo during the interview segment of the Miss USA pageant. When asked about what types of policy should be implemented to combat sexual violence on college campuses, the beauty queen said the following:
"I believe that some colleges may potentially be afraid of having a bad reputation and that would be a reason it could be swept under the rug, because they don't want that to come out into the public. But I think more awareness is very important so women can learn how to protect themselves. Myself, as a fourth-degree black belt, I learned from a young age that you need to be confident and be able to defend yourself. And I think that's something that we should start to really implement for a lot of women."
BEFORE YOU GO
PHOTO GALLERY
Miss USA 2014