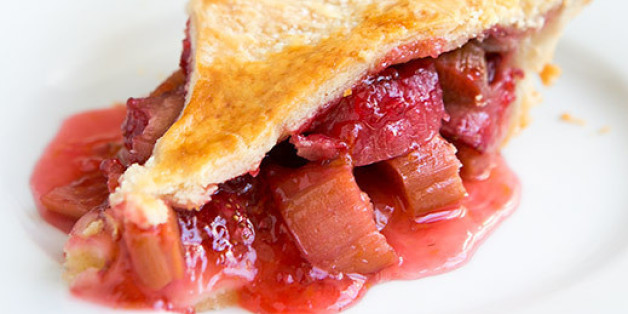 There are few food combinations as heavenly as strawberry and rhubarb. Peanut butter and jelly are a nostalgic dream team, maple and bacon were made for each other and chocolate and mint will lift our spirits any day. But strawberry and rhubarb does something for the soul.
Rhubarb's tart flavor goes perfectly with the sweetness of strawberries. When cooked together, strawberry and rhubarb meet in the middle, somewhere between soft and sturdy, for a texture that works wonderfully in everything from pies to crisps to crumbles. The combined flavors also make delicious ice creams, popsicles and cocktails. Strawberry desserts may be showstoppers on their own, and rustic rhubarb needs no partner to shine either. Still, it's imperative to pair these two together every so often.
The iconic strawberry and rhubarb combination is, of course, the strawberry rhubarb pie. Today just happens to be Strawberry Rhubarb Pie day, so it's the perfect time to celebrate everything that is strawberry and rhubarb, starting with pie! Don't forget, however, that pie is really jus the beginning; there are so many ways to combine strawberry and rhubarb.
If you haven't tried strawberry and rhubarb together yet, stop what you're doing and try out one of these recipes. You'll be glad you did. Here are 19 times strawberry and rhubarb were a heavenly pair. (And since it's Strawberry Rhubarb Pie day, there are a few pie recipes in there!)
PHOTO GALLERY
Strawberry Rhubarb Recipes
Want to read more from HuffPost Taste? Follow us on Twitter, Facebook, Pinterest and Tumblr.

BEFORE YOU GO
PHOTO GALLERY
Pie Recipes