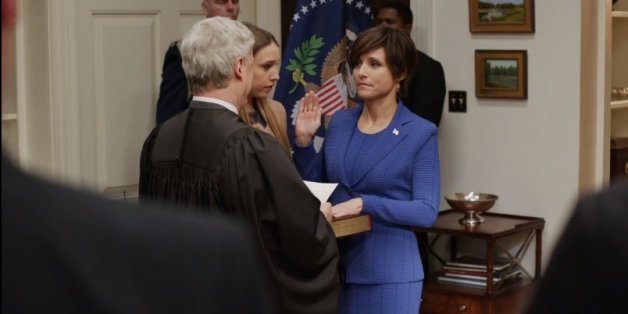 Beware, fake America. Selina Meyer has acquired the nuclear codes. After POTUS resigned because his wife wasn't "in a good place mentally," the Veep officially ascended to become the first female President of the United States. Unfortunately, she also lost New Hampshire and Iowa in the primaries. Armed with a terrible haircut and congratulatory calls from Beyonce, Selina finished out Season 3 of "Veep" as the queen of fails with two swearing-in ceremonies, squeaky shoes, a $1,200 crate and GUMMIS. As Mike McClintock put it, she's at risk for having a "Snapchat presidency."
HBO aired Episode 9 and 10, "Crate" and "New Hampshire," as a one-hour season finale, and both saw Selina's team toggling between D.C. and New Hampshire. Here are the best lines, horrific disses and ass-clenching insults from the "Veep" Season 3 finale.
Selina Meyer
You know they accuse you of not thinking outside the box, but I do think outside the box. You know what else I do? I stand on top of the box.
If I don't communicate, guys, I communicant.
I cannot stand that affected buttplug.
You know what VP stands for? Victory permafucked.
Thank you so much, Senator Suck Up.
There are so many people in here it's like a Mormon orgy.
You said you would midwife me through this campaign. Do you remember that? Well guess what? I am 10 centimeters dilated and fully faced. This presidency is crowning.
Take these fucking shoes and shoot 'em in the fucking head.
I would love to fuck a firefighter. Hey, I'm the president now, I can fuck anyone I want, right?
Jonah Ryan
I don't have any friends in DC, Mom. They all call me a dick behind my back. But like, right behind my back so I can hear them.
Do you think you can talk to Uncle Jeff for me? I want a job on my own merits and I think he's the guy to get it for me.
Mom! You are so annoying! Why don't you just punch yourself in the face?!
I'm gonna go to Africa and help install sewage systems in poor communities or whatever ... or Wall Street. One of the two, I haven't decided.
I can't denounce the web. That's like Peter denouncing Christ, or worse.
Mike McClintock
I gotta go make noises out of my facehole or whatever it is I do.
This is an historic moment and I'm not talking about the first female president thing. I'm talking about the first redhead press secretary.
It's like she walking on a carpet of mice.
Dan Egan
Nothing says regular American like standing on the street corner yelling at at strangers.
Try to make it like a regular crate, Gary, and not Thor's hammer.
The fuck stops here, Dan.
Ben Caffrey
I was bulimic the whole first year and I didn't even lose any weight.
They're going to have a field day with that haircut. "Thai lady boy made head of sweatshop."
Gary Walsh
Perfect shoe for the perfect moment in the perfect life of a perfect woman.
It's one percent! That's nothing. You're basically second. You're second in our eyes, I'll tell you that much.
Kent Davison
Ma'am. We're America. We're always at war.
Amy Brookheimer
She is so good at making people believe she's good with people.
Jonah's Mom
Like you always say, sweetie. Haters gonna hate.
BEFORE YOU GO