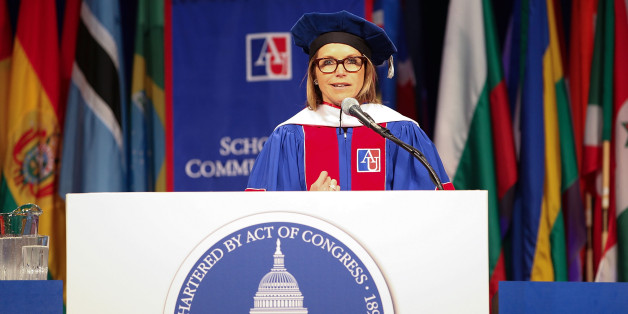 In 2005, when Steve Jobs addressed Stanford University's graduating class, he urged students, "You've got to find what you love."
While love of other people was a prevalent theme across commencement speeches in 2014, the love Jobs referenced nine years ago had to do with something else: work.
"Your work is going to fill a large part of your life, and the only way to be truly satisfied is to do what you believe is great work," Jobs said. "And the only way to do great work is to love what you do. If you haven't found it yet, keep looking. Don't settle."
This year, several commencement speakers echoed Jobs' advice, making pursuit of passion the most powerful message for the class of 2014.
1. Katie Couric, Trinity College:
"Passion is the fuel of high performance, passion prevents you from watching the clock or thinking of work as a four letter word. Passion will make you exude positive energy, and people want to be around positive people."
"First and fundamentally, you have got to love what you do."
2. Jay Leno, Emerson College:
"Try not to get a regular job."
"Never turn down a job because of money. Rather, turn down the job only because you don't like it. Money will come."
3. Tory Burch, Babson College:
"Being an entrepreneur isn't just a job title, and it isn't just about starting a company. It's a state of mind. It's about seeing connections others can't, seizing opportunities others won't and forging new directions that others haven't. It's about being entrepreneurial wherever you are and in whatever you do. It's about having the courage to give in to passion for an idea that makes your heart race. If it doesn't scare you, you're probably not dreaming big enough."
4. Jim Carrey, Maharishi University:
"My father could have been a great comedian, but he didn't believe that that was possible for him. And so he made a conservative choice. Instead, he got a safe job as an accountant. And when I was twelve years old he was let go from that safe job, and our family had to do whatever we could to survive. I learned many great lessons from my father, not the least of which was that you can fail at what you don't want, so you might as well take a chance on doing what you love."
5. Diana Nyad, Middlebury College:
"Cuba had entered my imagination years before…It's the Mount Everest of the ocean; it's epic…At sixty did I have it? Did I have the will, the shoulders? I started to put it together. I started living with that unwavering commitment again. I was high. I was high on the passion."
"I pose the question to you today...what are you gonna do with this one wild and precious life of yours? And you know in the end, you'll do many things. You'll achieve much, you'll give much. And on your last day, what a goal it would be to say that you did all of it. This college experience and all the rest of your lives so that you just can't do it even a fingernail better."
6. Charlie Day, Merrimack College:
"Don't wait for your break, make your break. Go make it happen for yourself."
"You can not let a fear of failure or a fear of comparison or a fear of judgement stop you from doing the things that will make you great. You can not succeed without the risk of failure. You can not have a voice without the risk of criticism. You can not love without the risk of loss. You must take these risks."