 A majority of Americans continue to support a path to citizenship for undocumented immigrants. Republicans trust Fox News while Democrats divide their media loyalties. And the impact of President Obama's current job approval rating on the 2016 elections is...debatable. This is HuffPollster for Tuesday, June 10, 2014.
BROAD SUPPORT FOR IMMIGRATION REFORM - Public Religion Research Institute, with the Brookings Institution: "At present, 62% of Americans favor providing a way for immigrants who are currently living in the United States illegally to become citizens provided they meet certain requirements, while 17% support allowing them to become permanent legal residents but not citizens, and roughly 1-in-5 (19%) favor a policy that would identify and deport all immigrants living in the United States illegally. Current support for a path to citizenship is nearly identical to support levels one year ago (March 2013) when 63% of Americans supported a path to citizenship for immigrants who are living in the United States illegally….Although deportations of immigrants who are in the country illegally have increased since the beginning of the Obama administration, only one-quarter (25%) of Americans correctly state that deportations have increased over the past five or six years. Close to half (45%) of Americans believe that the number of deportations has stayed the same, while nearly 1-in-5 (18%) say deportations have decreased." [PRRI]
...unless you watch Fox News - Elise Foley: " Many people who oppose immigration reform have something else in common: They watch Fox News, according to a poll published on Tuesday. The new survey from the nonpartisan Public Religion Research Institute and the Brookings Institution found that, in the report's words, trusting Fox News was 'the most powerful independent predictor of opposition to a path to citizenship.'...Slightly more than half of Republicans -- 53 percent -- said they trusted Fox News most among TV networks on politics and current events, according to the poll. The survey also found those Republicans were more conservative than GOP supporters who listed other TV networks as their top source of news. On immigration, the divide was especially pronounced." [HuffPost]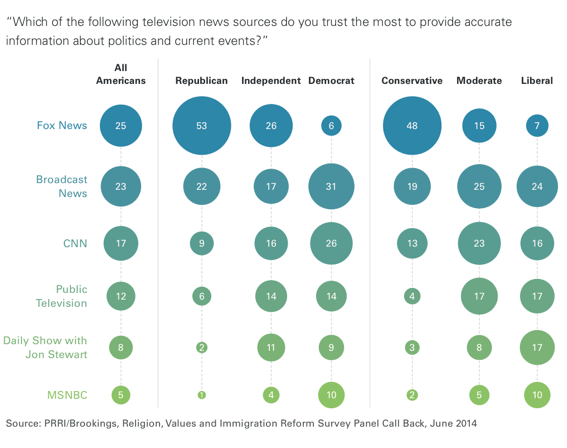 ...but is MSNBC the least trusted media outlet? - The news-source-trust question captured considerable attention online, leading to a few headlines like this, from Mediate: "MSNBC the Least Trusted TV News Source Among All Americans." This deserves a few caveats. "Least trusted source," isn't synonymous with "the source fewest people said they trust the most," and the list of sources, which pitted "broadcast news" and "public television" against Fox, CNN, MSNBC, and the Daily Show, found Republicans relatively unified in favor of Fox, with Democrats split more evenly among the other options. [Mediaite]
Groups backing Obama less likely to turn out - Christopher Ingraham charts the relationship between approval of Obama and certainty of voting among demographic groups. [WashPost]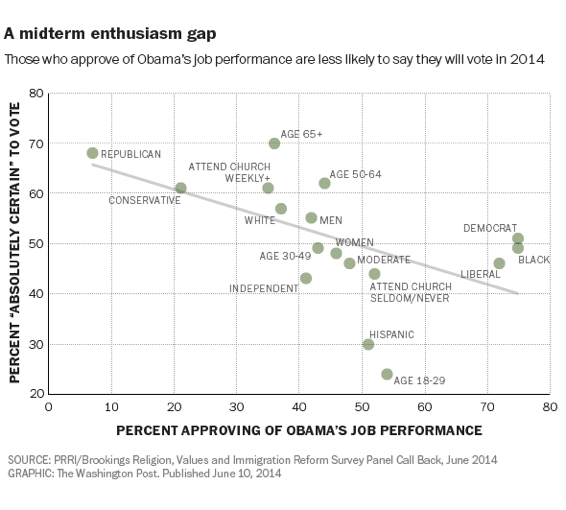 POLL FINDS FLORIDA GUBERNATORIAL RACE NARROWING - Public Policy Polling (D): "Rick Scott's early negative advertising blitz against Charlie Crist has paid off in a big way. What was a 12 point lead for Crist over Scott last fall at 50/38 is now a tie race at 42% each, and the biggest thing that's changed over the last 8 months is how Floridians feel about Crist. Scott remains an unpopular Governor, although his approval ratings are not quite as bad as they have been at some times during his term….Crist's image is basically unchanged with Democrats. But much of his residual appeal to Republicans has faded off- where he still managed a 25/65 rating with them last fall that's now declined to 16/74. And he finds himself upside down with independent voters as well at 24/49. [PPP]
Echoes other recent polls - With the exception of an April Quinnipiac survey that gave Crist a 10-point lead, the latest surveys have shown a tightening race this year. Two SurveyUSA polls in May found Crist leading by 3 points, and then Scott ahead by 2 points -- a third, released Tuesday afternoon, found Crist again up by 2. A survey by the Republican pollster McLaughlin for a GOP client gave Scott a 4-point lead. HuffPollster's average currently gives Crist just a 1.5 point lead. [HuffPollster]
OBAMA'S RATINGS MAY NOT BE A BELLWETHER FOR THE NEXT DEMOCRATIC NOMINEE - Nate Cohn: " Low presidential approval ratings can presage the collapse of a political coalition, like the fall of the Republican coalition in the last years of the George W. Bush administration. Mr. Obama's approval ratings are not nearly as low as Mr. Bush's, but they are low enough to entertain the possibility that it will put Democrats at a disadvantage. Mr. Obama's approval ratings sank to a comparable level in 2010, ahead of a landslide Republican victory in the midterm elections that year. But Mr. Obama's lower approval ratings don't necessarily pose a great danger to the next Democratic presidential candidate. His low ratings might just reflect the difficulty of maintaining election-year levels of support from Democratic-leaning voters, and the difficulty of earning crossover support in an increasingly polarized era….Mr. Obama might well be retaining the approval of a healthy percentage of his supporters from 2012, with his approval ratings deceptively low because of nearly unanimous Republican opposition. It's hard to find evidence suggesting that Mr. Obama's weakness stems from a deeper problem, like alienating some portion of Democratic-leaning voters….The polls also show that Democrats are maintaining their advantage in partisan identification, and faring about as well as one would expect in Senate contests in presidential battleground states like Colorado, Iowa and Michigan. " [NYT]
The conversation continues...
-Jonathan Chait: Obama's approval ratings simply aren't low at all, if you define 'low' to mean 'not high enough to win a presidential election.'...Cohn's main point is that Obama's approval ratings are misleading artifact, and a large chunk of the Democrats registering disapproval for him would readily support him if he were on the ballot again." [New York]
-Ross Douthat: "Obama's current approval ratings are, by definition, 'not high enough to win a presidential election.'...Of course he wouldn't get 43 percent if the election were held now." [@DouthatNYT here and here]
-Chait (answering Douthat): "My point, and @Nate_Cohn's, is that Obama's approval is the same as it was prior to 2012, and would track to victory." [@jonathanchait]
-John Sides: "If you model '48-'12 prez elections based only on prez approval, and assume Obama=45% in 2016, chance of Dem win=54%." [@monkeycageblog]
HUFFPOLLSTER VIA EMAIL! - You can receive this daily update every weekday via email! Just click here, enter your email address, and click "sign up." That's all there is to it (and you can unsubscribe anytime).
TUESDAY'S 'OUTLIERS' - Links to the best of news at the intersection of polling, politics and political data:
-45 percent disapprove of the deal to free U.S. Army Sgt. Bowe Bergdahl, while 37 percent approve it. [CBS News]
-Anthony Brown leads the Maryland Democratic primary for governor. [WashPost]
-California Gov. Jerry Brown (D) has a nearly 30-point lead against Neel Kashkari (R). [Rasmussen]
-Jack Kingston's (R) internal polling finds him leading in the Georgia GOP Senate primary runoff. The Hill]
-Brendan Nyhan explores why believe in voter fraud is widespread despite a dearth of evidence. [NY Times]
-Census Director John Thompson explains that making the American Community Survey voluntary could cost more than $90 million annually and would degrade the accuracy of collected data. [Census via @JoshdelaRosa1]
-Canadian pollster Angus Reid steps down from Vision Critical, the market research firm he founded. [Vancouver Sun via @LSimonetta]
BEFORE YOU GO
PHOTO GALLERY
U.S. Capitol Photos