The harrowing struggle for survival is not over for more than 1.1 million children who have fled Syria's devastating war. Thousands now carry the burden of earning a living to support their families.
One in ten Syrian refugee children is engaged in child labor, according to the UN refugee agency (UNHCR). In a powerful series of portraits for the United Nations High Commissioner for Refugees, photographer Andrew McConnell has documented one group of Syrian boys working for a charcoal seller in the northern Lebanese town of Bebnine. Aged between 11 and 15-years-old, they fill, weigh and carry sacks of charcoal to earn the equivalent of less than 70 U.S. cents per hour.
The small town of Bebnine is one of many in northern Lebanon that have seen a growing influx of Syrian refugees, many of whom are children. A UNHCR study from 2013 found that many Syrian refugee children in Lebanon live without their father, mother or both parents, making them important breadwinners. While the Lebanese government has signed international labor treaties barring work for children under the age of 15, they are not enforced in the informal sector of the economy, Al Jazeera America explains.
Andrew McConnell's photo story The Charcoal Boys: Child Labour in Lebanon highlights one of the ways in which refugee children are risking their health and forgoing education, all to earn a meager wage for their loved ones.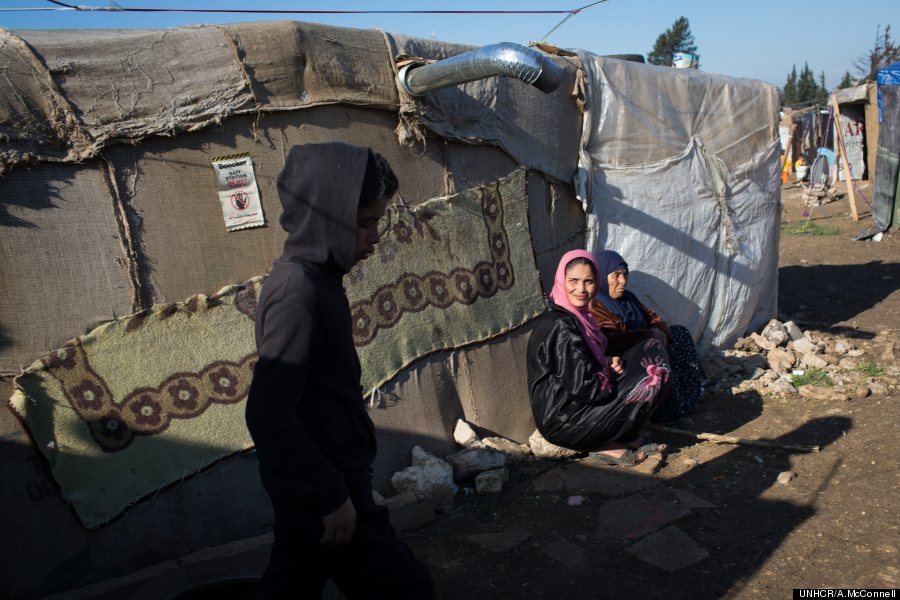 Anas, 12, sets off to work from his family's home in one of several makeshift settlements for Syrian refugees in Bebnine. Anas is from the city of Homs and came to Lebanon late last year. (UNHCR/A.McConnell)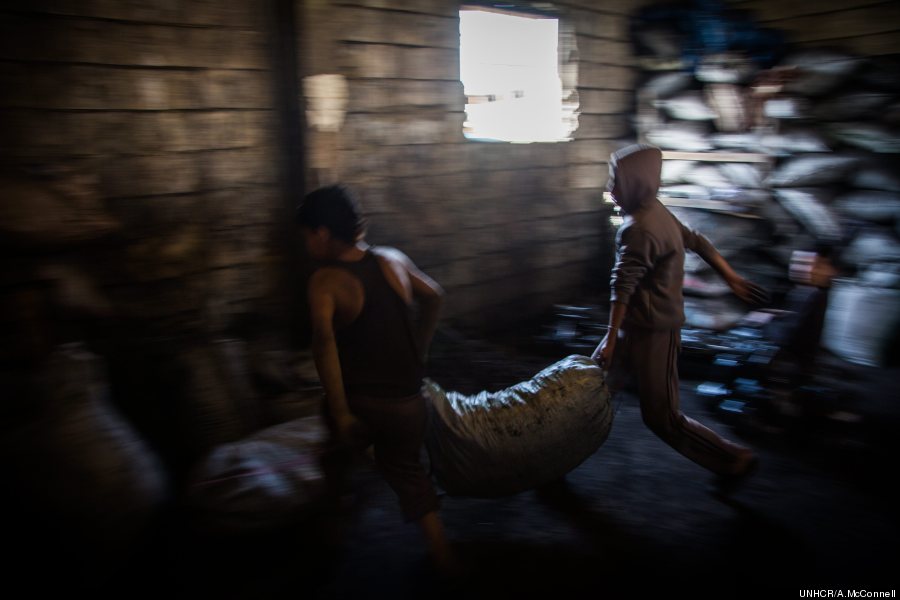 Hard at work, 12-year-old Anas (left) carries a sack of charcoal with his friend Mustafa, aged 15. On quiet days only one boy is needed, but when a truck arrives with a cargo of charcoal, up to six boys work there. (UNHCR/A.McConnell)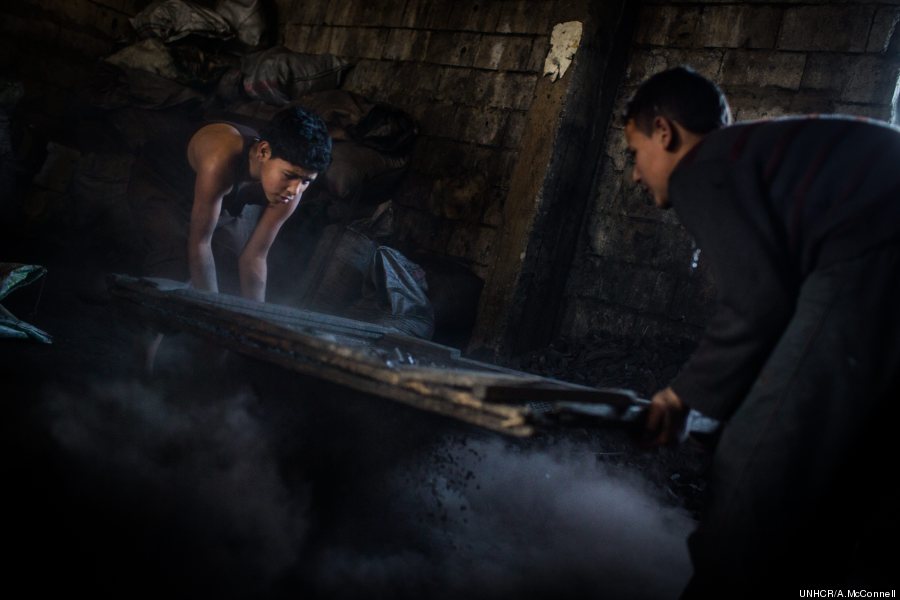 Anas (left) and Abdullah, 15, use a makeshift sieve to remove the dust and small lumps of charcoal. The work is difficult and dirty and the boys have nothing to protect them from the dust. After this, the charcoal is weighed and packed into two-kilogram bags. (UNHCR/A.McConnell)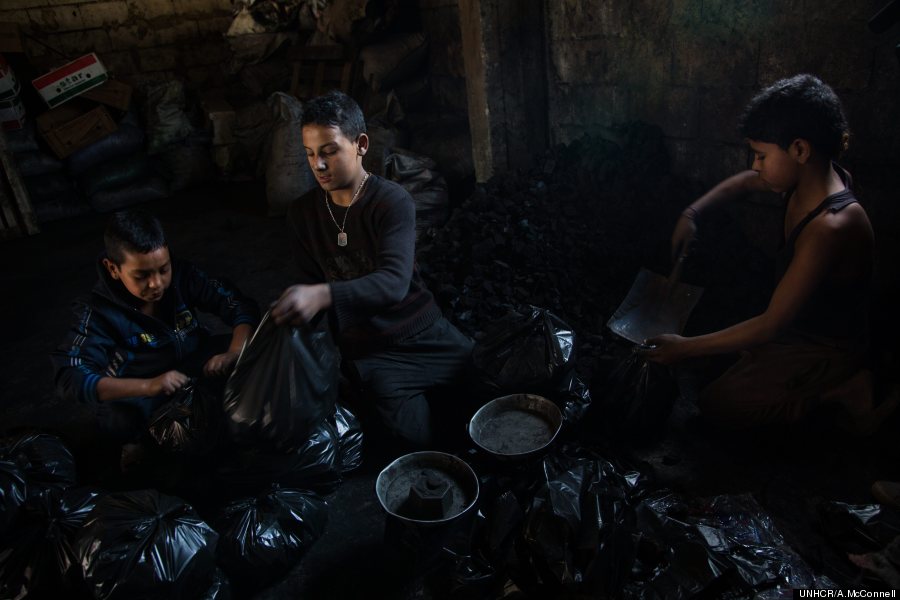 From left to right, Sultan, aged 11, Abdullah and Anas weigh and pack charcoal into 2kg bags at the charcoal seller's shop in Bebnine. The boys earn 66 cents an hour. On an average day, they start at 8 a.m. and finish at 4 p.m. (UNHCR/A.McConnell)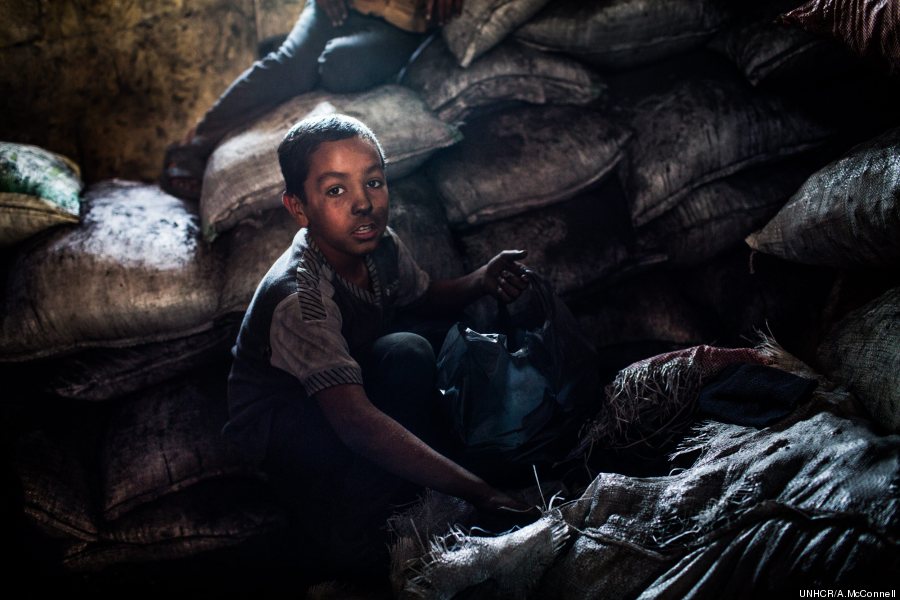 Sultan surrounded by sacks of charcoal. He takes work where he can find it; sometimes he works in the charcoal shop, sometimes he cleans shoes in the streets. He earns US$2-US$4 per day. "My father lost an eye so I must earn money to help my family," the 11-year-old says. (UNHCR/A.McConnell)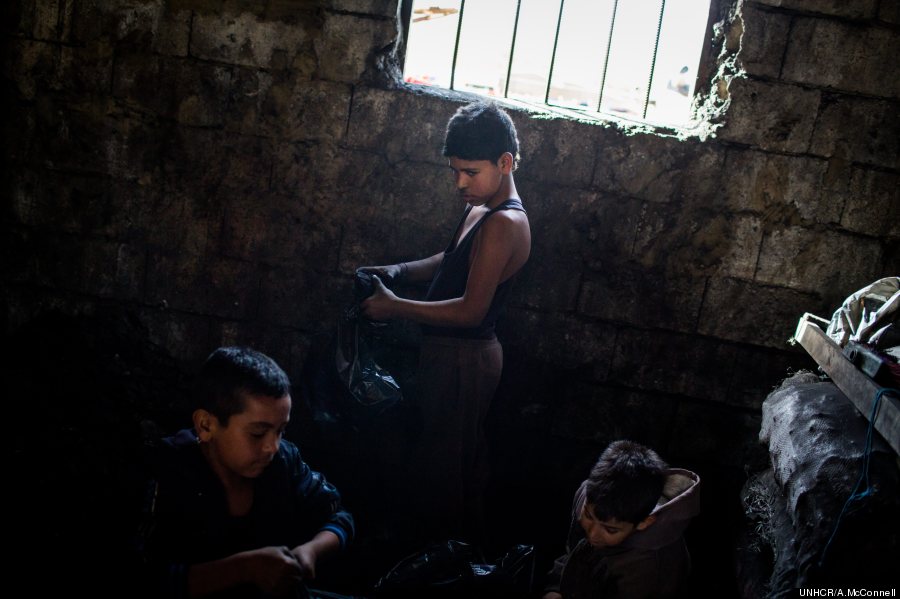 Sultan, Anas and 11-year-old Talal (left) weigh and pack charcoal. Anas also works in a grocery store, taking just one day off a week. (UNHCR/A.McConnell)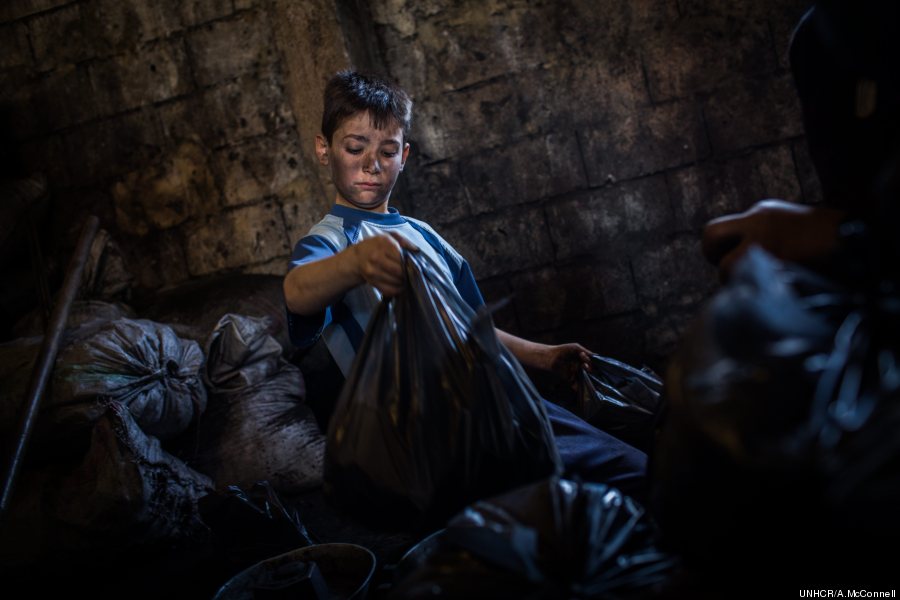 Talal, packs charcoal into 2kg bags. In his home town of Homs, Talal was top of his class. "I miss school, especially science, I want to be a surgeon," he says. "I am very bored here, I want to go back to Syria so I can go to school." But he is proud to be helping his family. (UNHCR/A.McConnell)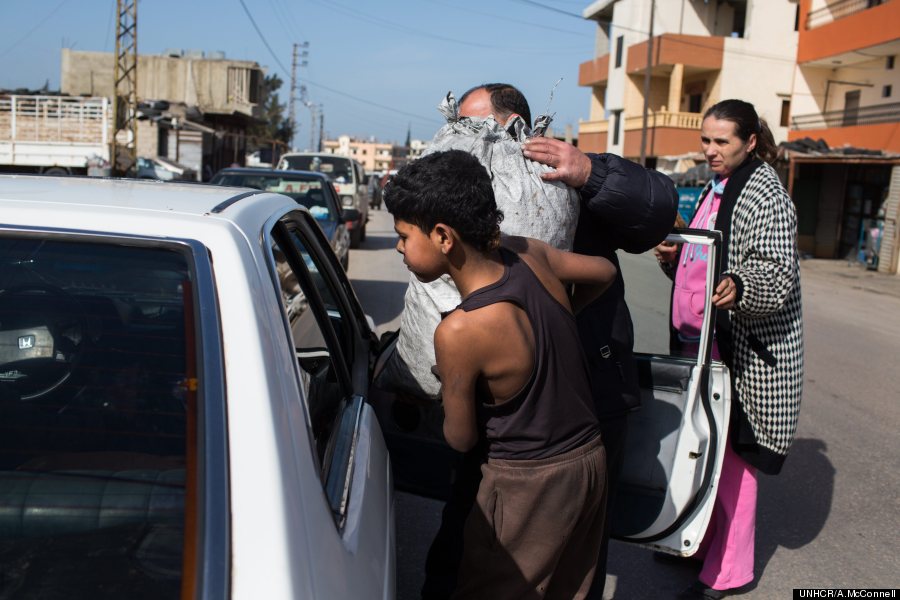 Anas carries a sack of charcoal to a customer's car in Bebnine. "I work and work and work, maybe seven hours or so. I am helping my family survive, my parents are happy with me, I can't do more for them," the boy says, adding that he misses school, especially sports. (UNHCR/A.McConnell)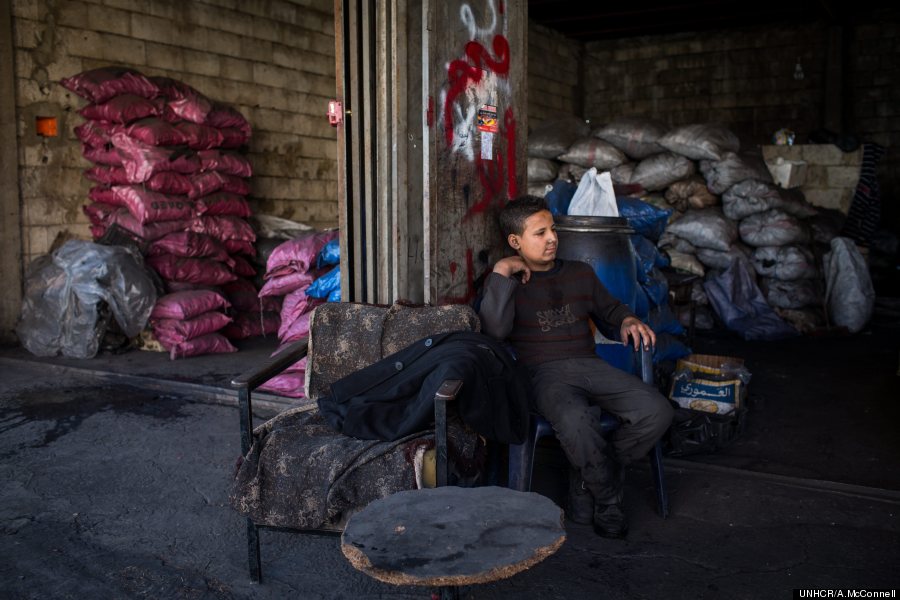 Abdullah, 15, takes a break at the charcoal shop where he works in Bebnine, Lebanon. Abdullah is from Homs and has lived in Lebanon for more than six months with his father and 11 siblings. He used to work in a welder's workshop but prefers the charcoal shop and his boss there, who is like a second father to him. (UNHCR/A.McConnell)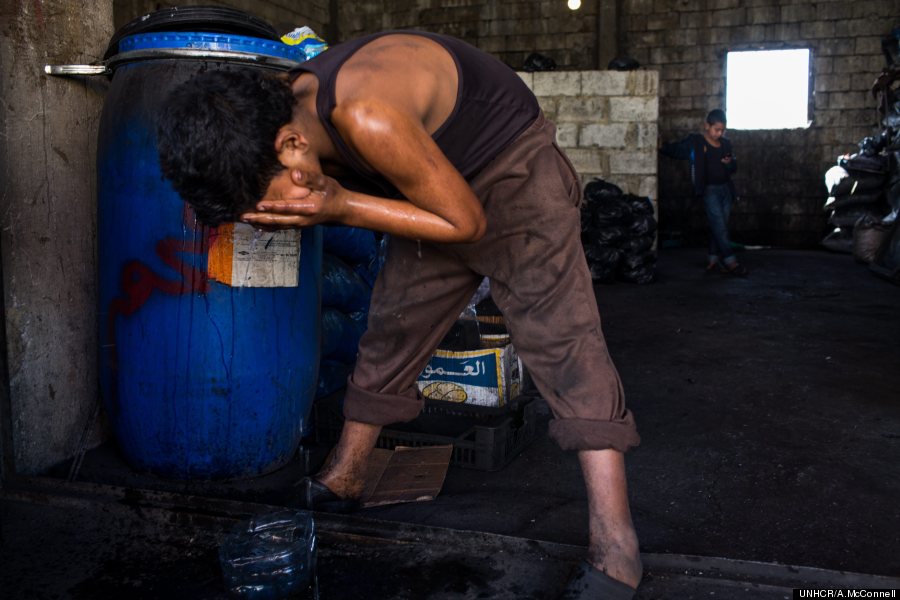 Anas washes his face after finishing work at the charcoal shop in Bebnine. Like his friends, he misses school. (UNHCR/A.McConnell)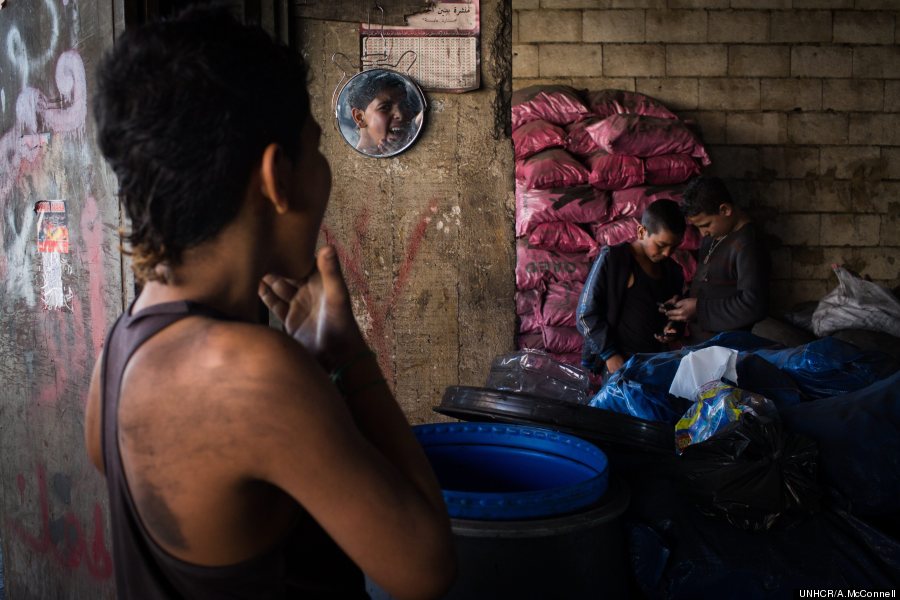 Anas checks his face in the mirror after finishing a day's work at the charcoal shop in Bebnine. (UNHCR/A.McConnell)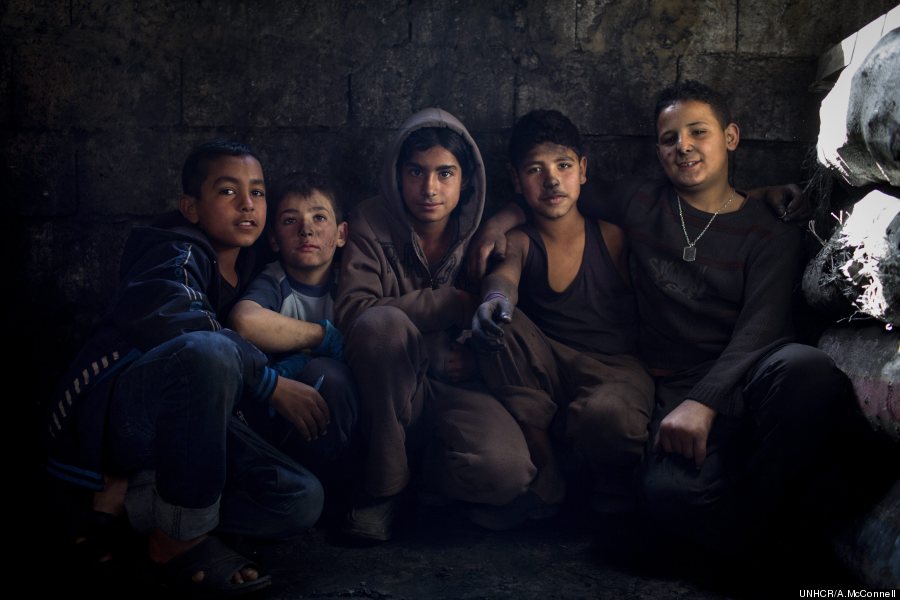 Co-workers Sultan, 11, Talal, 11, Mustafa, 15, Anas, 12, and Abdullah, 15, pose for a group photo in their place of work. The Syrian boys live with their families in a nearby informal settlement. (UNHCR/A.McConnell)
BEFORE YOU GO
PHOTO GALLERY
Syria War in June