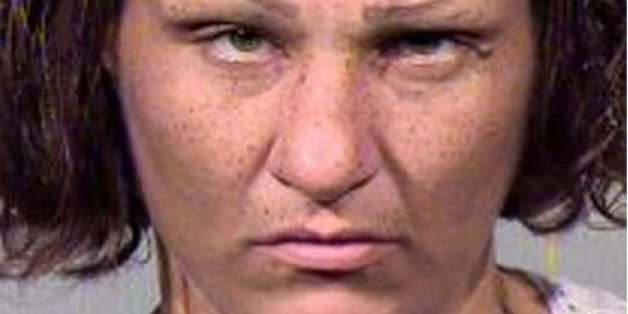 An Arizona woman was arrested Sunday after her 3-year-old nephew, who was left in her care, was found dehydrated and unresponsive underneath a truck.
Sarah Nunley, 31, was arrested in Glendale and charged with child abuse, possession of drug paraphernalia and false reporting to law enforcement, according to KPHO.
According to AZ Family, Nunley was watching her own child and six of her sister's kids while the sister, 25-year-old Stephanie Lynn Ross, was at work.
Police said they saw the other children, ages 1 to 11, wandering without shoes nearby when they arrived. Officers said they were asking people for water, and that they found a 3-year-old unresponsive under a truck in 103-degree heat.
"There was minimal food in the residence. It was very unsanitary. It just was not an appropriate place. They were not being properly cared for, Officer Tracey Breeden told AZ Family.
Officers also said that the children slept on the floor, and that knives were lying around the home within reach of the kids.
While cops were questioning Nunley, she allegedly told them she didn't have any children of her own. Later, a girl told officers that Nunley was her mother, and Nunley allegedly admitted that she initially lied because she didn't want Child Protective Services to take custody.
The children were taken into CPS custody, according to AZ Central.
Cops also said they found a meth pipe on Nunley.
Like Us On Facebook |

Follow Us On Twitter |

Contact The Author