Is it just us, or has your dad also owned the same pair of jeans for 20 some-odd years? Or rocked the same pair of Persol sunglasses since the '70s?
While we love our dads' dorky style, truth be told, they need a little help in the wardrobe department. Seeing as though Father's Day is right around the corner, it's the perfect time to spice up their closets.
There's nothing better than a new scent, a fresh collared shirt or a pair of (just trendy enough) desert boots to give your dad the kick he needs to step it up a notch. And to press it even further, who says he can't rock a hipster look -- hey, a Henley works no matter your age. Same goes for a brown leather watch and stylish cufflinks.
To help with your shopping, we've rounded up a few cool gifts just in time for Father's Day. And Dad, if you're reading this, your Hawaiian shirts have got to go. (Tap the image to zoom!)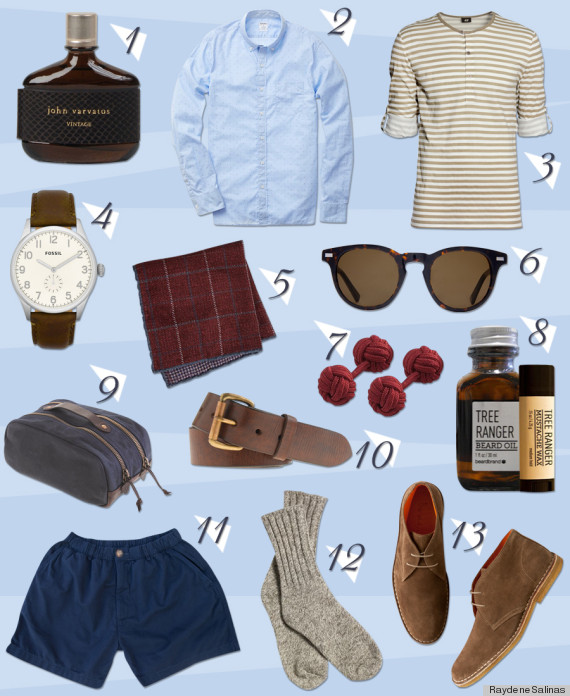 1. John Varvatos Vintage Fragrance, $62 - $82 2. Summer Weight Shirt, $85 3. H&M Cotton Henley Shirt, $9.95 4. Fossil Three-Hand Leather Watch, $105 5. Reversible Plaid & Houndstooth Cotton Pocket Square, $165 6. Warby Parker Sunglasses, $95 7. Brooks Brothers Knot Cuff Links, $6.30 8. Broquet Beard Maintenance Kit, $79 9. J.CREW Travel Kit, $58 10. J.CREW Roller Belt, $98 11. Chubbies, $49.50 12. Ragg Wool Socks, $14.95 13. Retro Desert Boots, $103.50
BEFORE YOU GO
PHOTO GALLERY
Happy Father's Day To Our Stylish Dads!