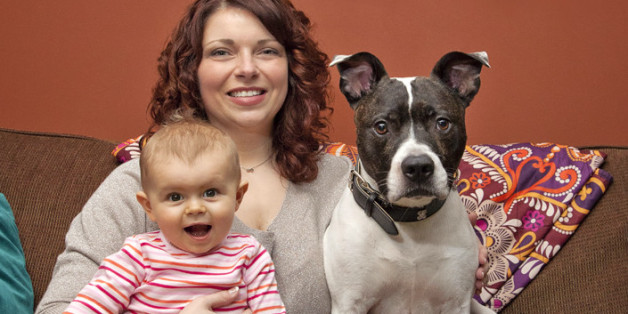 Jana Mandes is aware that there are some negative stereotypes out there about pit bulls and the people who love them.
"But this is really a puzzle to me," she says. "We have learned we cannot judge a person by the way they look, or condemn someone based on the actions of another from the same ethnic background. This pigeonholing doesn't work for family pets either."
Mandes is founder of Nashville Pittie, a pit bull advocacy group in Music City. In addition to finding these doggies good homes, she's set out to make others see pit bulls as the amazing family dogs they are, "with loyalty as dependable as the sunrise."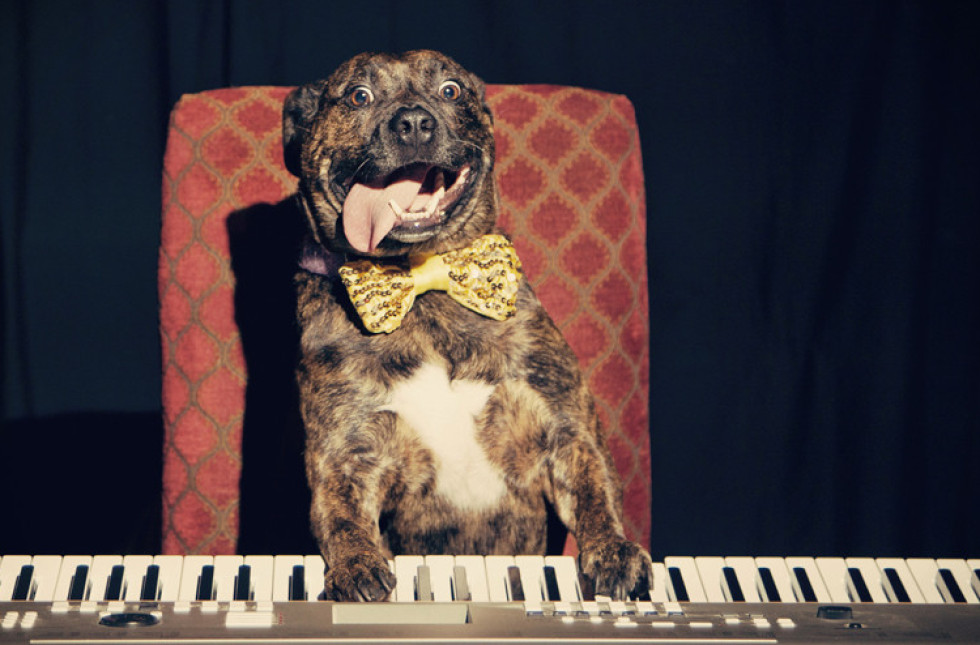 Some of them also like to play the piano. This is Roscoe, who belongs to Nashville performer Christy Eidson. Roscoe's other interests include canoeing and being petted. Photo credit: Amiee Stubbs
One way of spreading that message is through a book called "Impression-A-Bull," which shares the stories of local folks -- lawyers, doctors, scientists, entrepreneurs, entertainers, a member of the Tennessee legislature, a pro football player and "a lot of everyday people who contribute to Nashville's unique culture," says Mandes -- who have one thing in common: they really love their block-headed pups.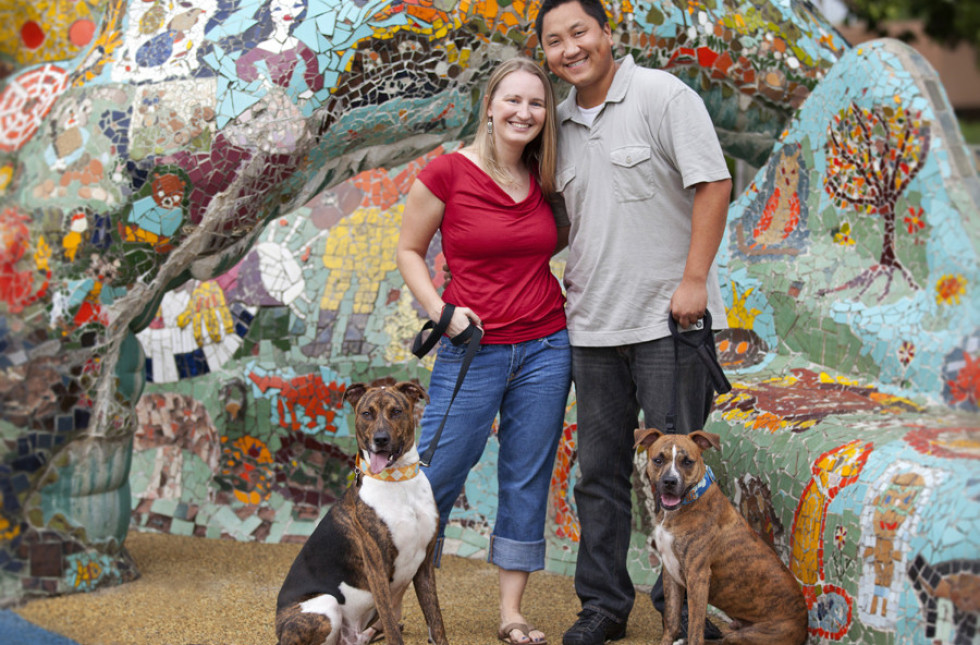 Dave and Laura Flaherty, with their pit bull Oscar and a much-loved foster dog named Cooper. Photo credit: Amiee Stubbs
The book was a long time coming: After the idea was floated about four years ago, an Impression-A-Bull exhibit was held at photographer Amiee Stubbs' UltraViolet gallery in 2012. (Stubbs took the pictures for the book; she is also lucky enough to be the Nashville Zoo's official photographer.) The book itself went to print last fall.
Mandes says during all this time, she's been heartened to see some headway for pit bulls. Proceeds from the book sales are used to fund a spay-neuter program, which she says is "a vital part of the process." And almost a year ago, Nashville's city-run animal shelter lifted its longtime ban on adopting out pit bull type dogs, which, while not a panacea, has led to what's described as "significant strides" in lowering Metro Animal Care and Control's shockingly high euthanasia rate.
The hope is that pit bulls' reputation will keep improving, that more restrictions on pit ownership will fall, that more pits will find homes -- and that as more people fall in love, there'll be a whole new set of conceptions about these dogs and their families
"A few things that are stereotypical among pit bull guardians I meet are, they adore their pup. They take pride in being a pit bull guardian. They think they have the smartest, cutest and funniest dog, ever," Mandes says."I wish that people in Nashville and elsewhere knew that discrimination and blanket judgments do not make sense for dogs any more than they do for people."
Want to help support the pit bull spay-neuter program? Purchase "Impression-a-Bull" at lulu.com for $29.98.
Is there a sweet pit bull who's stolen your heart? Do you have an animal story to share? Get in touch at arin.greenwood@huffingtonpost.com
BEFORE YOU GO
PHOTO GALLERY
These Pit Bulls Need Homes!