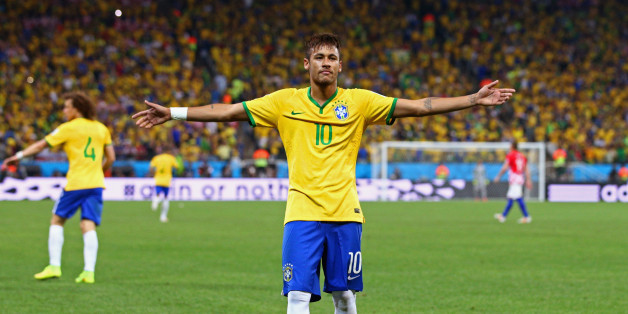 The final score doesn't always tell the whole story.
Brazil escaped from the opening match of the 2014 World Cup with a controversial victory over Croatia that was more intense and evenly contested than the 3-1 final indicates. Playing before a raucous crowd in Sao Paulo, the teams were deadlocked 1-1 deep into the second half when referee Yuichi Nishimura awarded a penalty kick to Brazil. In the 71st minute, Brazil forward Fred went down in the Croatia penalty area under light contact from defender Dejan Lovren and Nishimura pointed to the spot.
Here's the foul that led to the penalty #BRAvsCRO
http://t.co/oyHzsu1xug

— ESPN FC (@ESPNFC) June 12, 2014
Incensed Croatia players immediately protested the call to no avail. After an unorthodox approach to the ball, Neymar converted the spot kick for his second goal of the match. Croatia goalkeeper Stipe Pletikosa correctly dove to his right but could not keep the ball out of the net.
On a yellow card, Neymar is subbed out in the 88th-minute. Here's his 2nd goal to put the host country up 2-1.
http://t.co/0OMDBgYBg8

— ESPN FC (@ESPNFC) June 12, 2014
"It's important to start these tournaments with the right foot, with a victory," Neymar told reporters after the match, via The Associated Press. "I'm happy that I got to score, but the entire team deserves credit. We maintained our calm and showed we could battle back."
Wearing the iconic yellow No. 10 shirt, Neymar had scored Brazil's first goal of the match in the 29th minute. Brazil was facing an unlikely 1-0 deficit when Neymar stroked a left-footed shot off the goal post and past Pletikosa. The equalizer was the 22-year-old's first career World Cup goal.
WATCH: Neymar scores his 32nd goal in 50 caps for Brazil to level the opening World Cup match 1-1 #BRAvsCRO http://t.co/HXJBwPpTc6

— ESPN FC (@ESPNFC) June 12, 2014
Brazil found itself behind in the 11th minute when Marcelo committed a shocking mistake by redirecting a Croatia cross into his own net.
This was Brazil's first ever own goal in World Cup history #BRAvsCRO
http://t.co/Y32udoWS56

— ESPN FC (@ESPNFC) June 12, 2014
With Croatia later pressing for an equalizer of its own in the closing minutes of the second half, Oscar added Brazil's third goal in the 91st minute with a dazzling solo run.
Here's Oscar's clever toe poke to seal the victory for Brazil
http://t.co/JG5fTd5IHu

— ESPN FC (@ESPNFC) June 12, 2014
BEFORE YOU GO
PHOTO GALLERY
Brazil vs Croatia