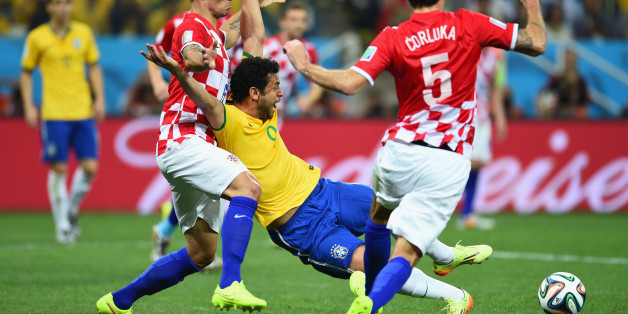 It wouldn't be the World Cup without some questionable officiating.
With Brazil and Croatia tied, 1-1, deep into the second half of the opening match of the 2014 World Cup, the host nation was awarded a controversial penalty kick that was viewed by many as either a sign of referee Yuichi Nishimura's incompetence or FIFA favoritism. The dubious decision came in the 71st minute when Brazil forward Fred went to ground after seemingly minimal contact from Croatia defender Dejan Lovren. Fred threw his arms up after landing on the grass at Itaquerao Stadium in Sao Paulo and Nishimura responded by blowing his whistle and pointing to the penalty spot. Lovren was shown a yellow card and Brazil was shown an opportunity to break the deadlock.
Here's the foul that led to the penalty #BRAvsCRO
http://t.co/oyHzsu1xug

— ESPN FC (@ESPNFC) June 12, 2014
The reactions to the call on social media were seemingly every bit as vociferous as those displayed by the Croatian players on the field.
PHOTO GALLERY
Reactions To Controversial Penalty On Croatia
Following the failed protestations, Neymar banged the spot kick past goalkeeper Stipe Pletikosa, barely.
On a yellow card, Neymar is subbed out in the 88th-minute. Here's his 2nd goal to put the host country up 2-1.
http://t.co/0OMDBgYBg8

— ESPN FC (@ESPNFC) June 12, 2014
Croatia would push for an equalizer in the closing minutes but Brazil would not surrender its advantage. Somewhat mitigating the impact of the penalty decision, Brazil added a third goal by Oscar in the 91st minute to close out a 3-1 win.
"That is shameful, this is not a World Cup referee. He had one kind of criteria for them and another for us," Croatia coach Niko Kovac said after his team's defeat, via The Associated Press. "The rules were not the same."
BEFORE YOU GO
PHOTO GALLERY
Brazil vs Croatia