Well, this is pretty spectacular news: An 8-year-old in the United Kingdom has beaten a rare type of cancer that is typically fatal.
Claudia Burkill was diagnosed with metastatic pineoblastoma, a malignant brain tumor, in June 2011. Her prognosis was terminal. But, after many sessions of an experimental treatment, she has apparently beaten the odds and recovered.
(Story continues below)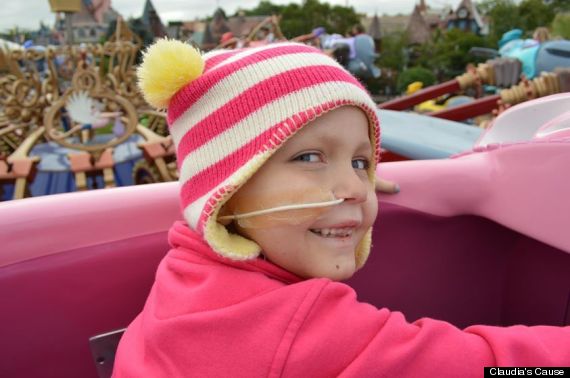 Photo courtesy of Claudia's Cause
Claudia's family announced the all-clear this week on a Facebook page devoted to the 8-year-old's battle with the inoperable brain tumor.
Originating in the pineal gland, pineoblastomas are rare and aggressive tumors that mainly crop up in children. While the brain tumor can be treated -- sometimes with surgery, but primarily with radiation and chemotherapy treatments -- the likelihood that a patient will survive for long after a diagnosis is not high.
According to the National Institutes of Health: "Individuals with a pineoblastoma live an average of 20 months after their diagnosis, and 10 percent of affected individuals are alive 5 years after their diagnosis."
Fortunately, Claudia's sessions of high-dose chemo and radiotherapy throughout the last few years proved effective.
"Her latest MRI scan shows no evidence of tumor, which is excellent news," Dr. Sophie Wilne, a consultant of pediatric oncology at the University of Nottingham, said, according to the Nottingham Post. "This is a very difficult brain tumor to treat so I am delighted that three years later Claudia has beaten the odds."
As of 07/06/14 Claudia is no longer classed as terminal. 695 days before (13/07/12), came the terminal prognosis. pic.twitter.com/dWqZiaCZsU

— Claudia's Cause (@ClaudiasCause) June 8, 2014
Claudia's family set up a charity in her name, Claudia's Cause, to raise funds for brain tumor research at The University of Nottingham.
BEFORE YOU GO
PHOTO GALLERY
10 Facts About Cancer That May Surprise You