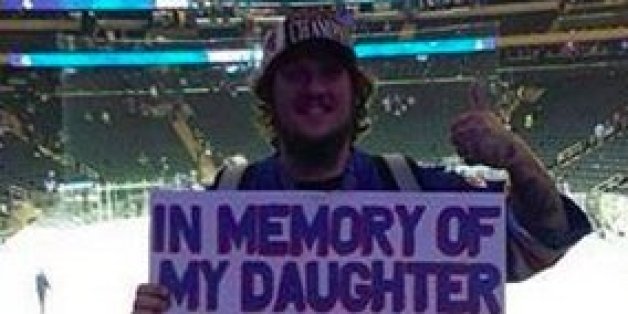 Many parents try to share their love of sports with their children, and Rangers fanatic Bobby Ackerman hoped to do the same.
According to TODAY.com, when Ackerman became a dad in December, the first gift he gave his daughter Madison was a tiny Henrik Lundqvist jersey. The hockey jersey came with a promise that if the New York Rangers ever made it to the Stanley Cup finals, he would bring her to a game with him. Now, six months later, the Rangers are in the finals, but that promise will forever go unfulfilled.
Madison died in a tragic accident in April, suffocating in her sleep at 4 months old, TODAY.com reports. Mourning the loss of his daughter, Ackerman found that delving back into hockey and cheering for his favorite team helped to lift his spirits. He made a Rangers-themed sign that said "In memory of my daughter Madison" and featured photos of the baby girl, as well as her tiny Lundqvist jersey. Here's a photo of the sign that he posted on Instagram:
Soon after, a photo of Ackerman holding that sign went viral, and caught the attention of Shawn Revell, an administrator for a Rangers Facebook fan page. A father of a 9-month-old daughter himself, Revell was moved by the story and decided to create a GoFundMe page, with the goal of raising $3000 to send Ackerman to the Stanley Cup finals. Hockey fans rallied around the cause, raising a third of the money within only 24 hours and eventually exceeding the goal by $500. Donors included Rangers fans, as well as fans of rival teams like the Devils, Islanders, and even the Kings. Revell told The Star-Ledger about a $1500 gift from a special anonymous donor -- "somebody popular in the New York area, I will say that."
Thanks to the support of the hockey community, Bobby Ackerman was at Madison Square Garden to watch his team defeat the Kings in Game 4. He brought the sign and Lundqvist jersey and even received a new one with Madison's name on it. Ackerman was overwhelmed with gratitude. "I still can't find the words," he told The Star-Ledger. "I'm just your average guy who loves hockey. The hockey community is the best thing in the world. Without it, I don't know where I'd be right now."
Support truly can come from unexpected places.

BEFORE YOU GO
PHOTO GALLERY
Sports Dads Celebrate With Their Kids