 Pelé is widely accepted as the greatest soccer player of all time. The, 5-foot-8, 73-year-old Brazilian star is the only player to have ever captured three World Cups during his career.
Perhaps he is summed up best by the famous contemporary American artist Andy Warhol. "Pelé was one of the few who contradicted my theory," Warhol said. "Instead of 15 minutes of fame, he will have 15 centuries."
In 1999, Pelé was voted "Athlete of the Century" by the International Olympic Committee and was named one of the 100 most influential people of the 20th century by Time magazine.
Amid the filming of his new project, "The Real Pelé," he caught up with The Huffington Post to discuss the World Cup, the state of American soccer today and whether we will ever see another Pelé on the pitch.
This interview has been edited and condensed for clarity.
With the new show, how much are you aware of the cameras, and how much of that is just a part of your everyday life now?
Listen, I started very young when I was 16 years old, so they don't make me feel uncomfortable. What I tried to do is give my best to the fans and the people who follow me. I am very happy for that.
What does this project mean to you in terms of how many fans it allows you to touch globally?
I go with that, you know. I started to play when I was 17 years old with the national team in Sweden. I was 17 years old. I have three generations with me. I'm used to doing that -- this is my life. I think one day if I didn't have the same kind of life, that would be tough for me. I'm not used to that.
With the abundance of cameras around you all the time, how are you able to be your normal self?
In my house, of course, but after I got married I had three children who followed me every second. This is my life now; I am with them. This is the part of my life that I think is good, when you have somebody who is your blood, your family, your children, who stay with you.
How is soccer different now than when you played? Is it the speed of the game and the power?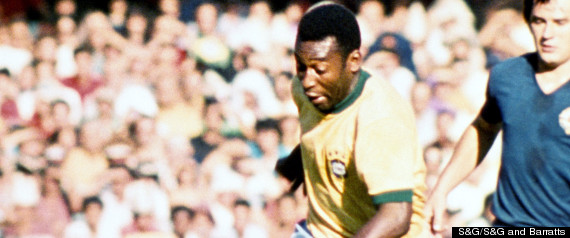 Of course we have a lot of differences than during my time. One big difference -- in my time we didn't have the [first class treatment]. We didn't have the facilities, the nice boots, the nice uniforms, the transportation now with jets. When we used to go to Europe to play, we would use a bus. But on the other side, it hasn't changed too much because, inside of the field, you have to have a good player.
You are largely credited for the growth of American soccer because of your tenure with the New York Cosmos. Explain how much that means to you and your overall legacy.
That means a lot. As I told you, I have three generations that follow me. I think one of the very important things that I did for soccer -- not only for the United States but for all over the world -- when we started to promote soccer with the New York Cosmos, soccer was there in the United States, but it was different. People didn't pay too much attention to soccer. Then we opened the door: In seven to eight years or 20 years, the big sport in the United States will be soccer. Besides that, there are more girls in the universities and colleges playing soccer. This makes me feel very proud.
What does the USA have to do to become a real soccer nation, to take that proverbial next step?
I think the United States plays at an excellent level, but the people remember when they win World Cups and when they win the game. In the last World Cup, the United States was a very good team. That's what we expect to see.
Describe the pressures facing Brazil, as the host, to win the World Cup. Can you relate to that type of pressure? Very big pressure … because the [fans] want to win the World Cup, but it's not as easy as that. You must understand that Brazil has more World Cups than any other country. Inside we expect Brazil to be a champion, but I think that we must be careful and respect everyone because fútbol is full of surprises. The level of all of the teams all over the world are mostly the same -- they are very even. You don't have easy games today. It doesn't matter if you play against the United States, China -- every game is very difficult, but the people in Brazil, they don't care. They want to win the World Cup [at any cost].
Do you see yourself in any current soccer players today, perhaps your countryman Neymar, who is now wearing your famed No. 10 jersey?
Maybe someone could play more or less like me, but there is nobody like me because my mother and my father closed the machine. Seriously, to answer your question, of course we have a lot of great players. In the past we had more names. Today [we have fewer] great players: we have three or four in Neymar, you have Cristiano Ronaldo, you have maybe [Lionel] Messi. Now, to find five [great] names is very difficult.
You mentioned the facilities and quality of travel that today's players receive. How much better could you have been with the same amenities?
I think it would have been much better for me to play today because of the facilities and all of the support. I used to say that if God gives me the opportunity to score more than 1,000 goals, [I would be happy]. With [today's] facilities, I would be able to score 2,000.
What does it mean to you that Brazil is hosting a World Cup?
It's fantastic for me. I feel very proud because of the young and the new generation. When I played in my first World Cup in Sweden, I saw everybody new. When we got there, the people there they didn't know where was Brazil -- they said Brazil was Argentina. Today everybody knows Brazil and it is one of the most important countries in the world. I feel very proud to start that.
Email me at jordan.schultz@huffingtonpost.com or ask me questions about anything sports-related at @Schultz_Report and follow me on Instagram @Schultz_Report. Also, be sure to catch my NBC Sports Radio show, "Kup and Schultz," which airs Sunday mornings from 9 to 12 EST, right here.