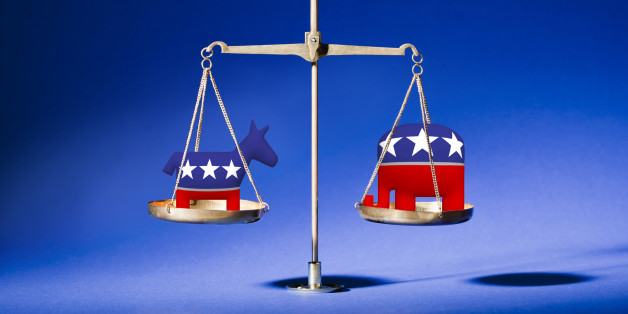 Americans are increasingly polarized. Barack Obama's ratings increasingly look like George W. Bush's did. And here's a data-driven way to watch the World Cup. This is HuffPollster for Thursday, June 12, 2014.
POLARIZATION REACHES 20-YEAR HIGH - Pew Research, in an extensive new report: "Republicans and Democrats are more divided along ideological lines – and partisan antipathy is deeper and more extensive – than at any point in the last two decades. These trends manifest themselves in myriad ways, both in politics and in everyday life. And a new survey of 10,000 adults nationwide finds that these divisions are greatest among those who are the most engaged and active in the political process." [Pew]
Among the main findings - HuffPollster: "Polarization has increased significantly in the past two decades. Twenty years ago, about 10 percent of Americans were 'uniformly' liberal or conservative in their opinions on 10 issues ranging from the role of government to the effects of racial discrimination. Today, 21 percent are, leaving little room for agreement on whether federal aid to the poor should be more or less generous, for example, or whether environmental regulations' benefits outweigh their cost….Partisans' dislike for the opposition has grown. Thirty-eight percent of Democrats and 43 percent of Republicans have a 'very unfavorable' view of the other party, up from 16 percent and 17 percent respectively in 1994. A significant fraction of partisans see the opposition as a genuine enemy: 27 percent of Democrats, and 36 percent of Republicans, say the other party's policies 'are so misguided that they threaten the nation's well-being.'…Partisan voices speak louder. Although the most polarized Americans remain the minority, they're likelier than those with mixed views to cast a ballot, donate to campaigns, and contact elected officials. People with the deepest antipathy to the other party are also among the most politically active." [HuffPost]
Another finding: 'leaners' look a whole lot like partisans - Pew: "In many respects, those who lean toward the parties—even if they identify as independent—have attitudes and behaviors that are very similar to those of partisans….leaners' ideological positions largely overlap those of partisans. And as Republicans have become more conservative, and Democrats more liberal, leaners have moved along with them."
If you're in a rush - The report's highlights, in convenient sonnet form. [@PollSonnets]
STUDY MARKS LAUNCH OF NEW PEW RESEARCH PANEL - The massive new polarization study includes a methodological departure from the Pew Research Center: An ongoing, (mostly) online survey panel. Director of Survey Research Scott Keeter explains: "We recruited survey respondents from that initial representative telephone survey of 10,013 into what's called a panel – a group of people who agree to take monthly surveys with us. The American Trends Panel will yield many benefits. One is that it allows us to collect a great deal of additional information to go with the rich set of political questions already asked on the polarization survey. This will give us far more information about each panelist than we could reasonably expect to get in a single telephone interview....A second benefit is that we can follow individual panelists over time and see how their current views might predict future behavior and whether their views change. For example...in the 2014 general elections, how well will our measures of polarization help us predict whether an individual will vote or not?Finally, the fact that we survey about 90% of our panelists online opens up a wealth of possibilities for us in terms of the kinds of questions we can ask. We can show respondents photographs of political figures, logos of news organizations or charts and graphs of information, and thus gauge the impact of visual information on political attitudes." [Pew Research]
Exploring a new methodology - In an interview with HuffPollster, Keeter explains that that "methodological" considerations were a significant motivation for this new initiative . "We've never done a panel before," Keeter said. Although Pew Research has done work with GfK's Knowledge panel, mostly to reach small, hard-to-survey populations like LGBT Americans and veterans, they have never used it as a way to reinterview the same respondents over time. "We just didn't have any practical experience with working with panels, so we said, well, let's build a panel and see what kind of contribution panel data can provide to the stories that we try to tell. We were also mindful of the fact that the field is moving rapidly in the direction of self-administered surveys, web-based surveys and the like...And we thought that having our own vehicle for that was important."
Applications for pre-election polling - More from Keeter: "The experience that I think many of us in the political polling world had in 2012 led us to believe it would be very useful to have a panel to be able to compare the view of political preferences from the panel with what we're getting in our cross-sectional surveys." Keeter specifically referenced traditional telephone polling conducted after the first presidential debate in 2012 showing "a very sharp swing" in vote intentions away from Barack Obama toward Mitt Romney. "We found that in the aftermath of the election that people who were looking at panel data said that they did not see much of a shift at all in vote intentions as a direct consequence of the first presidential debate" Their goal is to be able to use the panel this year to determine whether individual respondents are changing their opinions over time in response to campaign events.
Plans to match panelists to their voter file data - "There are things you can do with people with whom you have built a level of trust," Keeter explains, "that are harder to do with fresh random samples." One will be to obtain the information necessary to match panelists to official voter lists, which will allow the Pew Researchers to add actual registration status and turnout history to use to analyze 2014 voter preferences. Keeter: "I think that because we do have more information about people to be able to make a good match, it should be easier for us to do that kind of matching" than what they attempted after the 2012 election.
Will Pew Research continue running the panel survey after the 2014 election? Keeter: "We approached it as an experiment, and I think the question is...is it cost effective, does it yield data that are useful beyond this particular project of polarization and if so, then I think we'd serious consider keeping it going."
FRANK LUNTZ OFFERS ADVICE TO POLLSTERS:
-Frank Luntz (R): "I wrote an op-ed about horrible pollsters in today's NY Times...Polls can't predict elections. They are essential tools, but they should not be used as infallible crystal balls." [@FrankLuntz here and here; NYTimes op-ed]
-Brendan Nyhan: "Argh. Random sampling variation isn't why Cantor's pollster missed the result by 44 points." [@BrendanNyhan]
-Logan Dobson (R): "Alternate headline for this Frank Luntz piece on polling: "Guys Who Does Focus Groups Thinks Focus Groups Crucial"" [@LoganDobson]
BUSH, OBAMA FAVORABILITY RATINGS NOW EQUAL - Paul Steinhauser: "In January 2009, as President George W. Bush was days away from leaving the White House, the unpopular President's favorable rating stood at 35% in a CNN/ORC International survey. The man who was succeeding him, Barack Obama, was fresh from his historic 2008 presidential election victory and had a 78% favorable rating among Americans. But a new CNN/ORC International poll released Thursday indicates a milestone of sorts: Obama is now as unpopular as Bush. Fifty-one percent have an unfavorable view of Bush; 51% feel the same way about Obama. Obama's favorable rating is now at 47% - a new low for him, and virtually identical to Bush's 46% favorable rating, a significant improvement over his 2009 numbers." [CNN]
Gallup also finds Obama's favorability at a new low - Jeffrey M. Jones: "Americans' views of President Barack Obama as a person have turned slightly negative, with 47% saying they have a favorable opinion of him and 52% an unfavorable one. That net favorable rating of -5 is the least positive personal assessment of Obama to date."[Gallup]
BROAD GOP SUPPORT FOR IMMIGRATION REFORM - A North Star (R) poll for the pro-immigration American Action Forum finds Republicans on their side: "The survey found that nearly 4 in 5 GOP primary voters (78 percent) support a step-by-step approach to immigration reform that emphasizes several key elements, including: border enforcement, E-verify, and earned legal status with significant conditions including paying a fine and back taxes, learning English and proof of employment.That plan includes majority support among frequent talk radio listeners (72-23) and strong Tea Party supporters (70-28)." [American Action Forum]
WATCHING THE WORLD CUP? Check out HuffPost's interactive dashboard. [HuffPost]
HUFFPOLLSTER VIA EMAIL! - You can receive this daily update every weekday via email! Just click here, enter your email address, and click "sign up." That's all there is to it (and you can unsubscribe anytime).
THURSDAY'S 'OUTLIERS' - Links to the best of news at the intersection of polling, politics and political data:
-A Magellan (R) poll for a mining group finds Alison Lundergan Grimes 3 points ahead of Mitch McConnell, and releases environmental results in eight states. [Magellan on Kentucky, full toplines]
-SurveyUSA gives Oregon incumbent Jeff Merkley (D) an 18-point lead over Monica Wehby (R), while Wehby's internal polling finds her just 2 points behind. [SurveyUSA, Tarrance]
-A new Texas survey gives Greg Abbott (R) a 12-point lead over Wendy Davis (D). [Texas Tribune]
-Chris McDaniel (R)'s internal polling gives him an 8-point runoff lead over Thad Cochran (R). [WPA]
-We Ask America finds Bruce Rauner (R) leading incumbent Pat Quinn (D) in the Illinois gubernatorial race. [Reboot Illinois]
-Jeb Bush leads the Florida presidential field in a PPP (D) poll. [PPP]
-79 U.S. House seats will feature essentially uncontested races in 2014 (no nominee for either the Democrats or Republicans), making "the generic House vote question even less predictive." [@JoeLenski here and here]
-Megan Thee Brenan rounds up recent polls on immigration. [NYTimes]
-Greg Sargent flags a Bloomberg poll ACA question that omits a "fix it" option and yet still finds little support for repeal. [WashPost]
-Philip Bump warns about trusting selectively released internal polls. [WashPost]
-Harry Enten assesses the relationship between Republican Senators' voting records on immigration and their records in primaries. [538]
-A Basswood Research (R) poll for an immigration reform group finds little evidence that immigration reform led to Cantor's loss. [Americans for a Conservative Direction]
-Lynn Vavreck argues that primary electorates are not driving the polarization in Congress. [NYTimes]
-A political scientist who studies congressional primaries weighs in on Cantor's loss. [WashPost]
-Markos Moulitsas recounts the day Eric Cantor's pollster accused him of skewing his polls. [Daily Kos]
-Eric Cantor's campaign manager stands by pollster John McLaughlin. [The Hill]
-Hunter Walker notes that McLaughlin also polls for several major Republican organizations. [Business Insider]
-Gregor Aisch, David Leonhardt and Kevin Quealy report on a 19-country poll about the World Cup. [NYT]
-How to have your cake and a pie chart, too. [@jrovner]