The number of child laborers worldwide is finally on the decline, but there are still 168 million too many kids being forced to work around the world.
According to the International Labor Organization (ILO), the total number of child laborers fell from 215 million to 168 million between 2008 and 2012. On World Day Against Child Labor, which is being observed on Thursday, activists are calling on world leaders and advocates to strengthen laws against the practice, improve opportunities for underserved kids and help poor families so that they don't have to put their children to work.
"The best way to get rid of child labor is to make it unnecessary for the security of families," Aung San Suu Kyi, chairperson of the National League for Democracy in Burma, said in a statement. "If we want to secure the future of our globe, we have to secure the future of our children and let us start by doing that to putting an end to child labor."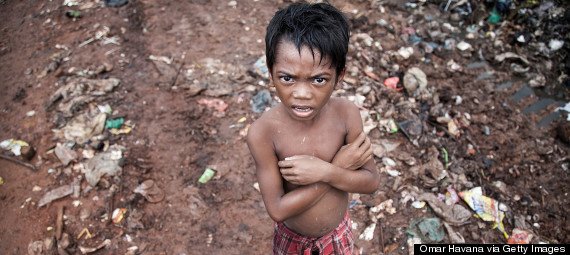 SIEM REAP, CAMBODIA: A young scavenger stands in the Anlong Pi landfill while taking a break in his work searching for recyclable material to sell on June 11, 2014 in Siem Reap, Cambodia. Dozens of children work every day in the Anlong Pi landfill, which is situated only few kilometers away from the world famous Angkor temples, visited by more than 3 million tourists every year.

To bring more attention to the issue, activists, children and leaders worldwide are convening in more than 45 countries to partake in rallies, meetings, sports and cultural events, according to the ILO.
The goal is to spread awareness and education about just how widespread of an issue child labor is and how simple measures can put an end to it.
A recent survey showed that 73 percent of Americans think that there are fewer than 1 million children being forced to work around the globe.
But the figures are far worse than the general public would expect.
Asia has the largest concentration of child laborers. In Asia and the Pacific region, 78 million kids are being forced to work -- that's nearly half of all kids involved in child labor, Simrin Singh, ILO's senior specialist on child labor, told Deutsche Welle.
The situation is particularly severe in Cambodia, where an estimated one in four children between ages of 5 and 17 are involved in child labor. These kids live in extreme poverty and many bear the additional burden of working off their family debts, according to World Vision.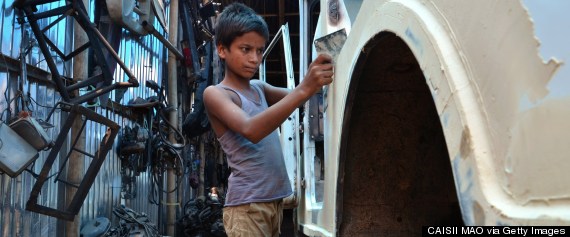 Eleven year-old Indian boy, Mohammad Abdul Salem works on a car at a vehicle repair garage on World Day Against Child Labor in Dimapur, in northeastern state of Nagaland on June 12, 2014.
Children are often sent to toil in the agricultural sector, which is associated with some of the gravest hazards, including exposure to harmful chemical or biological agents, according to Singh. But kids are also just as likely to face dangerous conditions while working in the manufacturing, services and domestic sectors.
Until recently, 15-year-old Dara worked long, brutal hours stacking bricks in a factory in Cambodia where he earned about $1 a day, according to World Vision.
Due to a severe disability, Dara was unable to wear shoes, which meant that he was often exposed to debris that further exacerbated his condition.
"I used to dream of having nice shoes to wear and it not hurt," he told the humanitarian organization.
The teen's dream finally came true when he was able to enroll in the nonprofit's child sponsorship program that enabled him to leave the factory and attend school.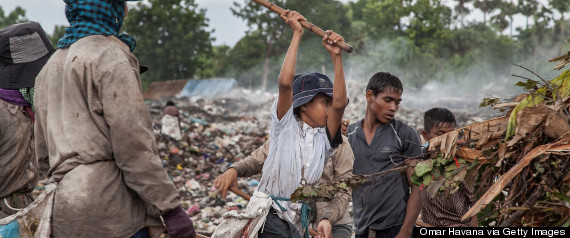 SIEM REAP, CAMBODIA: A young scavenger boy digs with a pickaxe between tons of trash in the Anlong Pi landfill on June 11, 2014 in Siem Reap, Cambodia. Despite the Cambodian government's commitments and legal responsibilities to end child labor... it remains a significant concern in Cambodia, where almost a third of the population lives on less than a dollar per day.
While such programs are having a measurable effect and are saving lives, experts say that countries that employ children need to implement compulsory, quality education and a minimum age for work. Advocates are also calling for unemployment, injury and disability benefits so that if disaster strikes, parents are not compelled to send their kids to work.
"We all need to renew our commitment, especially families, to protect the dignity of every boy and girl and to offer them the opportunity to grow in a healthy environment," Pope Francis said during his general audience at the Vatican to mark the awareness event. "A peaceful childhood allows children to look at life and the future with confidence."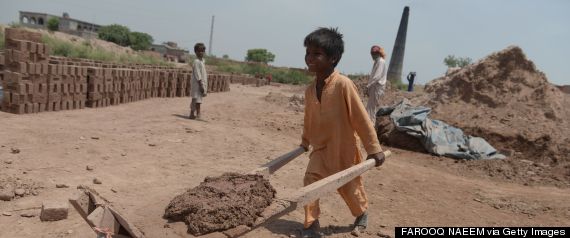 A Pakistani boy works with his family at a brick kiln during World Day Against Child Labor on the outskirts of Islamabad on June 12, 2014. The International Labor Organization (ILO) launched the World Day Against Child Labor in 2002 to focus attention on the global extent of child labor and the action and efforts needed to eliminate it. Farooq Naeem/AFP/Getty Images
WHAT YOU CAN DO: Consider getting involved in the following five organizations that have committed to eliminating child labor and working to pass more stringent laws to protect kids from being forced into working.

The Child Labor Coalition functions as a national network to collect and exchange information about child labor and works to influence public policy on child labor issues. Learn how you can get involved here.

Lotus Outreach aims to rehabilitate -- and empower -- exploited women, children and survivors of trafficking through a number of initiatives that offer education and counseling, among other critical programs. Learn how you can get involved here.

For 30 years, the Child Labour Free India Movement has been working to liberate its country's estimated 4.9 million child workers by rescuing slave children and pushing for more stringent laws against child labor. Find out more about the campaign here.

Inspired by the life and death of a child slave, Free the Children now works to liberate young people from poverty, exploitation and abuse by partnering with schools and families. Learn how you can get involved here.

Since 1904, the National Child Labor Committee (NCLC) has been working to keep children out of the work force in the U.S. and promoting the rights of children in the areas of labor and education. Learn more about the NCLC's mission here.
BEFORE YOU GO
PHOTO GALLERY
World Day Against Child Labor 2014