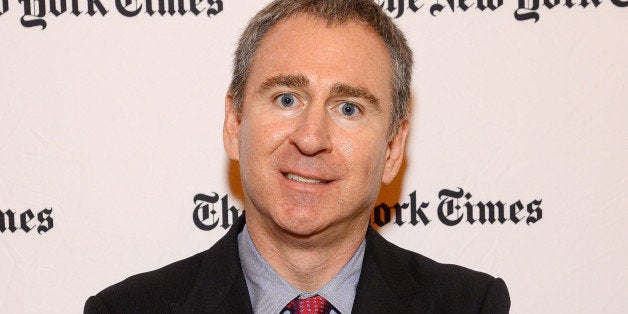 WASHINGTON -- With a $2.5 million contribution to Illinois Republican gubernatorial candidate Bruce Rauner, Chicago-based hedge fund executive Ken Griffin has written the largest check to a political campaign in recent history.
Griffin, well known for saying the very wealthy have an "insufficient influence" in politics, is the richest man in Illinois and a top donor in state politics with large donations to both parties. He has made six-figure contributions to Chicago Mayor Rahm Emanuel's campaign and funds the state Republican Party.
His contributions to Rauner, first reported by the Chicago Tribune, are stratospheric. Overall, Griffin has given $3.6 million to the Republican's campaign to defeat Democratic Gov. Pat Quinn. The contributions include the use of Griffin's personal jet to travel the state.
The $2.5 million contribution to Rauner's campaign is the largest The Huffington Post could identify to a political campaign in recent history. A number of states have no campaign contribution limits, but none have seen a single contribution this large in two decades, according to state records. (Individuals and corporations have likely given larger contributions, when adjusted for inflation, in the past.)
It's not as though Rauner was strapped for campaign cash. In fact, Rauner, a wealthy equity executive who lives in the tony suburb of Winnetka, has self-funded his campaign with $6.6 million.
In a perverse twist of campaign finance laws, Rauner's use of his own wealth to fund his campaign unlocked Griffin's giant contributions.
Illinois first enacted campaign contribution limits for state elections after two straight governors -- George Ryan (R) and Rod Blagojevich (D) -- were convicted of corruption. Following the Supreme Court's 2010 Citizens United decision that opened the door to unlimited independent campaign spending, the state changed those limits to allow them to be waived if a candidate self-funded, or if an independent group spent more than $250,000.
Griffin is not just a partisan who wants his picture taken with political leaders at galas. He has wide business interests in the state and supports policies that promote charter schools, slash public employee pension benefits, loosen regulation of finance, and lower taxes for the rich.
Pando Daily revealed that Griffin's hedge fund Citadel had purchased a large amount of Marriott Corp. stock just as political leaders in Chicago and Illinois approved $55 million in city resources for building a Marriott hotel on coveted real estate.
Quinn, the incumbent Democrat, also has raised large contributions, including a total of $1 million from Fred Eychaner, a Chicago-based millionaire and major Democratic donor.
BEFORE YOU GO
PHOTO GALLERY
United States Governors