"If you are lucky, you get old," proclaims Freya Najade's ongoing photography project.
As the title suggests, or merely hints at, the series consists of a collection of portraits of aging individuals, men and women who've lived to and beyond their 70th birthdays. From a pair of legs dipped in a pool to a flannel-wearing woman perched atop an ottoman, the pictures frame a vast range of subjects including people, places and things. But no matter the imagery, the sentiment is the same: It's "a photographic project to show that inner growth is ever lasting and that humans above seventy continue to love, suffer and dream."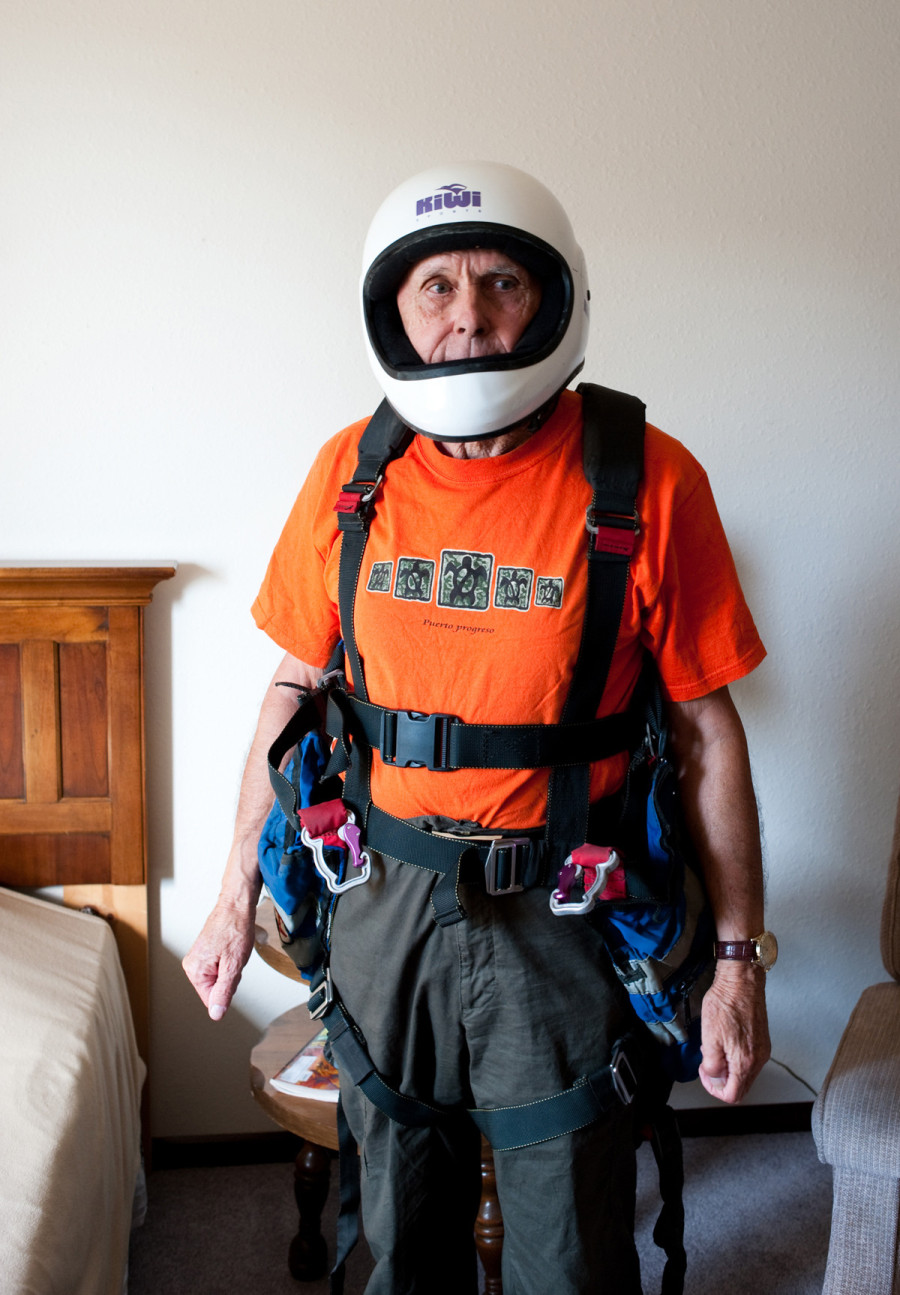 Najade says the phrase -- "If you are lucky, you get old" -- dawned upon her only after she embarked on the project, initially aimed at generally exploring the lives and ideas of senior citizens. She set out to spend time with individuals older than herself, many living in retirement communities and senior centers across the U.S. She photographed five in total, capturing photos and anecdotes that illuminate the stories of people dealing, like everyone else, with heartbreak, loss, desire and ambition.
"To my surprise, the old people were not just proud of their age and the fact that they made it that far in life, they were also still falling in love and breaking up," Najade recounts. "They were overcoming their lifetime partner's death, living out their erotic fantasies or dealing with the loss of their sexual desire. Talking to them showed me that inner growth is ever lasting..."
Najade's subjects include Dennis (76), Rae (80), Roy (80), Thelma (82) and Chris (70), stunning models that opened their homes and selves to the artist. Those five are just the start, though. Najade is currently campaigning for support for another edition of the project on Kickstarter. The lead image there (see above) shows an older man, clad in what appears to be a racing helmet and parachute gear. That man is named Dennis.
"I have my own house, where I live half of the year," he explained to Najade. "Sometimes I don't talk for a week to anybody there. In the summer I rent a room in a gay retirement home. I enjoy meeting people of my kind." Another image of Dennis shows a portrait of the man dressed as a woman. "I feel that I am transforming from a catapillar [sic] into a butterfly. Sometimes I go out like this. If people don't like it, it is their problem."
Dennis' daredevil equipment and gender-bending garter belt, like the objects and settings of other portraits in the series, lightheartedly point to the broad range of personalities that only begin to tap into the gorgeous complexities of old age. As Najade explains, the helmet is part of Dennis' flight gear. "I particularly like this picture because Dennis looks so strong, excited but in the same time also vulnerable. All characteristics I associate with old age."
With the Kickstarter funds, Najade hopes to spend at least two more months meeting and photographing individuals. "I will embark on this trip regardless of the funds I have raised, but how long I can stay and how many different stories I can tell is upon you," she writes on her page. You can see a preview of the project here and head over to the Kickstarter site to learn more. Let us know your thoughts on the portraits in the comments.
PHOTO GALLERY
If you are lucky, you get old