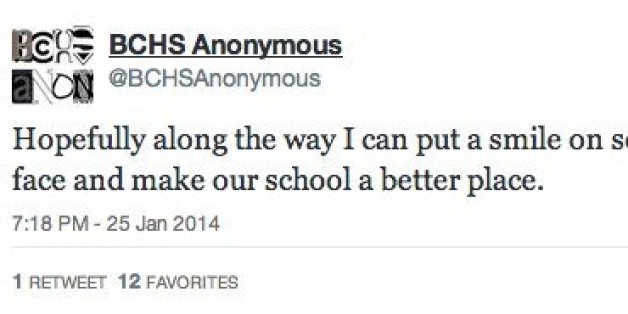 An anonymous Twitter account titled "BCHSAnonymous" has been spreading positivity around Boyle County High School since January. No one knew who was behind it -- until now.
During a graduation speech at the Kentucky school this week, senior Taylor Stewart was identified as the serial compliment-giver, according to The Advocate Messenger.
"This year, there has been a senior student walking the halls of BCHS who has really made a difference and most definitely left a trail. This young lady is a great leader, a great student and an even better person, who has veiled herself as the infamous BCHS Anonymous, tweeting uplifting thoughts about various students throughout the school year," senior JT Henderson said of Stewart, according to the outlet.
Stewart has reportedly passed on the BCHSAnonymous torch to another student who will be anonymously tweeting positive thoughts from the account next year.
"I think if we use our words in the right way there's no telling what we can accomplish," Stewart told KGO-TV.
Below are a sample of tweets from the account:
Hopefully along the way I can put a smile on someone's face and make our school a better place.

— BCHS Anonymous (@BCHSAnonymous) January 26, 2014
First compliment goes to @briannalynn98- she's a an absolute sweetheart. Brianna, your smile and positive outlook doesn't go unnoticed.

— BCHS Anonymous (@BCHSAnonymous) January 26, 2014
If you're having a bad day, spend a few minutes talking to @Kamearah123. She'll put a smile on your face with her happy disposition.

— BCHS Anonymous (@BCHSAnonymous) March 26, 2014
According to KGO-TV, upon graduation, Stewart plans to continue to work with an organization that prevents cyberbullying.
BEFORE YOU GO
PHOTO GALLERY
The Most Popular Books For American Students