Studies have shown a direct link between stress and body fat, and Jessica Ortner, author of The Tapping Solution for Weight Loss and Body Confidence, believes you can directly affect this relationship through a specific, stress releasing meditation technique.
Physiologically, when we are stressed, we have an over-production of cortisol—the stress hormone—that is directly linked to belly fat.
"Hormones echo our emotions. When we have a shift in emotions, we have a shift in our bodies. It does impact us," Jessica explained.
By targeting our stress through a stress releasing technique called "tapping," Jessica says that we can work through those issues and lower the production of cortisol, leading to less stress.
To "tap," you gently press nine acupressure points on the body—beginning with the side of the hand, then moving to the eyebrow, side of the eye, under the eye, under the nose, the chin, collarbone, under the armpit and ending with the top of the head—as you repeat a "setup statement" which vocalizes your emotional and physical stress. See this video for a demonstration.
"When you're feeling centered and strong, 'tapping' allows you to get your power back," Jessica said. "I lost 30 pounds with this method, but it wasn't until I could focus on the body confidence side, which meant seeing my worth in the body that I am in and realizing that I was not in a jail in my body."
"I had it backwards. Confidence does not come from weight loss. Confidence comes from loving yourself. Use this great stress relief technique to get that power back. That's how you get sustainable change," she added.
For more of Jessica's tips, view the slideshow below:
PHOTO GALLERY
8 Tips For Less Stress, From Jessica Ortner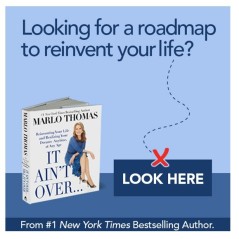 Add Marlo On Facebook:
Follow Marlo on Twitter:
Sign up to receive my email newsletter each week - It will keep you up-to-date on upcoming articles, Mondays with Marlo guests, videos, and more!