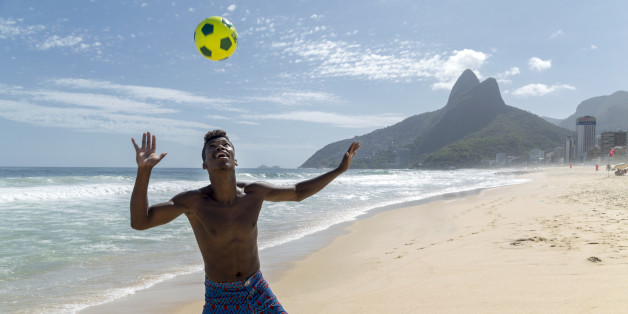 All eyes are on Brazil.
The largest country in South America is hosting the 2014 World Cup, where nations around the globe battle on the soccer field vying for champion status. But while audiences are focused on matches and speculating about the safety of renovated stadiums, far less people are aware of soccer's profound impact on Brazilians beyond its entertainment value.
Soccer -- or football, to most of the world -- can be used as a tool for empowering young people in developing Brazil. One organization doing just that is Street Football World, which launched the Football for Development Project -- a series of initiatives strengthening local Brazilian organizations promoting social change through soccer. Bonding over the common interest in the sport, these initiatives hold regular meetings and look for opportunities to collaborate on projects involving youth leadership, gender equality, peace-building and health education.
The Football for Development Project -- which is supported by the German Ministry for Economic Cooperation and Development (BMZ), the German Agency for International Cooperation (GIZ) and the Brazilian Cooperation Agency (ABC) -- wants to utilize the upcoming World Cup to highlight the positive developments from the project.
"Football can act as a vehicle for social change," Dirk Niebel, former German Federal Minister of Economic Cooperation and Development, stated on the project's website. "Together with Street Football World, we want to harness the positive effects of the game and the upcoming World Cup in Brazil to strengthen youth development in the region."
Street Football World's impact has been realized far beyond Brazil's borders. The organization works locally in 62 countries around the world, and has engaged about 750,000 young people in its programs since its creation in 2002. The organization's most recent project is the launch of Equality Plaza in Rio de Janeiro which serves as a space for panel discussions on issues like gender equality in athletics during the World Cup.
"Once they are on the [soccer field], it is easy to transform their passion for the game into meaningful life skills, boosting their employability, teaching them about health risks or fostering peaceful reconciliation between rival groups," Street Football World's website states.
You don't have to travel the world to find other examples of sport changing lives for the better. After being raised by a single mother in South Central Los Angeles, Marquis Taylor quit his job on Wall Street and started Coaching4Change, an organization that uses basketball to engage low-income students with academic and career opportunities after high school.
Taylor said his organization helps young people by giving them small victories along the way -- a feeling they might not have experienced living in low-income, underserved communities.
"That's what we're able to do through sports -- we give them an opportunity to succeed and to challenge themselves," Taylor told The Huffington Post last October. "Everyone has untapped potential, but how do you begin tapping into it? It's through these small successes."
Learn more about how Street Football World is changing lives through soccer at the organization's website.
BEFORE YOU GO
PHOTO GALLERY
Soccer Aid 2014