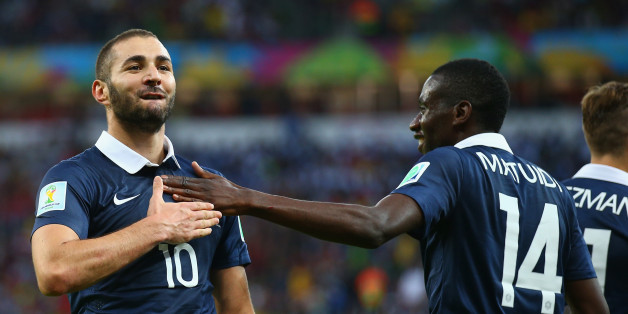 France has taken a first step exorcising its demons from the 2010 World Cup. Four years after an ignominious early exit in South Africa, France started its 2014 World Cup campaign in Brazil with a decisive 3-0 win over Honduras.
In a match that included a Honduras ejection and the use of goal-line technology, Karim Benzema emerged as the star for Les Bleus. The France striker was credited with a pair of goals and forced a third that was initially credited as an own goal by Honduras goalkeeper Noel Valladares. That score was confirmed by the use of goal-line technology, a system making its World Cup debut in Brazil.
Followers in the U.S. can watch Valladares' own goal here: http://t.co/DxUrFMaDeh

— ESPN FC (@ESPNFC) June 15, 2014
The match had become a rout by the final whistle but early on it was hotly contested, even violently contested. Just a day after Honduras coach Luis Suarez felt compelled to defend his team's aggressive style, midfielder Wilson Palacios sent a different message. After picking up a yellow card in the 28th minute by stomping on France's Paul Pogba, Palacios picked up his second yellow with another foul on Pogba in the penalty area in the 43rd minute. With Honduras down to 10 men, Benzema stepped to the spot and scored the opening goal of the match.
(GIF via @FlyByKnite)
Playing with a man advantage in the second half, France would add two goals for the final 3-0 score. Just minutes after halftime, Benzema ran onto a cross from Yohan Cabaye and banged a left-footed volley off the goalpost. The ball ricocheted back across the goal line but Valladares could not keep it out. The goal, confirmed by goal-line technology, was credited as an own goal. In the 72nd minute, Benzema produced another goal that clearly belonged to him, sending a right-footed shot into the roof of the net from a tight angle.
LES BLEUS! France opens World Cup with dominant 3-0 win. Karim Benzema scores 2 goals including this beauty! » http://t.co/9VNAfI17PW

— SportsCenter (@SportsCenter) June 15, 2014
Amid infighting and lackluster performances, France crashed out of the 2010 World Cup after two losses and a draw in the Group Stage. Striker Nicolas Anelka was famously sent home from South Africa during the competition after clashing with beleaguered coach Raymond Domenech. The situation deteriorated further after Anelka was exiled, with players refusing to train during an open practice session in Knysna.
"We've gone through a rebuilding phase, because people still associate the team with Knysna and the way in which we exited the tournament last time," France striker Olivier Giroud told FIFA.com. "The French public hasn't forgotten what happened, and we're going to show them that we can keep our flag flying high during the World Cup."
With the full three points from the opening match and +3 goal differential, France is atop Group E after its first match in 2014 with Group Stage matches remaining against Switzerland and Ecuador.
BEFORE YOU GO
PHOTO GALLERY
PHOTOS: France vs. Honduras