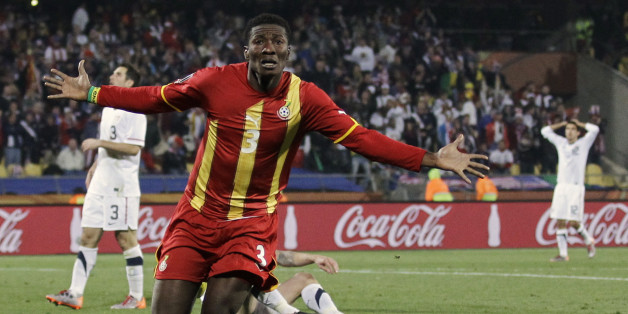 If the U.S. national soccer team is going to survive the "Group Of Death" at the 2014 World Cup and make it into the Round of 16, it will likely need to start by doing something it has never done before. The Americans need to beat Ghana at the World Cup.
It's not time to worry about playing the second-ranked (Germany) and fourth-ranked (Portugal) teams in the FIFA World rankings just yet. The United States' first match is against Ghana. In four matches, the U.S. has never beaten the Black Stars. Ghana came out on top twice in 1983 (by a combined score of 6-0) and the other two in the 2006 and 2010 World Cups (each by a score of 2-1). Even the Under-20 and Under-17 U.S. teams haven't been able to beat Ghana.
"It's understandable," Ghana midfielder Emmanuel Agyemang-Badu told the New York Times when asked about U.S. fans being upset about having to play his squad again. "If my country had been beaten as much as we've beaten them, I would feel the same, too!"
The U.S. is 24 spots ahead of Ghana in the latest FIFA rankings, but will still head to the first match as the underdog, according to oddsmakers This time around, the United States won't be playing Ghana in a win-or-go-home situation. In 2006, Ghana kept the U.S. from advancing to the knockout stage in the last match of group play by a score of 2-1. In 2010, the U.S. made it out of the group stage only to get knocked out by Ghana, 2-1, in the first match in the Round of 16. While a loss to Ghana wouldn't eliminate the U.S. this year, it would make advancing beyond the group stage that much harder.
"They're the team that beat us, kind of crushed our dreams of going further in the World Cup," U.S. captain Clint Dempsey told USA TODAY Sports in December 2013 after the World Cup draw was released, "so I think we're due a little bit of luck and we're due a win against them."