There still aren't any baristas on board, but astronauts on the International Space Station soon may be discussing their daily duties over espresso.
With help from Italian engineering firm Argotec, the Italian coffee manufacturer Lavazza has brewed up a machine that can make espresso in space.
(Story continues below.)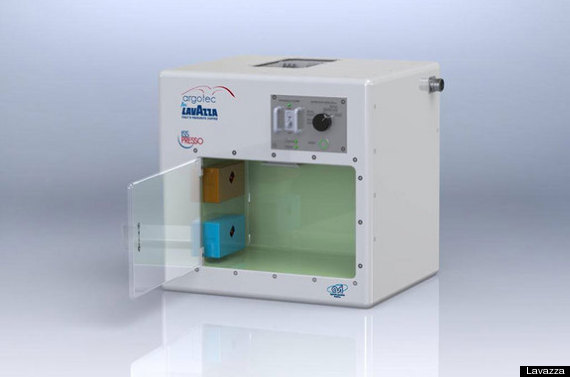 Dubbed ISSpresso, it looks a lot like a typical terrestrial espresso machine. But there are some key differences that make it possible to brew in microgravity.

How does it work?
Water from the station's onboard reservoir fills a plastic pouch and is transferred to the machine, where it's heated and combined with a capsule of ground espresso beans (much like a Keurig cup). The brew is then dispensed into another a pouch that a crew member can drink from using a straw.
Though the aim of ISSpresso is for astronauts to enjoy espresso in space, the machine should also be able to make other beverages, such as tea.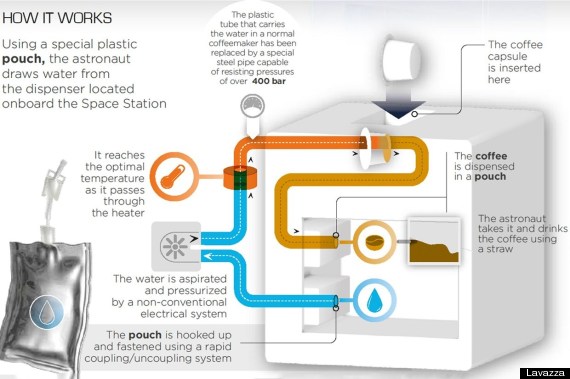 As Wired U.K. reported, the key difference between ISSpresso and Lavazza's other espresso machines is the steam pipe that carries the hot water to the ground coffee. While conventional machines have flexible piping, the space device substitutes a rigid one.
"[T]he plastic tube carrying the water inside a normal espresso machine has been replaced with a special steel tube designed to withstand pressure of more than 400 bar," according to the Lavazza website. (400 bar is 400 times atmospheric pressure at sea level.) "The machine is so complex that it weighs about 20 kilograms [44 pounds] since there are back-ups of all the critical components for safety reasons in accordance with the specifications agreed upon with the Italian Space Agency."
Argotec is now testing an ISSpresso prototype. If all goes well, Italian astronaut Samantha Cristoforetti will deliver the device to the station on the European Space Agency's upcoming Futura mission in November.
How cool is that? During #Futura42 I'll get to operate the first space espresso machine! http://t.co/k3RgiF6cai pic.twitter.com/FN9j6V0rmf

— Sam Cristoforetti (@AstroSamantha) June 15, 2014
BEFORE YOU GO
PHOTO GALLERY
20 Astronauts To Follow On Twitter