On April Fools' Day 2014, Google Maps was taken over by Pokémon.
The company challenged the world to search through its Google Maps app to find and catch the 151 Pokémon. If you found all of them, you were promised an opportunity a job at Google as a "Pokémon Master."
Now the people who did so are actually getting the official title, if not the official job. Across the Internet, people are saying that they're getting letters from Google in the mail. Redditor "tinygrump" posted the following photo: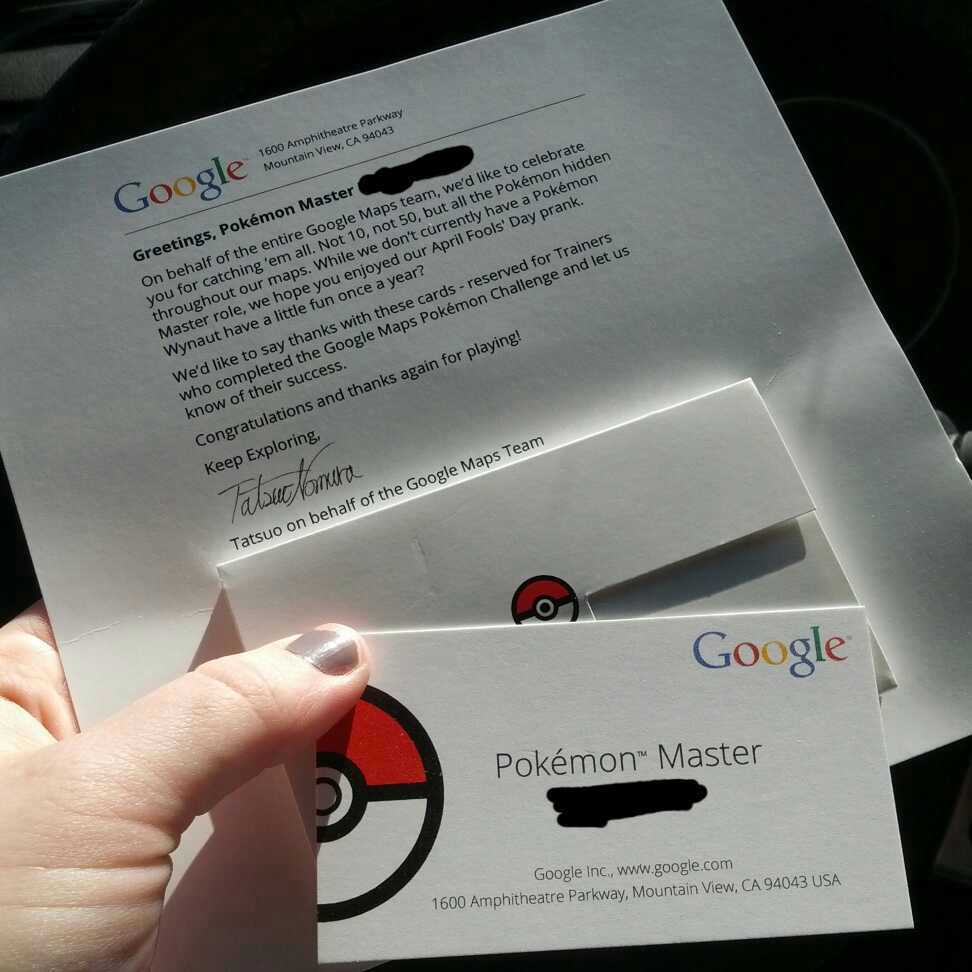 "tinygrump" got both a congratulatory letter from Google and 10 Google business cards with her name and the title "Pokémon Master" printed on them. The letter read:
Greetings, Pokémon Master

On behalf of the entire Google Maps team, we'd like to celebrate you for catching 'em all. Not 10, not 50, but all the Pokémon hidden throughout our maps. While we don't currently have a Pokémon Master role, we hope you enjoyed our April Fools' Day prank. Wynaut have a little fun once a year?

We'd like to say thanks with these cards - reserved for Trainers who completed the Google Maps Pokémon Challenge and let us know of their success.

Congratulations and thanks again for playing!

Keep Exploring,

Tatsuo on behalf of the Google Maps Team
(For those wondering, Tatsuo Nomura is a Google Maps software engineer, and "Wynaut" isn't a typo; it's a Pokémon.)
"I know Google usually has great April Fool's pranks, but I never thought they'd go to the lengths they did for this one," "tinygrump" told The Huffington Post in a Reddit message. "Once they started tweeting people and sending out forms, I guessed there would be some sort of small prize involved."
The form that "tinygrump" is referring to was sent out online all the way back in April. All in all, not too shabby for an April Fools' Day prank.