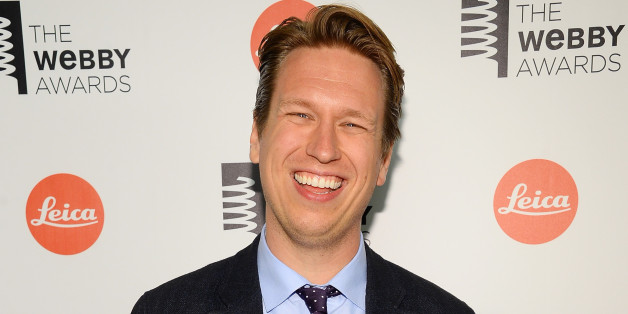 It's been about three weeks since it was announced that "The Pete Holmes Show" would not be picked up for a third run on TBS. But the series' host is shockingly optimistic about the opportunities the job opened up for him.
"In the weirdest sense of the word, it's really a dream come true. I know I'm supposed to be moping around and feeling bad for myself," Holmes told The Huffington Post. "It's nice to have this calling card and be able to open the door and see who wants to play."
(Story continues below.)
A Men's Wearhouse sketch from a November episode of Holmes' TBS series.
He has previously expressed some regret that his show didn't last more than 80 episodes, but he seems sanguine about the idea of moving on and excited to begin something new.
"We have ideas for things as far out as an animated show or a narrative show or some kind of scripted story thing. I'm interested in things that can kind of tell different types of stories, not necessarily the best bit," Holmes told HuffPost. "I'm intrigued by the idea of doing something different. I feel like we went out with a redhead and it didn't work out. Now I'm interested in dating a brunette or something. Metaphorically, that is."
As he continues to toy with new show ideas, he remains a stand-up comedian above all else.
From Holmes' 2013 Comedy Central special "Nice Try The Devil."
He told HuffPost that he had put together a new hour of stand-up before "The Pete Holmes Show" began back in October of 2013. However, he never bothered to record it.
"Just after my previous special, 'Nice Try The Devil,' I had a new hour. So when people were coming to see me back then, I had a brand new hour already," Holmes said. "Now, we used some of that hour on ["The Pete Holmes Show"]. For example, the Enrique Iglesias monologue on the first episode was from my new hour. So some of it got used in the show, but the parts that didn't get used are about 30-40 minutes long. It doesn't have the structure of an act just yet. There's an opener and stuff to go in the middle, but I don't know if I have the 3 or 4 big closers. Ideally, I like to have a big joke or piece every 15 minutes."
He still has about 30 - 40 minutes of un-taped material that he never used on his show. His hope is to combine that with new material to create what he calls a "super hour" in the near future.
Holmes also said he's been doing new stand-up more frequently since his show was cancelled. This is an impressive feat, as his show consisted of a new monologue of fresh stand-up four nights a week.
One of Holmes' personal favorite stand-up monologues from "The Pete Holmes Show."
"A lot of it is that I need to feel it to hit it. So if I'm talking about something that happened a year ago, it just doesn't feel as good. I have a bit about green eggs and ham going through airport security. I think it's really funny, but I honestly don't think I could do it now. Only because it happened so long ago, I just don't feel it. It's like the memory of a memory," he said. "What I liked about TV and what I think I became a little addicted to, was doing it and having it go up immediately. Then I could just move on."
When it comes to the show's cancellation, Holmes continues to express how grateful he is for the 80 episodes he was allowed to make.
"There's no part of me that thinks we f***ed up," he said. "Everything we did was what we wanted it to be, and we did it for less money in less time than should be humanly possible. Everyone I care about -- including people I look up to, and the press, and most importantly my peers -- have said good things, and I really just feel like I knocked it out of the park."
Fans will be pleased to know that TBS is allowing Holmes to keep all of his show's content on his personal YouTube channel, so the entire library of sketches, interviews and monologues will exist online forever. This should tide fans over until he completes his next hour of material or lands a new TV deal.
The final episode of "The Pete Holmes Show" airs June 19 on TBS. You can listen to his podcast "You Made It Weird" on the Nerdist network almost every week.