We've found creative takes on one of the best-kept dinner secrets: quick-cooking, deeply flavored sausage.

By Lynn Andriani
The Burger You Haven't Tried Yet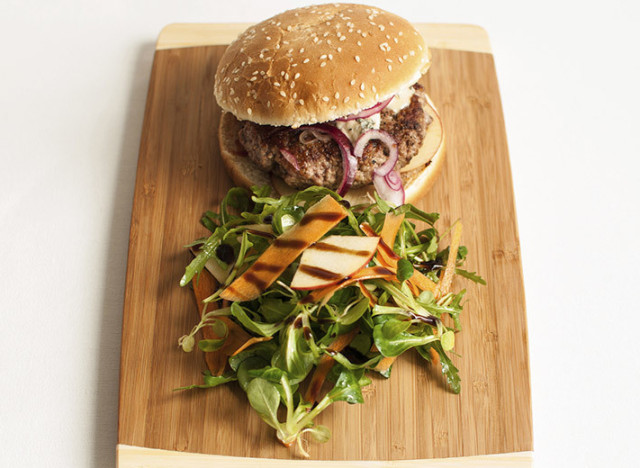 We've seen burgers made with vegetables, beans, chicken, fish and lamb, but the sausage burger is totally unexpected. It's also ultrasimple (and delicious). Since the meat is already so packed with flavor, you don't need to add a thing. Just remove the meat from the casing, form it into patties and cook. Follow these directions and serve the burgers on buns with provolone, spinach and pesto, or whatever toppings you like.
Get the recipe: Italian-Sausage Burgers with Garlicky Spinach
A Different Sausage-and-Pasta Dish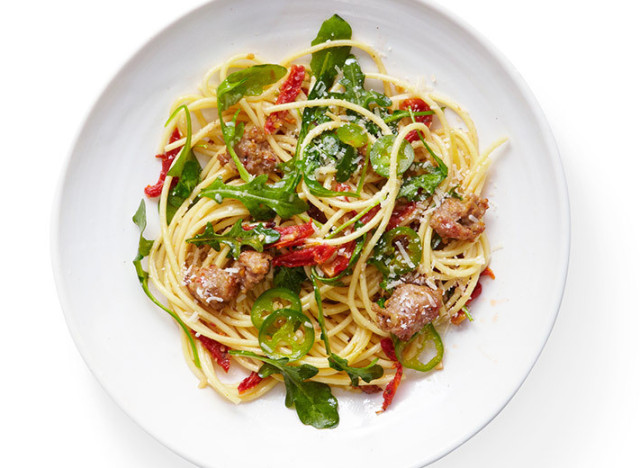 Hearty sausage pairs well with greens; and while broccoli (and its more strongly flavored cousin broccoli rabe) is the usual, this recipe swaps in slightly spiced arugula. When you toss the greens with hot spaghetti, the leaves wilt, so it's easy to twirl a forkful and get the perfect bite: salty sausage, peppery arugula, al dente pasta plus a little kick from thinly sliced jalapeño.
Get the recipe: Spaghetti with Sausage, Arugula and Jalapeño
The Fastest Way to Make Grilled Chicken Taste Amazing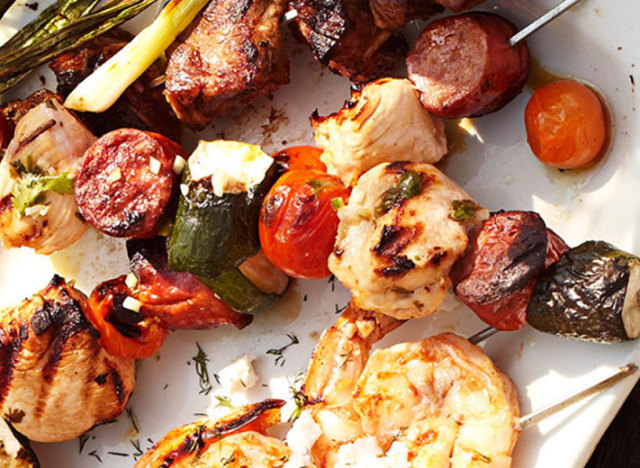 Alternating chunks of chili-lime marinated chicken with pieces of spicy smoked andouille on skewers is a brilliant move: The juicy sausage prevents the chicken from drying out and also adds some major oomph to a common grilled food. The recipe also calls for threading cherry tomatoes and zucchini cubes onto the skewers, though red bell peppers and red onions would work well, too.
Get the recipe: Cuban Chicken and Sausage Skewers
A Diner Breakfast with a Latin Accent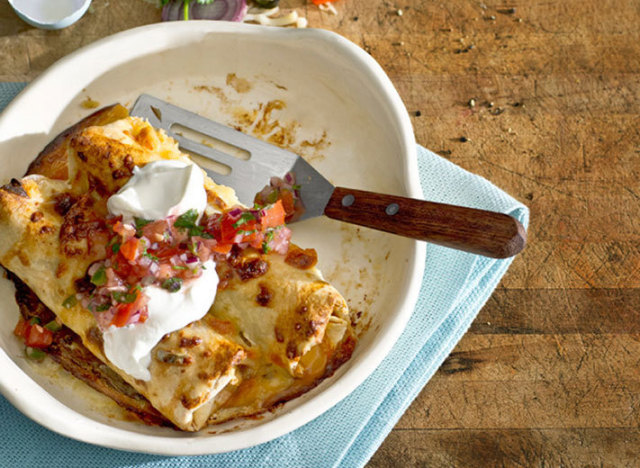 Sausage and eggs are a natural pair, and this brunch recipe gives the familiar a new twist. It's a brunch enchilada casserole you can prepare the night before, so all you have to do in the morning is pop it in the oven for 35 minutes. Instead of using regular Italian sausage, it calls for chorizo, which goes great with the dish's other Mexican flavors: red and yellow bell peppers, pepper Jack cheese and cumin.
Get the recipe: Egg, Sausage and Pepper Breakfast Enchiladas
The Fallback Soup Your Freezer Needs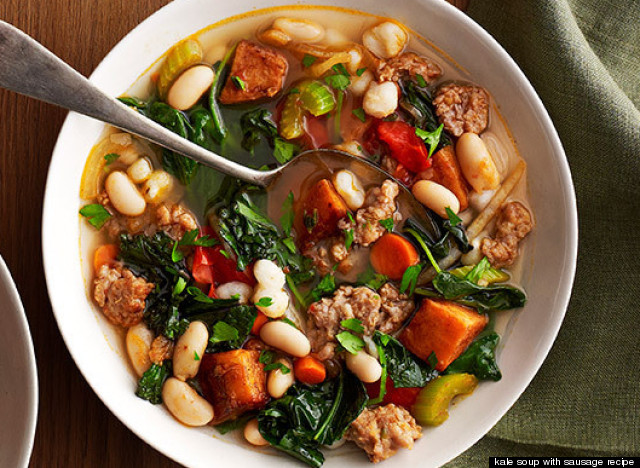 No matter the season, a container of frozen soup is a wonderful thing to have around for nights when you just don't feel like cooking (or you've made a grilled cheese sandwich or a salad and need a little bowl of something to go with it). What's unique about this kale-sweet-potato-sausage soup is that it incorporates both sweet and spicy Italian sausage, so there's just a touch of heat. A healthy dose of carrots, celery, onions and tomatoes brighten the dish with fresh flavor.
Get the recipe: Kale Soup with Sweet Potatoes and Sausage
BEFORE YOU GO
PHOTO GALLERY
Sausage Recipes