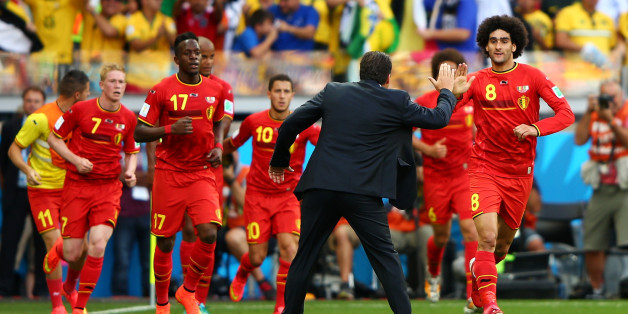 Belgium arrived in Brazil for the 2014 World Cup with little experience and high expectations. The young Red Devils showed the importance of the former and the reasons for the latter as they rallied past Algeria for a 2-1 win in their opening match at Estadio Mineirao in Belo Horizonte on Tuesday.
The second-youngest team in the 32-team tournament, Belgium began its World Cup campaign with a costly loss of composure, conceding a penalty to Algeria in the 24th minute. Algeria midfielder Sofiane Feghouli, who had been dragged down in the penalty to earn the spot kick, calmly stroked a low, right-footed shot right into the center of the net as Belgium goalkeeper Thibaut Courtois dove to his right.
Feghouli's goal is Algeria's first WC goal since Djamel Zidane scored against Northern Ireland in 1986 #BELvsALG http://t.co/Ds8ZlpcK6G

— ESPN FC (@ESPNFC) June 17, 2014
Feghouli's goal would be the only tally of the first half as Algeria's defense kept the talented Belgium side from breaking through. The slim margin would last deep into the second half, until Belgium coach Marc Wilmots sent Marouane Fellaini onto the pitch. After taking the field in the 65th minute, Fellaini netted the equalizer with a header on a cross from Kevin De Bruyne just five minutes later. Dominating possession throughout and perhaps emboldened late by their opening goal, the Belgium attackers delivered a go-ahead strike in the 80th minute on the counterattack. Taking a pass from Eden Hazard on the break, striker Dries Mertens, another substitute sent on by Wilmots, stroked a brilliant right-footed shot past Algeria goalkeeper Rais M'Bolhi.
RED DEVILS! Belgium provides yet another comeback of this 2014 World Cup as Mertens delivers this winner #BELvsALG http://t.co/Oe3Qihtf9h

— ESPN FC (@ESPNFC) June 17, 2014
BEFORE YOU GO
PHOTO GALLERY
Belgium vs. Algeria 6/17/14