Have all your breakups ended in ugly crying faces and awkward silences between you and your now-ex?
It doesn't have to be that way. Below, nine breakup geniuses school us in the art of letting them down easy.
Barring a lactose intolerant ex, this is the most thoughtful breakup of all time.
A free gift with breakup? We can't say no to that.
Best. Ex-Wife. Ever.
Pro-tip: Use your S.O.'s favorite song lyric to ease the pain of crushing his or her soul. (Though this woman took the news way too well for the text to be real.)
Poetic and compliment-filled? This is how you do a breakup.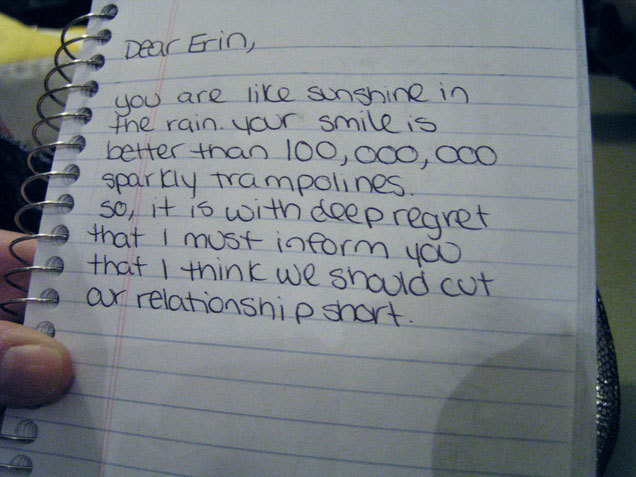 (via imgfave.com)
Merry Christmas! Enjoy awkwardly explaining my absence at all your work and family holiday parties.
Heartbreak never tasted so good.
Again, everything sounds nicer when it's said in icing.
"The t-shirt that my girlfriend gave me when she dumped me," the Redditor who shared this pic said. Look on the plus side, bro: You got a free t-shirt.
UPDATE: After being contacted by the gentleman who was dumped via a pepperoni-bedazzled pizza, who assured us that he was in fact pretty mad about it, we have removed the embedded image.
Keep in touch! Check out HuffPost Divorce on Facebook and Twitter. Sign up for our newsletter here.
BEFORE YOU GO
PHOTO GALLERY
Grandparents On Facebook