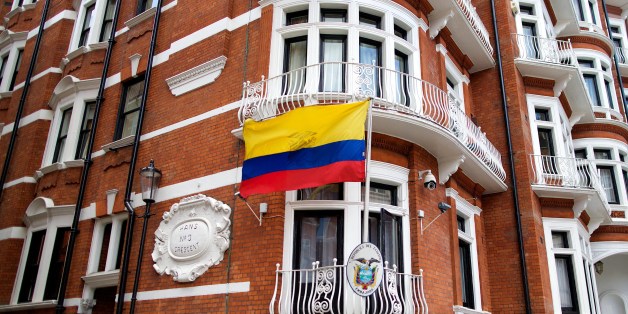 With British police still surrounding the Ecuadorian Embassy in London where he is holed up, WikiLeaks founder Julian Assange joined an international conference call Wednesday to speak out about his complicated and seemingly intractable diplomatic and legal saga.
The call came one day ahead of the two-year anniversary of Assange taking refuge in the embassy to avoid extradition to Sweden for questioning in an investigation about alleged sexual offenses. Assange argued his embassy stay is also necessary to avoid extradition to the U.S. for publishing files leaked to him by former U.S. Army Pvt. Chelsea Manning.
Although the call addressed his relationship with former NSA contractor Edward Snowden, Assange refused to reveal whether the two have been in any direct contact.
"The security situation in relation to myself here at the embassy, where the British government admits to spending more than $10 million so far on police encircling the embassy, and Edward Snowden's situation in Russia and in relation to the National Security Agency, means that I cannot discuss what types of communication we use or do not use," said Assange.
Assange and WikiLeaks lawyers engineered temporary asylum in Russia for Snowden, who fled to Hong Kong last year before revealing he was the source of leaked NSA reports. The organization's most high-profile success in the last year was getting Snowden the proper travel document for his flight from Hong Kong to Russia.
Assange has also signed up as a trustee for the Courage Foundation, which is raising money for Snowden's legal defense. But beyond his role in that group, it's not clear to what extent -- if any -- the WikiLeaks leader has an ongoing relationship with the NSA leaker.
Assange declined to answer a question about whether he has any access to Snowden's files. But after a media organization with access to Snowden's files recently published an article on NSA surveillance in two countries, WikiLeaks claimed to identify one country whose name had been redacted. WikiLeaks was vague about its sourcing.
"In relation to an issue revolving around sourcing, as a matter of longstanding policy to protect our sources, we cannot comment," he said.
Beyond the daring Snowden caper, WikiLeaks has made few of the global splashes it did when relying on the files of Manning, who is now serving the beginning of a 35-year sentence for leaking to the organization. But Assange pointed to files WikiLeaks published in January detailing negotiations for the Trans-Pacifc Partnership, a planned global trade agreement, as one success.
Asked whether the group is still relevant, Assange replied, "I think the best answer to that question was given by the author of Catch-22, when it was put to him that he hadn't eclipsed his novel. And the response, of course, was, 'Neither has anyone else.'"
WikiLeaks' role as a publisher has been overshadowed in recent years by the continuing drama surrounding Assange, who is wanted for questioning over sexual offenses in Sweden. Assange referred to that case as "the Swedish matter."
Assange declined to answer a question he has been asked time and time again since he sought refuge at the Ecuadorian Embassy from those charges: why he will not travel to Sweden to answer a prosecutor's questions.
Assange's lawyers maintain that he is more than willing to answer questions about the allegations, but that it must happen in Britain. Traveling to Sweden or leaving the Ecuadorian Embassy "will more than likely be a one-way ticket to the United States, which is continuing an investigation," said Assange's U.S. lawyer, Michael Ratner.
Anonymous Justice Department officials told The Washington Post in November that Assange was unlikely to face prosecution under the Espionage Act for publishing Manning's leaked files. But Ratner pointed to a U.S. government filing in a related legal case that stated the investigation of WikiLeaks is "active and ongoing."
"It is against the stated principles of the United States, and I believe the values that are supported by its people, to have a four-year criminal investigation against a publisher," said Assange. "The ongoing existence of that investigation produces a chilling effect not just in relation to Internet-based publishers, but to all publishers."
Another of Assange's lawyers, Jen Robinson, said his team would be making a legal filing in Sweden on Tuesday with "new information" about the case there, but declined to elaborate. Assange suggested that he likely would remain at the Ecuadorian Embassy to ward off possible extradition to the U.S. even if the Swedish case was dropped.
"I think politically it will enable a more direct confrontation with the U.S. Department of Justice," he said. "There would have to be negotiations, I imagine there would be negotiations between the government of Ecuador and the government of the U.K."
BEFORE YOU GO
PHOTO GALLERY
Julian Assange's Friends and Former Friends