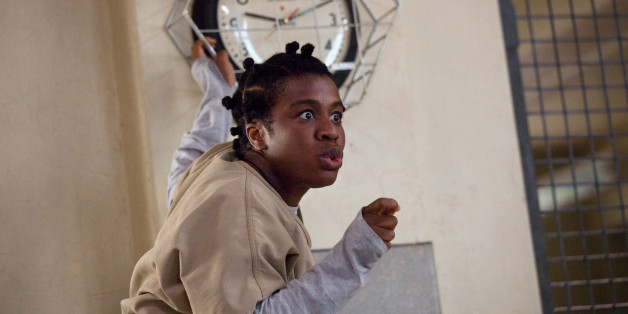 Amid all the rich character drama and humorous anecdotes that populate "Orange Is the New Black" is a cornucopia of pop-culture references. The Litchfield inmates are a well-read, well-watched group. They know their celebrity gossip even while behind bars, finding fodder for their conversations in everything from Fiona Apple to "Goodfellas" to "Toy Story."
Many TV comedies ("Friends" comes to mind) are written as if their characters don't exist outside the confines of any individual episode's plot. Conversely, inmates on "Orange Is the New Black" successfully position themselves within the real world, in spite of where they rest their heads at night. In keeping, we've compiled a list of every pop-culture reference from Season 2 (along with the speaker):
Episode 1, "Thirsty Bird"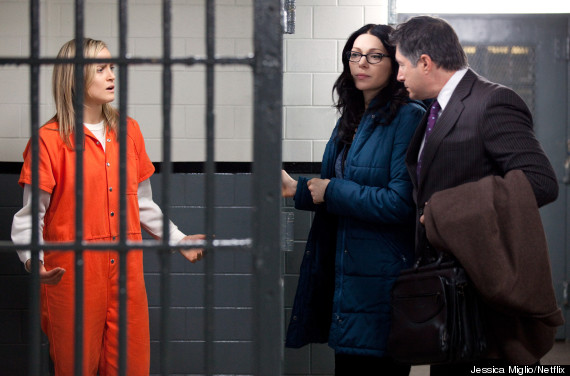 1. "Anna Karenina" by Leo Tolstoy (Piper)
2. Angry Birds (Prison guard en route to Chicago)
3. Mila Kunis (Prison guard)
4. "The Sopranos" (Piper)
5. Lindsay Lohan (Piper's astrology-obsessed bunkmate)
6. Yoda (Joyce)
7. "Gremlins" (Joyce)
8. Fred Savage (Joyce)
9. The Invisible Woman (Alex)
Episode 2, "Looks Blue, Tastes Red"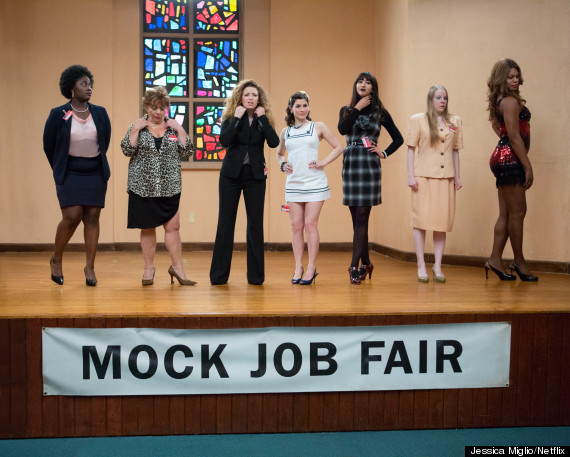 1. Christina Aguilera's "Beautiful" (Taystee)
2. Pinterest (Morello)
3. Judge Joe Brown (Taystee)
4. Judge Judy (Taystee)
5. Mo'Nique (Poussey)
6. Wesley Snipes (Poussey)
7. "Orlando: A Biography" by Virginia Woolf (Piper)
Episode 3, "Hugs Can Be Deceiving"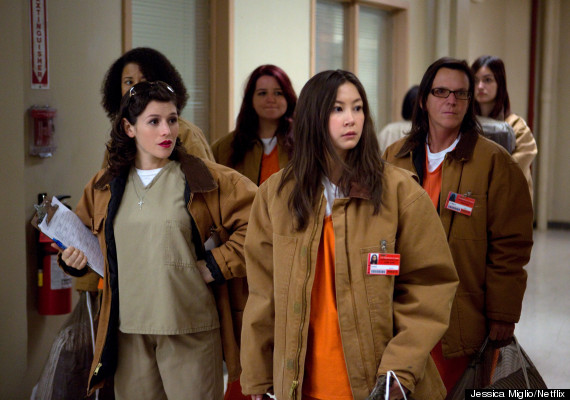 1. Steve Irwin (Taystee)
2. Tom Cruise (Poussey)
3. LeBron James (Poussey)
4. Dwayne Wade (Taystee)
5. Michelle Williams (Poussey)
6. Us Weekly (Poussey)
7. Jessica Simpson (Morello)
8. Rihanna (Morello)
9. Omar from "The Wire" (Sophia)
10. The Rockettes (Black Cindy)
11. Popeye (Bennett)
12. Lil Wayne (Taystee)
13. George Jefferson (Poussey)
14. "Sinful Chocolate" by Adrianne Byrd (Taystee)
15. "Fighting for Air: The Unknown Adventures of Young Doc Holliday" by Jack Kincade (Vee)
Episode 4, "A Whole Other Hole"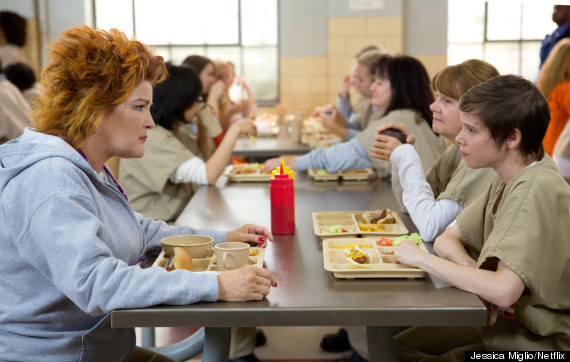 1. Cinderella (Morello)
2. Taco Bell Chihuahuas (Nicky)
3. "Atonement" by Ian McEwan (Leanne)
4. Inspector Gadget (Piper)
5. "Notting Hill" (Morello)
6. Hugh Grant (Morello)
7. Julia Roberts (Morello)
8. "Pretty Woman" (Morello)
9. Bear Grylls (Polly)
10. Peter Pan (Polly)
11. The Lost Boys (Larry)
12. Jimmy Cliff (Polly)
13. "Star Trek" (Larry)
14. Klingons (Larry)
15. "We are the Goldens" by Dana Reinhardt (Red)
Episode 5, "Low Self Esteem City"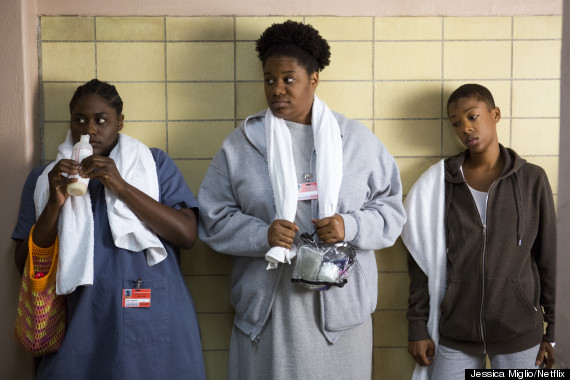 1. Sideboob (Caputo's band)
2. Clive Owen (Red)
Episode 6, "You Also Have a Pizza"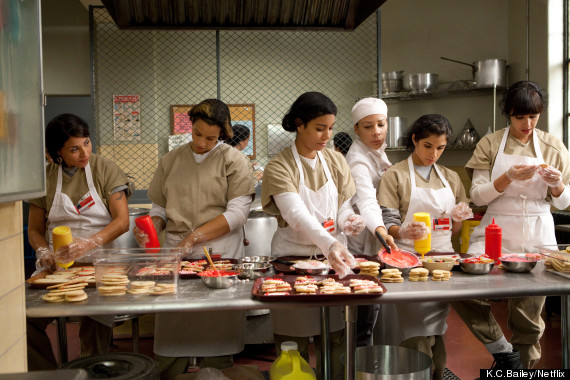 1. Sofia Vergara (Gloria)
2. Florence Henderson (Piper)
3. Fiona Apple's "Criminal" video (Nicky)
4. Lewis Carroll (Taystee)
5. Charles Dickens (Fischer)
Episode 7, "Comic Sans"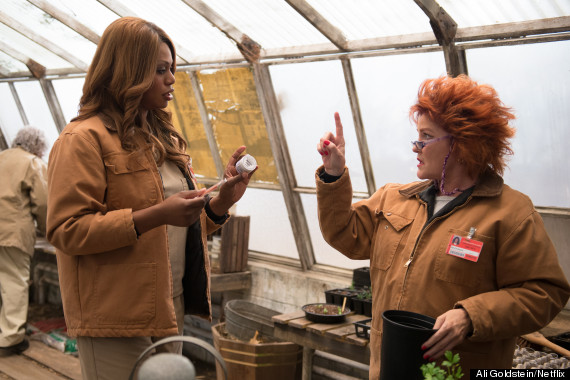 1. Phyllis Diller (Wanda)
2. Fleet Foxes (Flaca)
3. "The Godfather" (Nicky)
4. "Ratatouille" (The Golden Girls)
Episode 8, "Appropriately Sized Pots"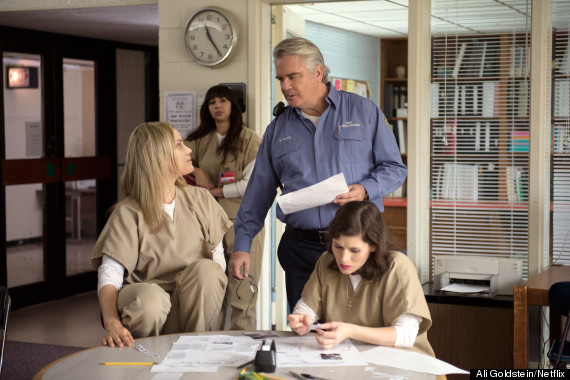 None.
Episode 9, "40 OZ of Furlough"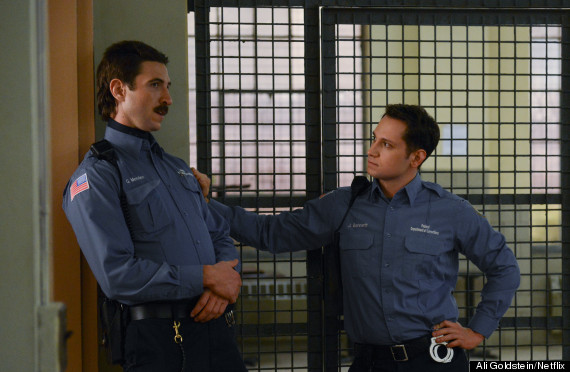 1. "The Fault in Our Stars" by John Green (Vee)
2. "Lili and Stitch" (Pennsatucky)
3. Disney (Maritza)
4. Coach Taylor from "Friday Night Lights" (Caputo)
5. "Hand Me Downs" by Rhea Kohan (Flaca)
Episode 10, "Little Mustachioed Shit"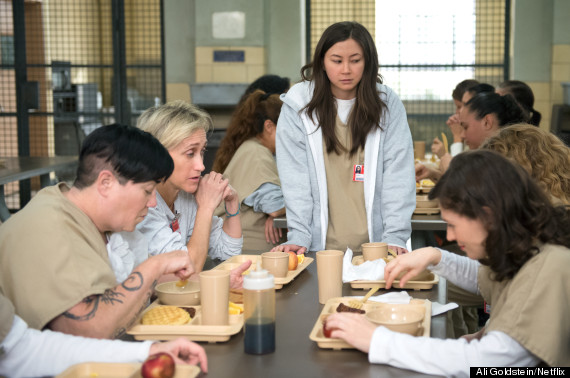 1. Beyonce (Taystee)
2. Ray Romano (Alex)
3. Candy Crush (Piper)
4. Bugs Bunny (Vee)
5. "127 Hours" (Caputo)
Episode 11, "Take a Break From Your Values"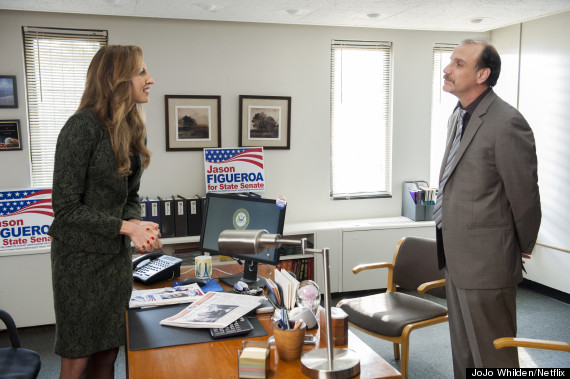 1. "Rejuvenile: Kickball, Cartoons, Cupcakes, and the Reinvention of the American Grown-Up" by Christopher Noxon (Healy)
2. The Batcave (Nicky)
3. "This just got real." (O'Neill)
4. Thomas Pynchon (Alex)
5. Johnny Cash (Leanne)
6. "Edward Scissorhands" (Angie)
7. The Garbage Pail Kids (Big Boo)
8. "Spy vs. Spy" (Nicky)
Episode 12, "It Was the Change"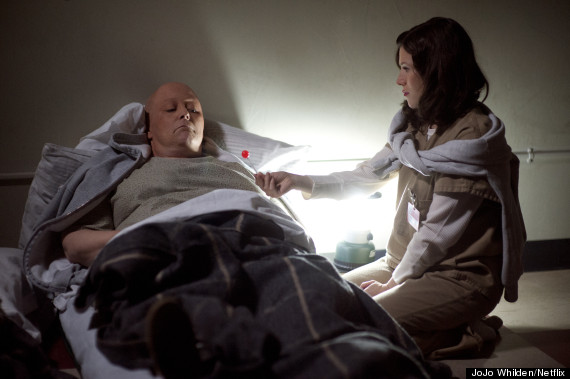 1. Steve Harvey (Wanda)
2. Meredith Brooks' "Bitch" (Soso)
3. Lisa Loeb's "Stay (I Missed You)" (Group)
4. "The End of Men: And the Rise of Women" by Hanna Rosin (Healy)
5. The Huxtables (Taystee)
Episode 13, "We Have Manners. We're Polite."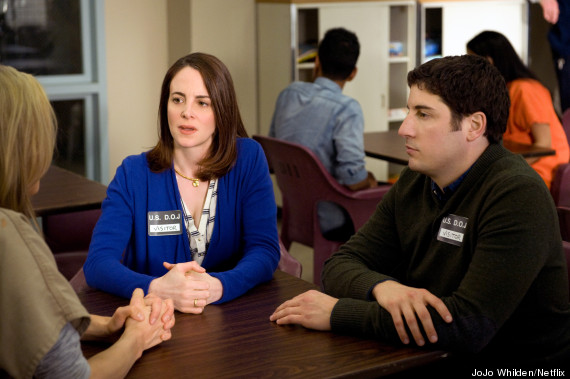 1. "Goodfellas" (Black Cindy)
2. Britney Spears (Big Boo)
3. Emma Watson (Sophia)
4. Victoria Beckham (Sophia)
5. O. Henry (Alex)
6. "I Didn't Know I Was Pregnant" (Daya)
7. "Toy Story" (Morello)
8. Jay Z and Beyonce (Black Cindy)
9. "The Year Without Santa Claus" (Crazy Eyes)
10. "Outlander" by Diana Gabaldo (Taystee)
11. "Back to the Future" (Poussey)
12. "Toy Story 2" (Morello)
13. Deep Blue Something's "Breakfast At Tiffany's" (Gallego)
14. "Cut Me Loose: Sin and Salvation After My Ultra-Orthodox Girlhood" by Leah Vincent (Alex)
15. Blue Oyster Cult's "Don't Fear the Reaper" (Rosa)
BEFORE YOU GO
PHOTO GALLERY
"Orange Is The New Black"