Just in the nick of time!
Animal Aid Unlimited, an organization that runs an animal hospital and shelter in India, recently received a call on its helpline from villagers in Udaipur. A puppy had fallen down an open well and was swimming in circles, struggling to keep her head above water.
The group dispatched a team to retrieve the stranded dog and, as it turns out, rescuers apparently saved the puppy moments before she would have drowned.
In a video posted to YouTube Friday, the puppy can be seen being rescued from the well by a team of rescuers who lower one daring man down into the hole.
Animal Aid Unlimited said the team strapped a rope around the chest of a man named Ganpat, one of the organization's experienced rescuers, and slowly lowered him down the well. Once Ganpat reached the water, he scooped the puppy up and held her close to his chest as the team pulled him back up the wall.
The video ends with the dog being cleaned up and getting some tender loving care. Veterinarians determined that the puppy was hypothermic, but she made a full recovery after an hour of warm blankets and hot water bottles. She has since been returned to her brood.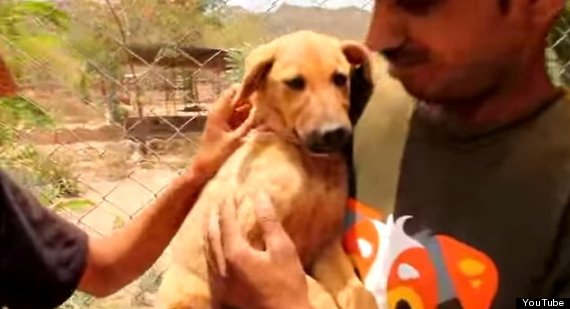 (Hat tip, Right This Minute)
BEFORE YOU GO
PHOTO GALLERY
Animals Who Need Hugs