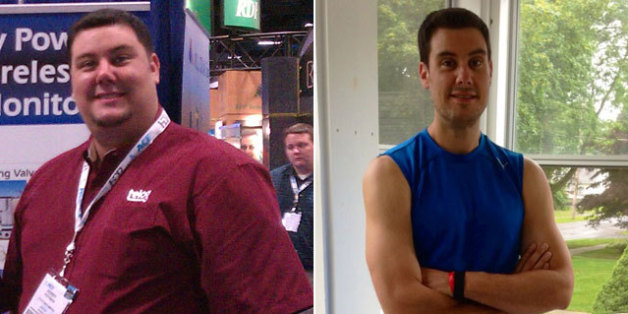 Name: Kerry Hoffman
Age: 32
Height: 6'1"
Before Weight: 343 pounds
How I Gained It: I've been overweight for most of my life. I graduated high school at 250 pounds, but as a mostly in-shape football player. I met my wife in college and got married before my senior year started. As life went on and difficulties came, the scale read higher and higher. I ate anything that tasted good -- wings, pizza, stuffed burgers, tons of sweets and dessert. Half a bag of Oreos while watching TV in the evening was a normal occurrence. I didn't know I was putting on all of the weight that I was, but I certainly knew I didn't feel well. Essentially, I was sabotaging myself.
Breaking Point: I lost my father to liver disease and my daughter was born two weeks later. I began to think that a change was necessary.
How I Lost It: That change didn't officially start until the following Christmas when the scale read 343 pounds. At that point I made my goal to once again reach 250 pounds, my high school weight.
I visited the doctor for a physical and asked him to check my blood sugar. Alarmed, he immediately put me on medication and diagnosed me with diabetes, which runs in my family. I promised myself that this disease would not defeat me.
I worked out five days per week with strength training and treadmill walking. I was lost at the very beginning. But I committed to going to the gym before work at 5:30 a.m. I tracked all of my calories using MyFitnessPal and realized I had been eating around 4,000 calories per day. I eliminated all desserts and sweets at the very beginning, and began using measuring cups to properly portion out my meals.
Being extremely diligent, I began to see the weight come off, typically between one to three pounds per week. Treadmill walking turned into jogging, which turned into running. I was (and still am) very strict about my daily calorie intake. After dropping 40 pounds in four months, I visited my doctor again. He was shocked at my progress and reduced my medication dose. My blood sugar was getting under control.
I continued to work hard and set realistic goals for myself. I also completely changed the way that I cooked and approached food in general. I still loved to eat, but I made it a fun challenge to create delicious food that was completely healthy, even dessert. I knew that for my new outlook to stick, I had to change my life. Change doesn't happen overnight, but with consistency, it's completely achievable.
I used fitness challenges to keep myself motivated. These included running races, reaching new strength-training personal bests and participating at a high level in sports. Now, when I don't work out I feel sluggish. Eventually I visited my doctor again and heard the beautiful words: "You have officially cured yourself of diabetes." Not only that, but I was taken off of cholesterol and blood pressure medications, too. He trotted me out in front of everyone in the office that day exclaiming, "This guy actually did it! He lost over 100 pounds and cured himself!" What a thrilling feeling.
Now, I eat mainly whole foods. I stay away from processed stuff as much as possible. I never ate vegetables or salad before, and now two helpings of salad with homemade dressing is a staple every evening, as well as a fresh veggie.
Having now officially lost 154 pounds, I continue to set goals for myself. I continue to participate in endurance sports, including long-distance running and cycling, as well as triathlons. I want to use my success to show others that it is possible to change your life! Members of my workplace and church have asked me for advice on starting a healthy lifestyle. It's an amazing feeling when others call you their inspiration. I could not have done this without strength from the Lord, support of my family and the birth of my little girl. I wanted to be here to walk her down the aisle one day.
After Weight: 189 pounds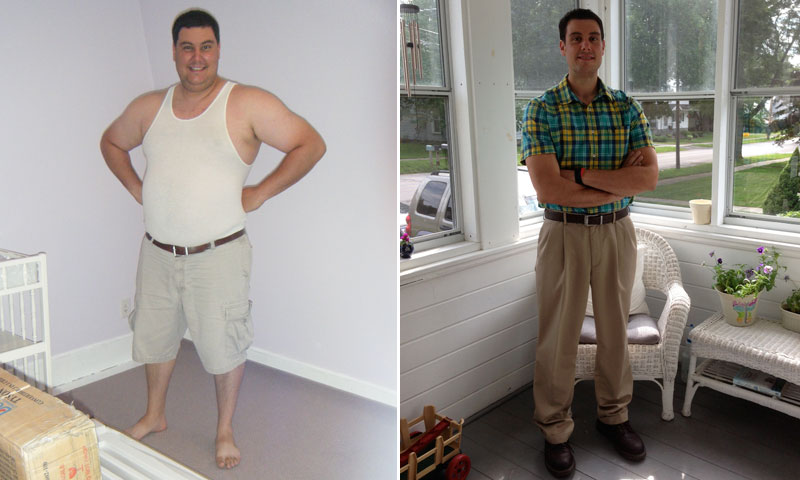 The Huffington Post publishes photographs as they are submitted to us by our readers.
Got a success story of your own? Send it to us at success.stories@huffingtonpost.com and you could be featured in our I Lost Weight series!
Check out more of our inspiring weight loss stories below:
PHOTO GALLERY
Weight Loss Success Stories
As told to Sarah Klein