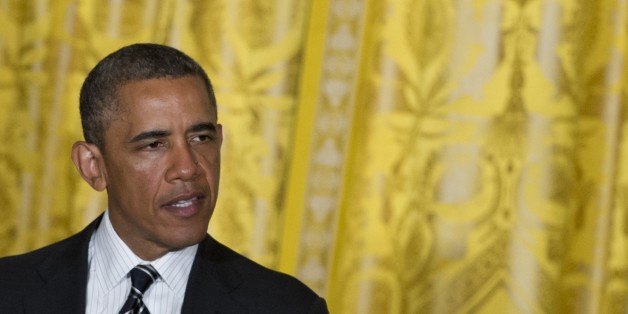 President Obama's job rating lags in some crucial midterm states. A post-mortem poll of Eric Cantor's district has some answers -- and some issues. And most Americans have given shockingly little thought to how Jewish Rick Perry is. This is HuffPollster for Thursday, June 19, 2014.
BATTLEGROUND STATES ARE TOUGHER TURF FOR OBAMA - Mara Liasson: "In the key battleground states that will decide control of the Senate this November, President Obama's approval numbers are lower than they are nationally – but not much lower. That's the key finding in a new poll, conducted by Democrat Stan Greenberg of Democracy Corps and Republican Whit Ayres of Resurgent Republic, that sampled likely voters for NPR. In the 12 states with competitive Senate races this fall, only 38 percent of likely voters said they approved of the way the president is handling his job. An index of all national polls shows the president's approval rating about four percentage points higher nationwide." [NPR, Toplines]
ACA ATTITUDES VARY AMONG THOSE AFFECTED DIFFERENTLY - Jeff Young: "If you want Americans to like Obamacare, giving them some money seems to help. A new poll reveals that previously uninsured people and those who received subsidies to buy health care under the Affordable Care Act are much happier with the new law than those who were forced to switch health care plans. Six in 10 of those who received subsidies to offset their insurance costs said they benefited from the law, according to the survey conducted by the Henry J. Kaiser Family Foundation in April and May. A majority of those who obtained their coverage via Obamacare's health insurance exchanges and half of the previously uninsured felt the same way….Fifty-seven percent of consumers whose old policies were canceled because they didn't comply with the law feel they were negatively affected by Obamacare…..Overall, 47 percent of those with individual insurance policies have a favorable view of the Affordable Care Act, compared to 43 percent who view it negatively. That's a higher approval rating than the public at large gives the act, according to the survey, but still shy of majority support." [HuffPost]
How the pollsters found self-insured Americans - AP: "The group most directly affected by the implementation of the Affordable Care Act's insurance markets — those who buy insurance on their own directly from an insurer or through one of the exchanges — is a difficult group to survey. Those who purchase their own insurance make up just 1 in 10 people under the age of 65. Their demographic profile resembles that of the typical person who skips out on taking surveys — younger, more male, less income, less education. In the end, most surveys of the American public fail to capture enough people from this group to adequately assess their opinions, or even to properly identify them. A survey from the Kaiser Family Foundation combined results from three separate samples in order to generate a representative survey of 742 adults who fall within this group….A group of 377 interviews came from traditional random national samples of telephone numbers. A second batch of 179 came from a random national sample that was selected so that those living in lower-income areas were more apt to be dialed, since income is a key predictor of insurance status. The final 186 had been reached using a traditional random national sample for a previous poll during which they indicated that they purchased their own insurance or were uninsured at the time." [AP]
CANTOR'S POLLSTER RELEASES A POST-ELECTION SURVEY - John McLaughlin: "Knowing that our May 28 Republican primary voter poll was reflective of past Republican primary turnouts that were significantly smaller, we decided to conduct this study at our own expense to see which voters actually accounted for the much larger turnout in this year's Republican primary. The sample that we used for the May 28 poll was selected from any voter who voted in any one of three Republican primaries - March, 2012 for President; June, 2012 for Congress and March, 2008 for President. The post primary sample included voters who had no history of voting in primaries as well….Comparing the demographics of the May 28th survey with this study shows the following differences: Although 76% of these primary voters disapproved of the job Barack Obama is doing as President, 22% approved. This is more than double what we usually find in a Republican Primary. The most significant differences are that almost half the voters, 46%, are not Republicans including 13% Democrats, and 33% Independents or refused. Only 64% said that they normally vote in Republican primaries. 11% claim that they normally vote in Democratic primaries. 11% admitted this was their first time voting in a primary and 14% didn't know or refused….The polling that we and others did from samples of past Republican primary voters was woefully inadequate in this case of an open primary for a national figure with no simultaneous primary on the other side." [McLaughlin memo, Toplines]
Over-reporting? McLaughlin identified voters in the Republican primary with a simple question: "In last Tuesday's primary election for congress did you vote for, Eric Cantor or Dave Brat? If you did not vote, just say so." That approach drew immediate criticism. "New McLaughlin poll confuses 'voters who voted in 6/10 primary' with 'people who said they voted in 6/10 primary,'" Sasha Issenberg tweeted. The implied problem is voter over-reporting. Decade of research shows that many voters say they voted when they didn't, especially when asked by a live interviewer. McLaughlin called registered voters four to five days after a primary election whose outcome became a prominent national news story, yet whose turnout amounted to roughly 14 percent of all registered voters. A relatively modest over-report among non-voters would likely inflate the number of non-Republicans in McLaughlin's survey. [@victorylab]
McLaughlin disagrees with this criticism. "Having done a lot of post election surveys," he tells HuffPollster, "it's actually harder to get some people on the phone that may have voted for the losing candidate." He argues that including the option "if you didn't vote, just say so," gives non voters permission to say they didn't vote, so "that option usually compensates for a lot of the non-voters." He also argued that having called a broad sample of general election voters, "we had a very low incidence rate which...confirms that it was a good sample."
Even if taken at face value, the new data put to rest the argument that Cantor was undone by an "Operation Chaos" scenario involving Democrats hoping to nominate a weaker GOP candidate. As pollster Mark Mellman (D) pointed out on Twitter, if all of the self-identified Democrats in McLaughlin's new survey had not voted, Cantor would still have lost among the remaining Republicans and independents. McLaughlin's analysis concedes that Cantor's undoing was an "organic turnout" of both independents and Democrats who do not typically vote in Republican primaries. [@MarkMellman, McLaughlin memo]
The independents who made it into the McLaughlin post-election survey demonstrate a strong conservative bent: 75 percent disapprove of President Obama, 74 percent oppose the ACA, 58 percent say they agree with or consider themselves part of the Tea Party and 61 percent plan to vote for Brat in the general election, versus just 17 percent who plan to vote for Democratic nominee Jack Trammel. "I think it was an organic, anti-Washington, anti-establishment turnout, and because it was a Republican incumbent, it was easier for the Democrats and the independents who normally vote Democrat to come in and vote and vent their anger at Washington via Eric," McLaughlin said. [McLaughlin crosstabs]
Did you vote in the VA-7 primary? We want to hear from you -- drop us a note at pollster@huffingtonpost.com.
FAITH IN CONGRESS REACHES HISTORIC LOW - Rachel Lienesch: "Public faith in Congress has fallen lower than that of any institution in at least 41 years, according to Gallup poll released Thursday. Just 7 percent of adults now have 'a great deal' or 'quite a lot' of confidence in Congress….According to Gallup, this is the lowest rating any major American institution, including television and internet news, big business and organized labor, has received in any of its polls dating back to 1973. This also marks the first time Gallup has ever measured confidence in the single digits for one of those institutions." [HuffPost, via Gallup]
AMERICANS SAY IT SHOULD BE ILLEGAL TO FIRE SOMEONE FOR BEING GAY - Emily Swanson: "Half of Americans support passing a law banning discrimination by employers against gays and lesbians, a new HuffPost/YouGov poll shows -- and even more Americans agree that it should be illegal to fire someone for being gay. The poll comes after President Barack Obama announced that his staff was drafting an executive order prohibiting job discrimination against LGBT employees of federal contractors. The Employment Non-Discrimination Act, a broader bill that would apply to most U.S. employers, has passed the Senate but not the House. In the new survey, 50 percent of Americans favored and 38 percent opposed legislation banning job discrimination against gays and lesbians. The poll found political division on the issue: 63 percent of Democrats and 52 percent of independents favored that kind of legislation, but only 34 percent of Republicans did." [HuffPost]
OY VEY - HuffPollster, with Emily Swanson: "Texas Gov. Rick Perry (R) recently informed the world that he is, in fact, more Jewish than people think he is. It might come as a surprise to Perry, then, that the vast majority of Americans have given no thought whatsoever to how Jewish he is. We have proof. A new HuffPost/YouGov poll shows that 60 percent of Americans are 'not sure' how Jewish Rick Perry is." [HuffPost]
HUFFPOLLSTER VIA EMAIL! - You can receive this daily update every weekday via email! Just click here, enter your email address, and and click "sign up." That's all there is to it (and you can unsubscribe anytime).
THURSDAY'S 'OUTLIERS' - Links to the best of news at the intersection of polling, politics and political data:
-Suffolk gives Jeanne Shaheen a 10-point lead over Scott Brown. [Suffolk]
-ARG finds Shaheen 12 points ahead. [ARG]
-Charlie Cook expects few drastic shifts before the midterms. [National Journal]
-Aaron Blake notes that nominating female candidates doesn't appear to have helped the GOP in this year's Senate races, while John Sides finds some historical evidence of a benefit. [WashPost Blake, Sides]
-Sean Trende explores what California's primaries mean for the state's general elections in November. [RCP]
-Norm Ornstein says the Pew study on polarization doesn't show that such partisanship isn't asymmetric. [National Journal]