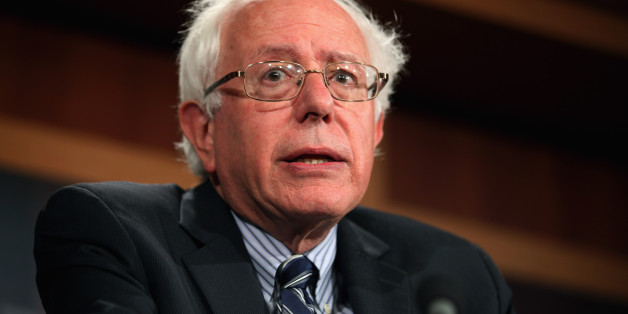 Sen. Bernie Sanders (I-Vt.) accused oil companies and Wall Street speculators Thursday of using the recent crisis in Iraq as an excuse to artificially increase the price of crude oil and gasoline.
"I am getting tired of big oil companies telling us that gasoline prices are going up because of the turmoil in Iraq," Sanders said in a statement. "The truth is that big oil will never miss an opportunity to increase the price of gas. Today, it's Iraq. Tomorrow, it may be the weather. On and on it goes."
The statement noted that the price of gas in the U.S. Thursday topped $115 a barrel, a nine-month high on the New York Mercantile Exchange.
"The fact is that high gasoline prices have less to do with supply and demand and more to do with Wall Street speculators driving prices up in the energy futures market," said Sanders, a member of the Senate Committee on Energy and Natural Resources.
Since the recent escalation of sectarian violence in Iraq, oil prices in the U.S. have witnessed a slight hike, with traders looking to the threat of a civil war in OPEC's second-largest producer of crude oil as a potential disruption to the country's exports.
"We have penciled in slightly higher oil prices in the second half of the year," Stewart Richardson, chief investment officer at RMG Wealth Management LLP in London, told Bloomberg on Wednesday. "This is the potential breakup of a sovereign nation and one of the biggest oil producers. This situation could not go away for some time, and we could potentially have higher oil prices for a long time."
Although a recent report by the Department of Energy projected the total crude and non-crude oil supply growth to surpass world liquids demand growth over the next two years, the national average for regular unleaded gas has risen 2 cents a gallon this past week to $3.67, according to the AAA Daily Fuel Gauge report Thursday.
On Thursday, Sanders announced plans to introduce legislation mandating the Commodity Futures Trading Commission to employ its emergency authority to curb excessive oil speculation.
"Millions of Americans are hurting as a result of excessive speculation on the oil futures market," Sanders said. "The time to provide the American people relief at the gas pump is now before this situation gets even worse."
BEFORE YOU GO
PHOTO GALLERY
Senators Who Voted Against The Iraq War