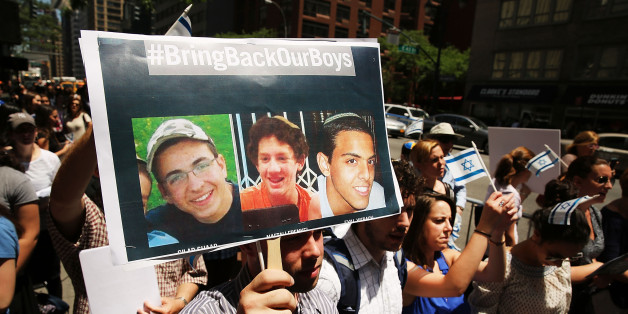 It's been more than a week since three Israeli teens were kidnapped and advocates want to see more of their supporters take up an apolitical social media campaign that's pushing for their safe return.
While hitchhiking home on Thursday night in the West Bank from their yeshiva, a religious seminary, Eyal Yifrach, 19, and Gilad Shaar, 16, both Israeli, and Naftali Frenkel, 16, a dual Israeli-American citizen, disappeared and are believed to have been abducted by Hamas, the Times of Israel reported.
In the wake of the kidnapping, for which no group has officially taken credit, the University of Haifa Ambassadors Network launched the #BringBackOurBoys campaign, a social media effort that has also been paired with the hashtag #EyalGiladNaftali, the Jerusalem Post reported. It has been modeled after the campaign that spread like wildfire after more than 200 Nigerian girls were kidnapped from school in April by terrorist group Boko Haram.
Meet Naftali - 16 years old and an American citizen. He is the second eldest... #EyalGiladNaftali #BringBackOurBoys pic.twitter.com/pY3c61dvH8

— Embassy of Israel (@IsraelinUK) June 18, 2014
While a number of political figures and celebrities, including Mayim Bialik, the star of '90s sitcom "Blossom," have joined the effort, many world leaders, expected to side with Israel, have remained decidedly silent.
President Barack Obama and the first lady have gotten flack from Israel's supporters for declining to make any mention of the kidnapping after they were explicitly vocal about their support of the abducted Nigerian girls.
"In these girls, Barack and I see our own daughters," Michelle Obama said last month, according to the Guardian. "We see their hopes, their dreams, and we can only imagine the anguish their parents are feeling right now."
The first lady also personally tweeted a picture of herself holding a sign bearing the #BringBackOurGirls hashtag.

Our prayers are with the missing Nigerian girls and their families. It's time to #BringBackOurGirls. -mo pic.twitter.com/glDKDotJRt

— The First Lady (@FLOTUS) May 7, 2014
Some say, however, that it isn't fair to draw a direct correlation between the two incidents.
For one, in Nigeria, Boko Haram, which means "Western education is sinful," stated their depraved goals from the outset. They wanted to sell the girls into slavery and to bar them from pursuing education.
But while no group has officially taken responsibility for abducting the Israeli teens or made any public demands yet, Palestinian Authority President Mahmoud Abbas condemned the kidnapping on Monday, according to The Washington Post, and such kidnappings aren't really anything new to the region.
Israel's foes also reportedly rejoiced after learning of the news.
After the crime was made public, families of Palestinian security prisoners in Gaza handed out candies in the street and called for additional operations to take place, YNetNews.com reported.
The social media campaign that billed itself to be non-political has also taken on a political tone. Pro-Palestinian activists have started using the #BringBackOurBoys hashtag as a vehicle to air their grievances.
But even some of Israel's supporters have taken issue with the online campaign though, saying that it isn't appropriate to mimic the social media effort when families in Nigeria are still suffering.
"It's wrong to capitalize on the virality of one nation's desperate and grief-soaked social media plea in order to increase the virality of your own campaign," Sigal Samuel wrote in the Jewish Daily Forward. "Especially when that initial plea has yet to be answered."
Still, regardless of the discrepancies between the two abductions, Israel's supporters say the White House should at least partake in the conversation in some way.
"Why did that situation provoke [Michelle Obama's] reaction but not in this case, when an American is among the captured?" Bradley Scott wrote in an op-ed piece for the Blaze. "The first lady, who recently took over one the president's weekly addresses, called the mass abduction of Nigerian school girls an 'unconscionable act' of terror."
But at the heart of the initiative, organizers say, is to show the world that the three teens are like any other kids their age. They like music, sports and school and shouldn't be used as political pawns.
"We are here to say," Emily Neilson, 25, an organizer of the Bring Back Our Boys Facebook page, told NBC News from Israel, "that nothing justifies kidnapping children anywhere in the world."
BEFORE YOU GO
PHOTO GALLERY
Israel-Gaza Conflict