Sometimes, the best way to blend in with the crowd is to wear the most obnoxious disguise you can find and talk to as many people as possible.
Actually, don't take that advice. That's what Daniel Skelton allegedly did after breaking out of a jail in Hawaii. Long story short: He was caught.
Skelton was captured by the U.S. Marshal's fugitive task force and local police on Wednesday afternoon, following a wild chase through the Nuuanu neighborhood of Honolulu. A marshal was tipped off when heard reports of "a man with a painted black face running in [the] area," Lt. Koa Dobrowolsky, head of special operations in the Sheriff Division, told KHON2.
According to the Honolulu Star-Advertiser, Skelton's disguise looked like he used "black makeup" which "darkened the color of his skin... to blend into the shadows."
He also rocked a subtle new 'do: his long black hair was cut short and dyed bright orange.
Skelton, in disguise: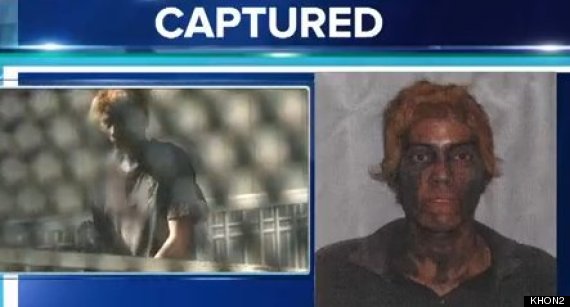 The 23-year-old suspect also reportedly chatted with a few people while in hot pursuit.
Kayla Keehu, a local resident, spotted Skelton standing on her balcony, "wearing a woman's dress and exposed from the waist down," according to the Honolulu Star-Advertiser. He asked if he could use her bathroom and, after she said no, Skelton jumped off her balcony and into her neighbor's yard.
"The orange hair kind of tipped me off that this was the guy," Keehu told the Honolulu Star-Advertiser.
Skelton reportedly spoke to at least two more people during the chase. Keehu's neighbor, Tyson DeCambra, said he found the fugitive looking for a pair of socks in his laundry room. When DeCambra asked him why his face was painted, Skelton replied, "I been in some stuff."
When Sullo asked him if the police were after him, he reportedly replied, "Yes. I'm so scared.'"
Skelton was arrested at 4:05 p.m. on Wednesday and booked on first-degree escape charges.
BEFORE YOU GO
PHOTO GALLERY
Dumb Criminals: Mugshot Gallery