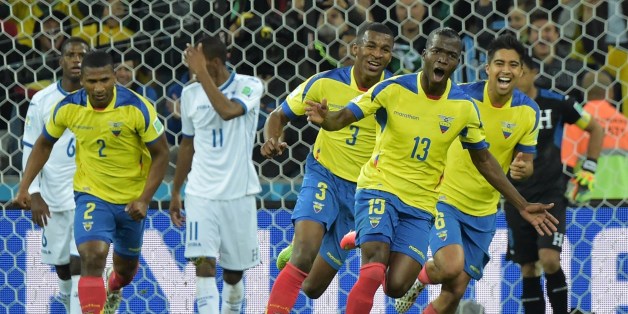 Honduras managed to score a milestone goal at the World Cup. Ecuador's Enner Valencia made sure it didn't also earn a milestone win.
In the 31st minute of a Group E matchup at Arena da Baixada in Curitba on Friday, Honduras scored its first goal at the World Cup since 1982 to take a 1-0 lead over Ecuador. The long-awaited goal scored by Carlo Costly ended the second-longest goalless drought in World Cup history at 510 minutes. The lead produced by that goal would be short-lived as Valencia scored an equalizer in the 34th minute. With the teams still level in the second half, Valencia came through for La Tri again in the 65th minute, delivering the decisive goal in a 2-1 win. Having lost its first two matches in Brazil, Honduras remains winless in World Cup matches.
WATCH: Valencia puts Ecuador ahead with this header, his 2nd goal of the game #HONvsECU
http://t.co/7lLaWB05mb

— ESPN FC (@ESPNFC) June 20, 2014
Having also scored in Ecuador's opening encounter with Switzlerand, Valencia finished the match tied for the lead in goals at the 2014 World Cup.
Stealing the show! Enner Valencia is now tied for the Golden Boot award with Benzema, Muller, Van Persie and Robben. pic.twitter.com/TbiIYQQ7Vr

— ESPN FC (@ESPNFC) June 20, 2014