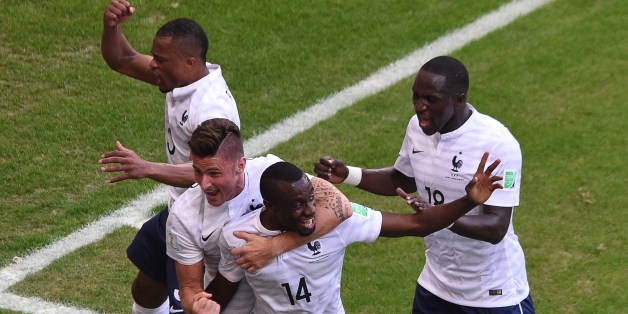 Only the referee's whistle could halt Les Bleus.
France routed Switzerland 5-2 at Arena Fonte Nova in Salvador on Friday to take control of Group E at the 2014 World Cup. The scoring deluge began in the 17th minute when France striker Olivier Giroud, in the starting lineup after being used as a substitute in the previous match, headed a corner kick from Mathieu Valbuena past Switzerland goalkeeper Diego Benaglio. The lead was doubled a minute later when Blaise Matuidi beat Benaglio with a low shot after a pass from Karim Benzema.
Swiss Cheese: Matuidi's goal was France's 2nd in a minute as they jumped out to a 2-0 lead #SUIvsFRA
http://t.co/WC5ZdGZNld

— ESPN FC (@ESPNFC) June 20, 2014
Giroud figured prominently in France's third first-half goal, blazing up the left wing on the counterattack before crossing to Mathieu Valbuena for the score.
WATCH: One of the best counterattacks you will see at this World Cup as Valbuena nets France's 3rd goal
http://t.co/FsJh8r6Hjj

— ESPN FC (@ESPNFC) June 20, 2014
In the second half, France continued to rack up goals. Benzema, who scored a brace and forced an own goal with a shot that ricocheted off the goalpost in France's opening win over Honduras, notched another World Cup goal in the 67th minute. For the second time in as many games, Benzema was named the "Man of the Match."
WATCH: Pogba's delicious ball to Benzema, who completes the twisting half-volley for the goal #FRA http://t.co/FUDHd6zw7I

— ESPN FC (@ESPNFC) June 20, 2014
France would jump out to a 5-0 lead before Switzerland pulled closer with a pair of late scores. Les Bleus seemed to have added a sixth goal in the closings seconds when Benzema put the ball in the net with a brilliant right-footed shot from the edge of the penalty area. The goal would not count as the official's whistle had ended the game just before the shot was taken.
The lopsided result puts France firmly in charge of Group E after two matches. A win or draw by Honduras against Ecuador would guarantee France a spot in the Round of 16 before it even plays its final group-stage match.