 No, former teenagers, you are not dreaming: Draco Malfoy, Bellatrix LeStrange and Luna Lovegood really did get together to hang out in a magical village.
On Wednesday, June 18, members of the "Harry Potter" cast descended upon Universal Studios' Wizarding World of Harry Potter to get a sneak peek at the theme park's soon-opening Diagon Alley attraction.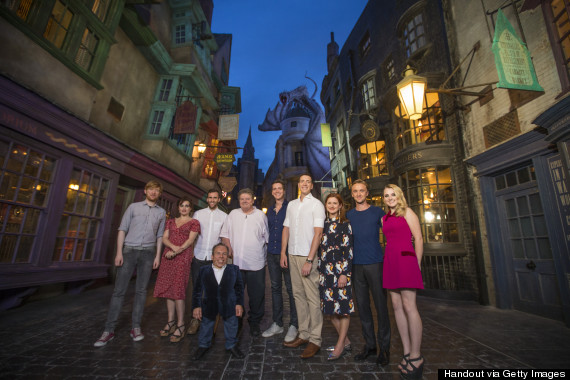 From left to right, the picture features: Bill Weasley (Domhnall Gleeson), Bellatrix LeStrange (Helena Bonham Carter), Neville Longbottom (Matthew Lewis), Professor Flitwick (Warwick Davis), Hagrid (Robbie Coltrane), the Weasley twins (Oliver and James Phelps), Ginny Weasley (Bonnie Wright), Draco Malfoy (Tom Felton) and Luna Lovegood (Evanna Lynch).
As noted by The Hollywood Gossip, the picture is part of a recent press push for the new attraction, which also brought us this segment, in which a Jimmy Fallon reporter tests the wizarding knowledge of parents visiting the park.
The shady stuff that goes on at Gringotts would usually be enough to keep us away from Diagon Alley altogether -- but if this crew's waiting on the other side, we'll try to tap those Leaky Cauldron bricks right.
BEFORE YOU GO
PHOTO GALLERY
Wonderful World Of Wizarding Harry Potter Diagon Alley