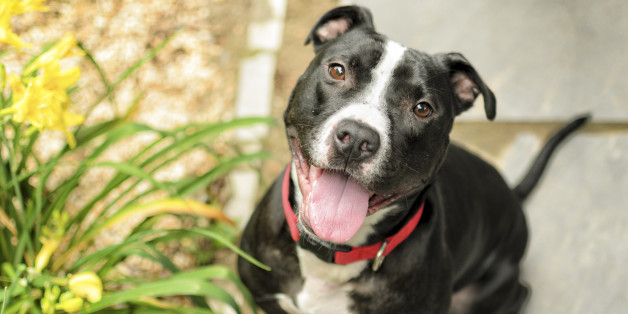 Biscuits and belly rubs for two state legislatures! Michigan and Delaware are both considering bills that would give abused pit bulls a fighting chance.
Michigan's Senate Bill 990, introduced last week, would save the lives of dogs pulled from dog fighting operations. It would amend the current law, making explicit that a rescued dog can be placed for adoption, if the dog is found to be "fit for placement and does not pose a threat to the public safety."
A similar bill in Delaware is further along. SB 245 passed the Senate on June 19. Delaware law currently (and rather chillingly) mandates that seized animals be "disposed of in a humane manner."
But under the new bill, dogs pulled from fighting operations would first be evaluated, then, if appropriate, placed for adoption.
"Michigan SB 990 and Delaware SB 245 are extremely important bills that give victims of cruelty a chance of a loving home," Ledy VanKavage, senior legislative attorney for Best Friends Animal Society, told HuffPost. "Since the [Michael] Vick dogs we've learned that every dog should be be evaluated as an individual and deserves a fighting chance to be loved."
Indeed, previous to the 51 pit bulls seized from Vick's infamous Bad Newz Kennels in 2007, animals pulled from fighting were routinely euthanized. As the New York Times reported at the time, PETA and many other groups argued that the Vick dogs should also be put down.
"These are celebrity dogs," PETA founder Ingrid Newkirk said in 2008. "[Rehabilitation for such dogs] isn't a good use of money, it isn't the best uses of time. The Vick dogs are the least likely candidates for success."
Best Friends argued otherwise -- and won that battle, taking in 22 of the most physically and emotionally traumatized of the "Vicktory" dogs, as they came to be known.
The Vick dogs' remarkable second acts, many as loving family dogs, has paved the way for other abused dogs to be considered as individuals rather than as inherently damaged and dangerous animals who can't go on to live normal lives.
A minority of states don't allow dogs seized from fighting operations to be considered on an individual basis, as Best Friends says in a letter the group is suggesting supporters send to Michigan lawmakers (there's a similar Delaware action alert):
There are currently only 13 states that have archaic laws prohibiting the adoption of fight-bust puppies and dogs, and Michigan is unfortunately one of them. Florida repealed their law in 2011. Indeed, even the American Bar Association's House of Delegates passed a resolution calling for the evaluation and humane disposition of victims of cruelty, including fight-bust dogs.
Or, as VanKavage puts it: "Punishing dogs for the crimes of their abusive owners is unconscionable."
BEFORE YOU GO
PHOTO GALLERY
These Pit Bulls Need Homes!