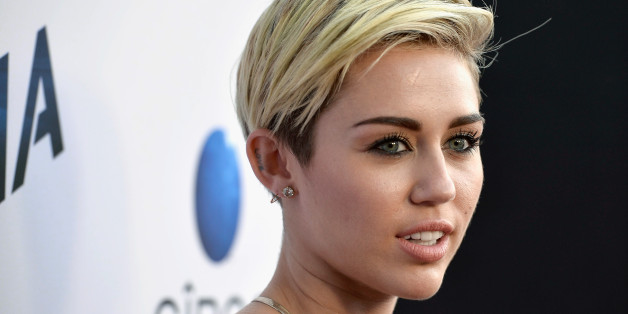 Miley Cyrus may be best known for her twerking and controversial music tours, but no one should dismiss the 21-year-old's heart of gold.
The former Disney star met one of her biggest fans, Caley Camarillo, a few years ago. During their encounter, Miley learned that the Gilroy, California, girl (pictured below on the right) was diagnosed with cystic fibrosis, ABC News reported.
Lets go way back to where it all started for @misscaley #TBT first celeb meeting @MileyCyrus pic.twitter.com/Ijh5KHzsqx

— teresa camarillo (@camarillos6) June 5, 2013
Last Friday, the 12-year-old girl died from the disease. But just about an hour before her last breaths, Caley watched a heartfelt message from Miley:
In the video, Miley says the following:
"Hey Caley, it's Miley. I've been talking to your mama the past few days. I know we met a few years ago, but I just wanted to let you know that I'm still praying for you, I'm still thinking about you. I'm sending you some love, and I just wanted to let you know that you are on my mind and in my heart."
Cystic fibrosis is a genetic disease that primarily affects the lungs and digestive system. About 30,000 people in the U.S. have the life-threatening disease, according to the Cystic Fibrosis Foundation.
Caley was popular on Twitter and Instagram, where she shared her everyday experiences with fans and supporters, and also used the platforms to raise awareness about cystic fibrosis.
A Go Fund Me page has been created in Caley's honor to help pay for the family's funeral services. Caley's mother notes on the page that donations will also go towards expenses paid while spreading Caley's ashes in the places she wanted to visit but never did because of her disease.
"She inspired thousands with her journey and mission of spreading awareness of cystic fibrosis," Caley's mother wrote on the fundraising page, pointing out her daughter's love of creating art, writing stories and playing with her two puppies.
To donate to Caley's funeral services and help fulfill her last wishes, visit her Go Fund Me page.
BEFORE YOU GO
PHOTO GALLERY
Miley Cyrus Brings 'Bangerz' Tour To London