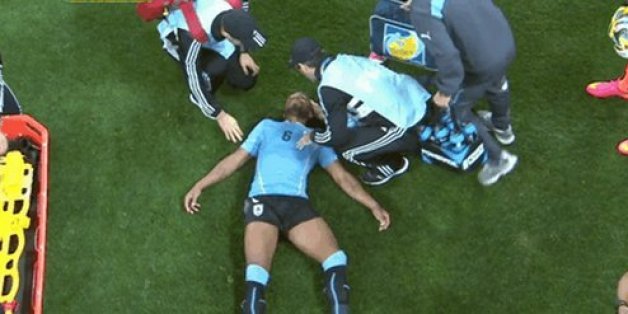 The sight of a seemingly unconscious player lying motionless on the field provided a terrifying moment during the World Cup. The sight of that player, seemingly dazed and possibly suffering from a concussion, returning to action just minutes later sparked outrage and calls for FIFA to better protect players.
Uruguay midfielder Alvaro Pereira took a hard blow to the head during a tense group-stage clash against England on Thursday. With Uruguay leading 1-0 in the 61st minute, Pereira was rocked by a knee to the side of the head while attempting to take the ball off England's Raheem Sterling. As Pereira slid, Sterling's knee caught him flush in the temple. He remained motionless on the ground as Uruguay trainers rushed onto the field.
(GIFs via @FlyByKnite)
After Pereira was helped to the sideline, a doctor could be seen signaling for a substitution. Unsteady on his feet and emotional, Pereira emphatically gestured that he did not want to be removed from the match. To the surprise and outrage of many, the 28-year-old Sao Paulo FC player was allowed to overrule the doctor. He was back on the field within minutes and would complete the game.
@FIFAWorldCup @concussionblog. Team medic undermined.Compulsory Concussion Sub rule needed #CCS #concussionawareness https://t.co/U8NkUgbnOg

— Ronan Kearney (@KearneyRonan) June 19, 2014
Prominent among those dismayed that Pereira was permitted to return to the game was former U.S. national team striker Taylor Twellman. An MLS star whose career was cut short by concussions, Twellman is currently a soccer analyst for ESPN.
Hey @SeppBlatter let me know when you want to address head injuries in our game. Perreira should've been taken off. Has to stop. #URUvsENG

— Taylor Twellman (@TaylorTwellman) June 19, 2014
Any questions about Perriera being unconscious?! This has to stop FIFA. #URUvsENG http://t.co/VX3la5mje5

— Taylor Twellman (@TaylorTwellman) June 19, 2014
After the match, Pereira confirmed that "the lights went out a little bit" and revealed that he had apologized to the doctor for his behavior.
"I said 'sorry' a thousand times to the doctor because I was dizzy. It was that moment your adrenaline flowing in your body, maybe without thinking ... what I really wanted to do was to help get the result," Pereira later said, reported The Guardian. "What really matters is that everything is OK. Nothing happened. It was just a scare."
Twellman weighed in on the situation again during ESPN's "World Cup Tonight" later on Thursday evening.
"It's disappointing," he said. "We're in 2014. Watching this shows you one thing. This is barbaric treatment of players. The first thing you're supposed to do when a player is knocked out is you do not touch his head. You do not slap his face. Secondly, and more importantly, the problem I have with it is you see the player come off the field. You actually see the doctor look at the fourth official, at the trainers for Uruguay and call for a sub. This is the power struggle that everyone is talking about at the elite levels. This can't happen."
A day later, FIFPro wanted to know how it did happen. The players' union accused FIFA of not protecting Pereira and called for a "a thorough investigation into its own competition concussion protocol."
Twellman also questioned FIFA's concussion protocol while discussing the issue on "World Cup Tonight" after the match.
"There's no protocol," Twellman said. "Even Clint Dempsey's broken nose, he came over on the sideline. Who's to say that's not a concussion. FIFA has to address this. It's 2014. It's not 1950. And the most important thing to remember is this: It's not the concussion. If Pereira gets another one there's something called second impact syndrome that's fatal. You're now playing with people's lives. I could care less about knees, arms, ankles you get one brain. And right now, FIFA should address it. Otherwise, it's going to take someone losing their life."