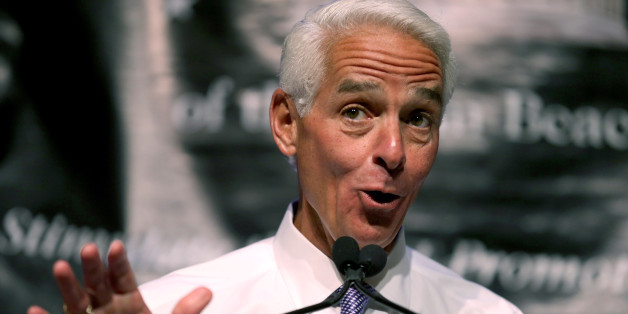 A mysterious political action committee is airing radio ads in Orlando, Florida, accusing former Gov. Charlie Crist of disproportionately harming African-Americans by siding with gun rights groups and imposing harsh sentencing and drug policies.
The Orlando-Sentinel reported Monday that the so-called "Progressive Choice PAC" is behind the ads.
"The punishment fits the crime. It's enshrined in our Constitution -- the essence of American Justice, unless you live in Florida and happen to be black," the ad's narrator says. "Under Gov. Charlie Crist, the NRA called the shots in Tallahassee, giving Crist big money and an 'A' rating, stopping even the most sensible gun control bills, allowing weapons to flow into our cities, even permitting concealed guns at work."
"But while Crist was coddling the gun lobby, he was cracking down on us -- passing maximum sentencing laws, signing the nation's harshest marijuana laws, and enacting the country's strictest penalties against non-violent offenders, many of whom just happen to be black," the ad continues.
The Tampa Bay Times reported in April that the group has also sent mailers attacking Crist's record on abortion, gun rights and marriage equality issues.
The PAC has so far avoided disclosing its donors: its leader runs a Baltimore, Maryland-based political advocacy firm, lending to the aura of secrecy surrounding its intentions. The group won't have to disclose donors if it ceases its activities 30 days before November's general election.
Crist's campaign tied the group to Florida Gov. Rick Scott (R), saying Monday that the ads represent "a new low for Rick Scott and his special interest donors."
During his 2006 gubernatorial campaign, Crist embraced his tough-on-crime profile and "Chain-Gang Charlie" nickname, though his has disavowed many of his former policy stances since he became a Democrat.
HuffPost Pollster, which combines all publicly available polling data, shows a dead heat between Crist and Scott.
BEFORE YOU GO
PHOTO GALLERY
United States Governors